Massgrav at Snövit, Stockholm, September 26th, 2009
Ok, let's start at the beginning. Most of you probably know this already, but we'll go through it anyway. For quite a while, Indy had been suffering from some weird problem with his arms – they hurt like hell and it was getting worse and worse. In the beginning of 2009, we had to cancel a few shows and during the recording of our split with Blood I Bleed in March, it really got bad – we were SO close to not being able to finish a couple of the songs. So… after consulting a bunch of witch doctors, who told him they'd have to amputate both his arms unless he walked away from drumming and never looked back, Indy had to leave the band. You'd think we'd be used to this, Indy being the third Massgrav drummer and all, but no – it sucked big, long, hairy, unwashed ass.
To make a long story short, Norse and Ola asked their favorite candidate to fill the spot – Ove – whether he'd want to join the travelling trio of clowns known as Massgrav and to our amazement he said yes. We were in business again!
For our return to the stage, we opted to do one of the shows we'd cancelled earlier in the year – the gig with Makabert Fynd at Snövit. We taught Ove a bunch of songs (to be honest, it's more like Ove taught US what they actually sound like on the records) and got our stuff over to the wino-infested Snövit. After the usual waiting around for stuff to arrive, a crappy soundcheck with a rather hostile sound guy who lied through his teeth without blushing (or he could hear things none of the other 20 people in the room could) and a somewhat confused indian meal, people started spilling in. Ove and Johan had discovered just a few days before that there had been no advertising this show outside of Facebook and were doubtful whether anyone would shot. Ola trusted Ruwe (Makabert Fynd) when he said that's usually enough – and it was. The place filled up very nicely. We sold some shirts, cleaning out old stock (our shirts we'd ordered for Russia had yet to show up) and talked to people. Lots of friends and family showed up, unfortunately (in some cases, at least) we didn't have time to talk to everyone. Next time!
Makabert Fynd got onstage and did their thing but we missed most of it since we had to keep an eye on our joint merch table and Ove had to warm up. Seemed good though and the place got very hot and steamy. For those of you who have yet the pleasure, Snövit is a long, narrow basement with a low ceiling and a low stage. It gets hot.
Sooo… anyway, we chased Makabert Fynd off the stage and set up our shit, undressed and set off. Things sounded ok, the crowd was good and we really enjoyed it, although it was way to warm and even though Pulko had stolen one of Oves beers when leaving the stage. We played pretty much every song we knew, Ove did a great job and that was that. Good stuff, we'll have to do it again some time.
Setlist:

Alla punkare är horor
Sur och Jävlig
Ett korståg mot långsam käng
Ursäkta röran...
Falsck Security
Alla vet var du köpt din tröja
Lönesamtal – legal våldtäkt
Va ere för fel på socialen?
Utan trosor i Tyrolen
Samlaren
Vuxenliv
Mera bruk i baljan boys
Nu blåser vi snuten
Vägen till Helvetet
Jag vill också spela Power Violence
--
Barry Manilow
Spräckt skita



Norse, tuning up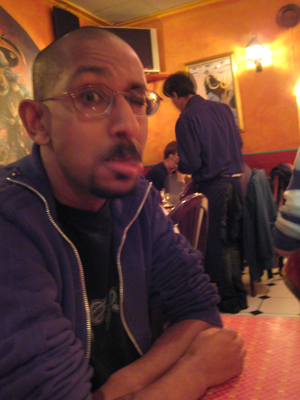 Indy showed up to finally get to see Massgrav from the front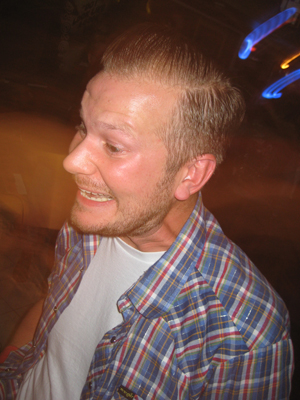 Hyper, hyper!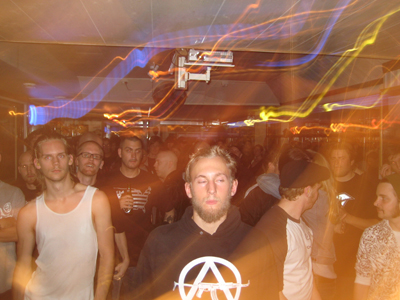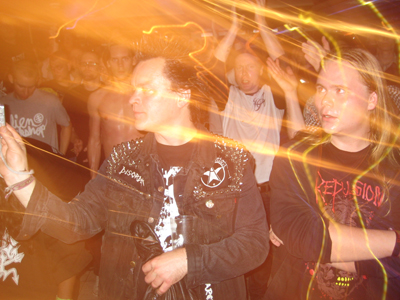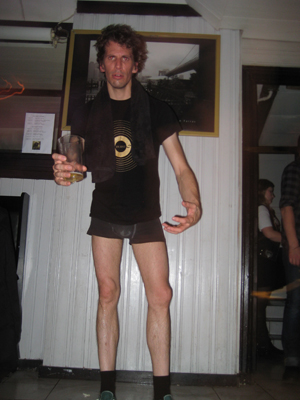 Ove, looking a bit scary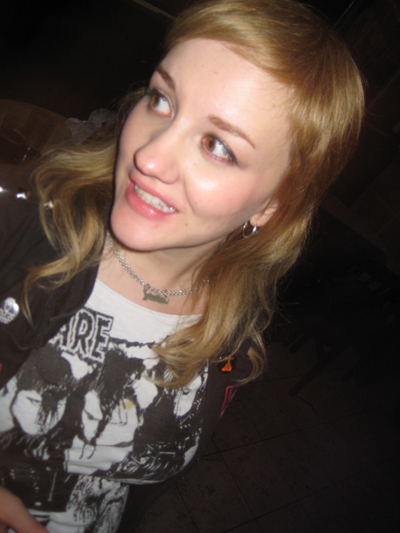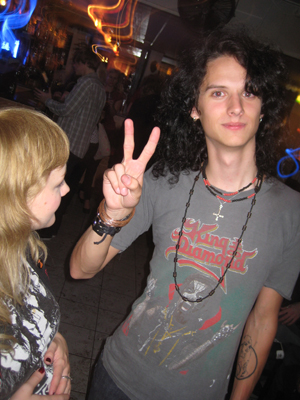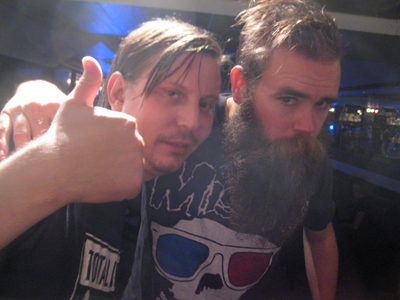 Ruwe and Ola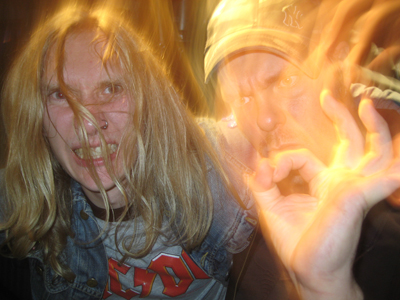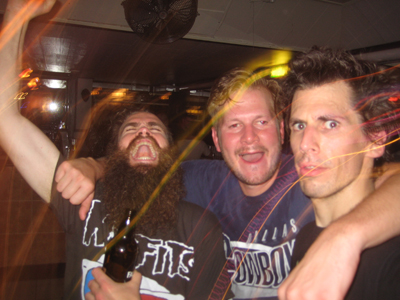 Another great band photo. We look really smart.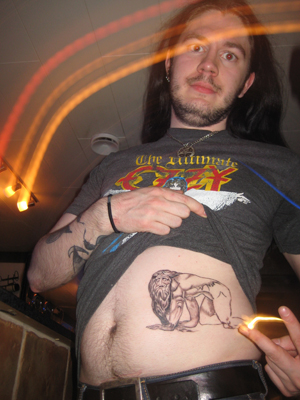 NCF/Alex, showing off his new, not yet finished tattoo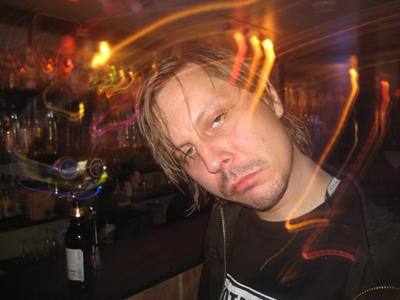 Ruwe, looking very happy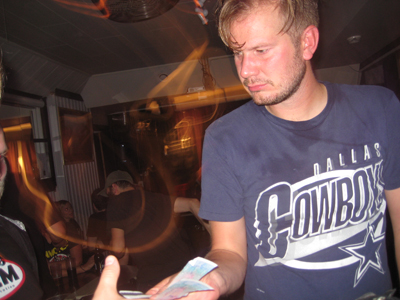 Gimme my goddamn money you fucking cocksucker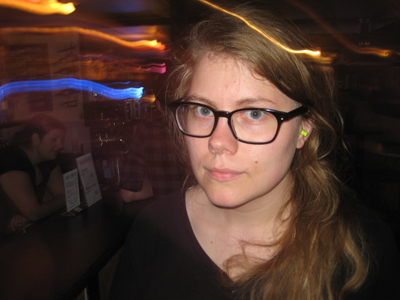 Karin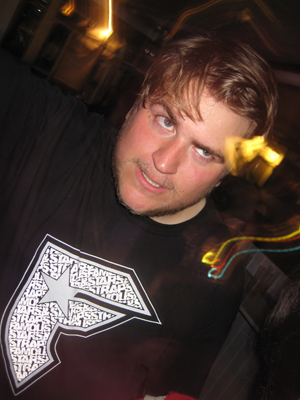 Erik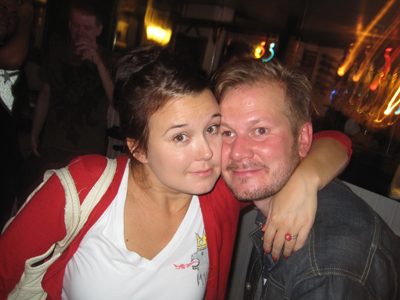 Katja + Norse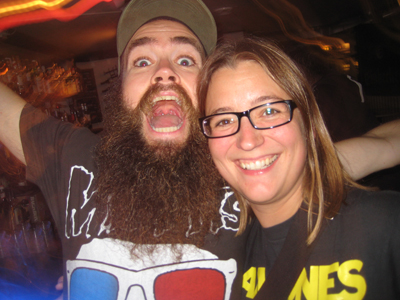 Ola + Majken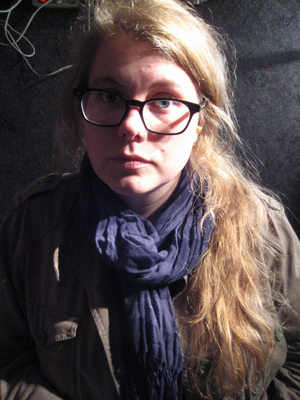 Karin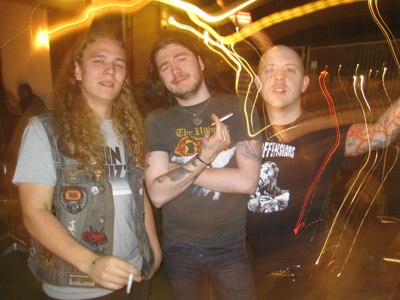 HUGE massgrav fans!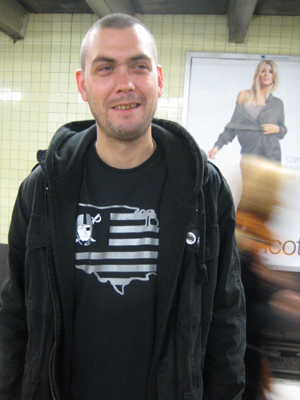 Here's another one...