Massgrav at Bloodshed Fest 2018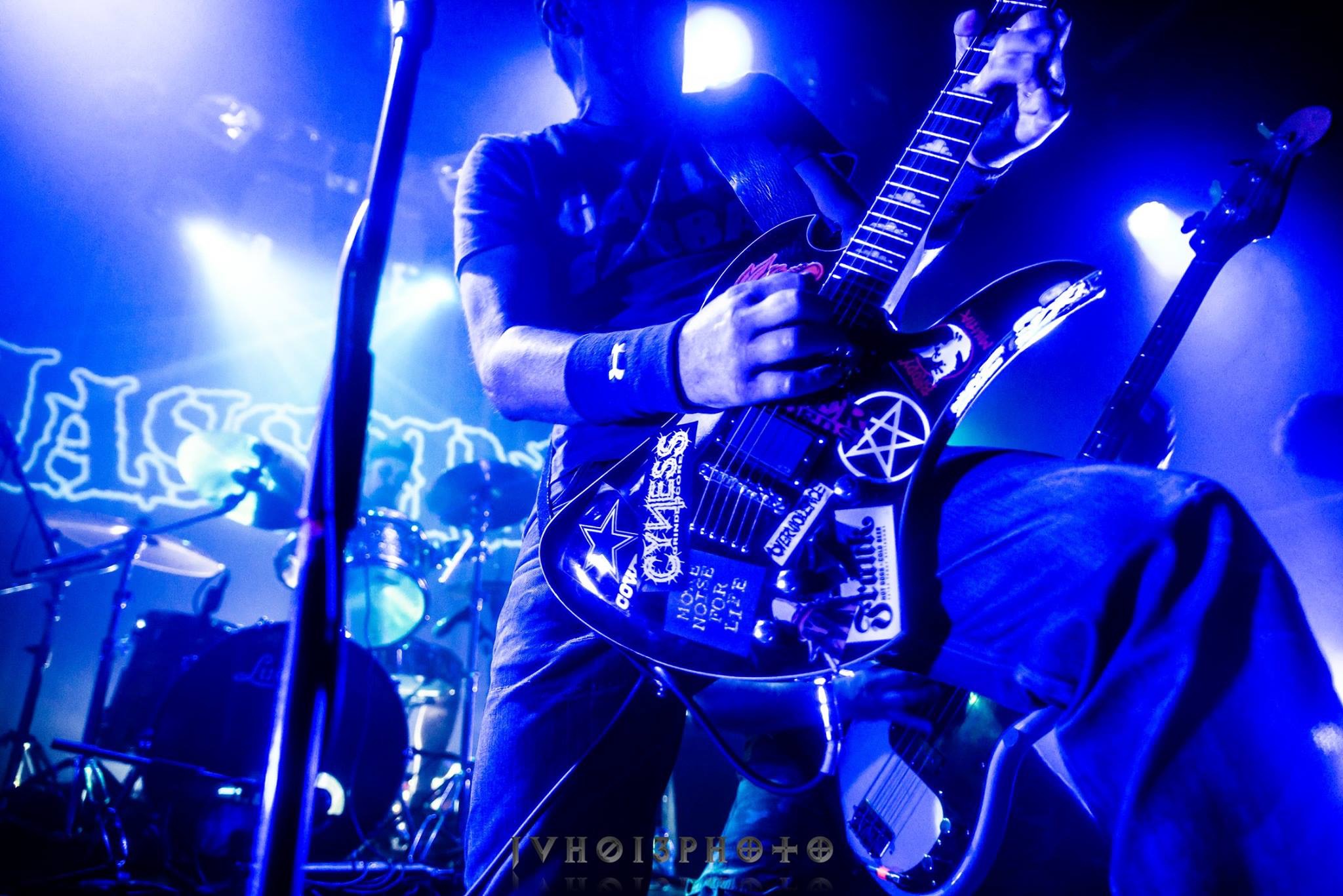 Friday
In 2007, we played the fifth edition of Bloodshedfest in Eindhoven, with fellow swedes Regurgitate and Nice Idiot (where Norse played bass and then future Massgrav member Ove played the drums). We played a really good show on the basement stage of the Dynamo venue which Norse considers one of the best shows we ever played.
Eleven years later, it was time to go back and see if we couldn't do it even better. This time, we flew down together with swedish grinders Afgrund and also met up with the jolly Gothenburgians of Fredag den 13e. Not only had Ove joined the band and left it again to be replaced by Fenok years ago, we had also just added a fourth member of the band for the first time ever, with Jesper stepping in to add another guitar in the mix. "From power trio to powerhouse", as someone reacted to that particular announcement. And just like us, Bloodshed had changed too - into a much bigger and much more professional thing with four straight days of fast and loud music, after parties, beer vendors, a noise double decker and whatnot.
The trip down was wonderfully uneventful and we didn't even have to get up super early. One of the shuttle vans had broken down before the festival even started, so we had a short wait before Luc showed up in a borrowed van to take us to Effenaar, where the festival had moved to this year, in order to be able to grow a bit. We'd gotten a super detailed info sheed in advance so we knew what to expect, but it is very unusual for us to be greeted by such efficiency and professionalism. We got wristbands and beer tokens, were shown our dressing room and our dedicated merch spot (where every band had their allotted space clearly marked), introduced to the people we should contact, should we need anything and were shown the artist lounge, where the pinball machine was just being set up, to Fenok's happiness.
Our planned return to Pak Döner - one of the best döner joints ever - turned out to be the first setback of the trip, as it turned out to have shut down just recently. After a long walk to find affordable but nice food, we settled for a noodle house with mixed asian food that was a lot better than expected. We jumped back in the shuttle again and were taken to the hotel where we were staying, where the afterparty also was to be held. Staying on the first floor, on top of the afterparty where bands played until 4 am could potentially be a problem unless you drank enough to be able to sleep through anything. Should be ok.
We had grand plans for watching the Slave to the grind movie that was being screened at four separate times throughout the festival but were too lazy to make it til the first one that afternoon. The beds at the hotel were really comfy. So instead we walked the 20 minutes back to Effenaar just in time to set up the merch and watch Fredag den 13e play a great but short set that a lot of people seem to have really enjoyed. After that, we went for dinner at what was called a gourmet food court (and sure - compared to a food court at the mall, the food was classy - but it was still not quite what you'd call gourmet) - the perfect place when extreme meat eaters, vegetarians and vegans have a band together.
We were scheduled to headline the 2nd stage and we were starting to realize two things. One: that slot is not great for merch sales, as you alway sell a lot more after you play than before (at least when you're a great band) and we wouldn't have any time after the gig to sell stuff as people would be thrown out at that point. Second: our stage time at 00:40 was a loooooong way away. Being a little bit nervous about doing our first gig with Jesper and being anxious to be as good as possible when playing to a big crowd, we were trying to limit ourselves to as few beers as possible before the show. Stoffe from Fredag den 13e was very happy to remind us about when the shoe was on the other foot back when we met the first time in Gdynia - when we had played the previous day and could get very very drunk while they were waiting to get to play and he was now in a hurry to reach that state, downing beers like a drowning man, all the time making remarks about how good it tasted. This took him from almost sober to a drunken mess in a little over an hour or so. Fun to watch but also torturous. We still had six more hours to go or so.
So… we drank coffee and played pinball and changed strings and watched the clock and it finally closed up on gig time so we did our warm up routine, much to the amusement/amazement of the Effenaar staff and told the sound guy to roll the intro. Intros are kind of pointless when you play on small stages where you have to enter it from the audience, but this was a good stage for pomous intros. And then… well, you know? It's tempting to write stuff like "we unleashed hell" and stuff but all in all we played what felt like a really good show and had a lot of fun on stage. For people who had been drinking and seeing bands since 3 in the afternoon, the audience did a really good job too. After classic sham of "that's it, thank you and good night" immediately followed by three encores, we left the stage in the same stage as we ourselves were - covered in sweat and spilled beer. Not sure if the stage was in the same great mood though.
So then we could finally hit the beer. And cool down. And ride a shuttle back to the hotel, while belting out Jag firar julen i Polen by Onkel Kånkel, have showers and go down to join the afterparty. However - maybe due to the fact that most people had been partying all day, maybe due to the fact that the afterparty was at a hotel that was a 25 minute walk from Effenaar - the afterparty was a quiet affair. Not on stage maybe, but the audience was rather sparse and most people seemed to be winding down. The only Fredagen den 13e member still standing was G, who only shook his head when we asked about Stoffe. We emptied a few more beers and went to bed.
Saturday
Since we knew we wouldn't be able to do any serious beer drinking (and since we wanted to see bands like Tragedy) we had opted to stay another day and join the second day of the festival as audience. But to start things off nice and slow, we walked into town and had brunch at what Tripadvisor claimed was the best place in Eindhoven. For the people of Eindhoven's sake, let's hope that's not true. It was a warm and sunny day, so we walked down towards the large park south of the city center in search of a place to lie down in the grass. We couldn't find a good spot we all agreed on though and then suddenly there was a restaurant with tables out front and we decided it would be nice to sit down for a while to rest our legs and it would be rude to sit there without ordering something and it was a nice day for a beer, so…
Walking back into town a while later, Norse and Jesper decided to go back to the hotel for a nap, whereas Fenok and Ola decided to have just one more beer before joining them.
A few hours later, they turned up at the hotel, just as Norse and Jesper were ready to leave. No nap for the others. Instead, we walked back into town again (the amount of walking we did this weekend was insane), watched a few more bands, had dinner at the same food court as yesterday (as nobody had a better idea) and then just spent the rest of the evening watching bands and drinking beer, talking to people and all that stuff you tend to do at times like these. After Tragedy had closed the big stage, three fourths of the band went for food at Taco Bell, while Ola stayed behind to watch Drumcorps before joining them. And then: guess what? Another fucking walk back to the hotel.
Sunday
Ideally, you would fly back at 11 in the morning or so. Those flights are never the cheapest, so ours was at 18.30 instead. Another walk, another brunch (different place, crap service but better food), a records fair at the Dynamo venue where we played 11 years ago and then Jesper suggested a movie, which seemed like the perfect way to kill a couple of hours. Back at the hotel in time for the shuttle to the airport, we met up with the Afgrund guys, who had spent the whole day sitting outside the hotel. Seems like a waste of time, but to each their own, supposedly.
And that's all, pretty much. We had a nice time, played a great show, and being ooot and abooot (as they say in Canada) as a four piece band was good (hopefully Jesper agrees with us on that). Next time, we play Gothenburg - the place we've spent a lot of time mocking. Let's see how that goes.