Massgrav goes south.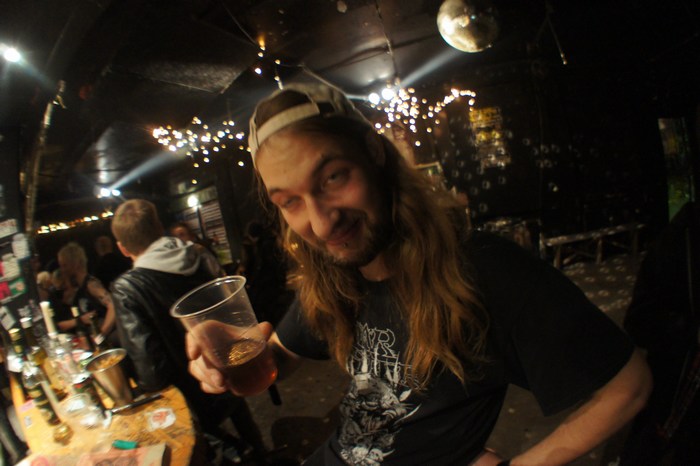 Now and then you come across other bands that you get along with great. Other times, you play with bands who's music you like a lot. However, to find a band that all three members of Massgrav like - both musically and personally - is indeed very, very rare. So, needless to say: playing a show with Bäddat för Trubbel, who is one of the extremely few bands that match those criteria, was always going to sound like a great idea to us. Especially when the show was in their hometown Malmö, in a small bar, on the weekend after everyone gets paid. To make it even better, we also booked a show in Copenhagen - we've never played in Denmark before and Copenhagen is a nice city to visit. Another great thing about this trip was that we could take the train, so no luggage restriction, security checkpoints or all that crap that comes with flying.
Upon arriving in Copenhagen, we walked two blocks from the train station, into the red light district, zig zag-ing between junkies until we reached our hotel. Seemed ok, and the location was very central, although not very cozy.
We spent a couple of hours at Tivoli, the amusement park slap bang in the middle of Copenhagen - rode the big coaster, drank big beers and discovered that vegetarians have a hard time in Denmark - there's meat in pretty much EVERYTHING. After that, we grabbed our stuff and headed over to Ungdomshuset. Copenhagen used to have a squatted youth centre and when it was shut down, there were endless riots until the city gave them a new venue. The new place is not by far as centrally located, but it's still a pretty fantastic place - a big and a small live venue with lots of other rooms for creative activity and a nice courtyard. We were playing the smaller room with local bands Parasight and Fatal Fury.
When we got there, things were a bit slow but we said hi to Alex who had booked the show and helped the sound person set up the stage and soundcheck. Things sounded amazing on stage - one of the best souncheck sounds we've ever had. Since the sound always changes a bit when people show up, we weren't sure whether this was a good or a bad thing though.
We grabbed a cab back to town to hook up with some visiting swedes and decided to wait for them at a bar reccomended to us by Esse in Bäddat för Trubbel, since they had Slayer in their jukebox. However, as soon as we set foot in there, the elderly lush of a lady who ran the place promptly told us we couldn't use the jukebox unless we drank beer, and absolutely no Rammstein before 10pm. Then she hurried over and put a million soft songs on the playlist. Ok...
Anyway, we got some drinks in and were joined by Ola's brother Erik and his friend Lukas, both of them part of the gang of swedes that joined us for our trip to Poland way back when. Esse also showed up with a couple of friends and we got to drinking and after a while we even got to use the jukebox. The woman behind the bar continued to be a nuisance, coming over to give us lectures every 10 minutes, so after a few beers we went in search of food instead.
We returned to the venue just in time to catch Parasight. It was one of their first gigs and they had brought all their friends. Since their style was pretty different to ours, we started realizing tonight's gig might not exactly go down a storm. We set up our merch to little avail, waited until the others had played and then got up and played. Opinions in the band vary - some were very disappointed with the lack of crowd response (not to say there wasn't any, it's just that it's usually better) while others were very happy with the great stage sound. Considering how much we'd drunk throughout the evening, we did a fantastic gig and we seem to have managed to convert a few doubters, Alex was happy and the beer was cheap as hell so, hey, no worries.
The initial plan was to head into town asap, ditch the stuff at the hotel and go bar hopping in Copenhagen. However, and not for the first time, we got lazy. You need to get dry before you want to leave and by then you've found some nice people to talk to, the beer is cheaper at the venue than anywhere else and you're getting drunk enough that you just don't wanna leave. We ended up staying at Ungdomshuset way into the night, chatting, singing and trying out the casket we found in the courtyard. At one point, three guys came sprinting round the corner and disappeared into the venue. Five seconds later, a bunch of cops came running but stopped dead at the end of the yard, patiently waiting for one of the people in charge at Ungdomshuset to come out and talk to them. Seems the cops haven't forgotten the riots (and judging by the metal doors with gigantic bars on them and the windowless bottom floor - neither have the people at Ungdomshuset) and tread very lightly. We used to play a cover song by Atomvinter called "Danska policer är hårda" (Danish cops are tough) - apparently not quite so tough.
Around four o'clock, we split up, with some of us heading home for sleep and a few others going in search for a bar (but mainly ending up just buying a couple of more beers to go with some streetfood). By now, the red light district was in full swing and we were greeted by a long line of Nigerian women as we made our way back home. Thankfully, the hotel had triple glazing and we slept soundly for what little was left of the night.
Saturday
By the time we woke up, a sizable chunk of the day had already gone by and we realized we wouldn't have time to do much in Copenhagen before we had to leave for Malmö. We decided to act like real tourists and stroll down the pedestrian drag Ströget to Nyhavn for brunch. It was a very fine day for late October and you could walk around without a jacket. Again, finding something without meat for Fenok proved quite a difficult task, but we finally settled on an outdoor restaurant by the water, where we had smörrebröds and large beers. Great way to start the day.
Esse picked us up at the station in Malmö and drove us to the Bäddat för Trubbel rehearsal space, which was situated in a very swanky music complex where bands can rehearse for close to nothing - oh the joys of living in the rural parts of Sweden! In Stockholm, you have to pay an arm and a leg for a damp broom cupboard that you share with three other bands. Not so here. BfT had a big room that they shared with Malmö doomsters Pyramido. What they didn't have though, were big amps. We were using their stuff for backline and all they had were combos. Being fans of big, BIG amplifiers, we were a bit worried, but they promised it would be ok. Since all we had to move the stuff in were two very small cars, it may have been a good thing we weren't moving full stacks and Ampeg fridges. Anyway, Piffe, Ola and Hjelle joined us and quickly packed up what gear there was and loaded it into the cars and off we went.
Häng Bar turned out to be a miniscule place that sells asian food during the day and after squeezing all the stuff onto the foot high stage, the doll sized equipment suddenly felt totally right and things sounded good as we did a quick soundcheck. Once everyone was happy with the way stuff was set up, we headed over to Nobes, Bäddat för Trubbel's favorite haunt, where they recorded a yet unreleased live album last new year's eve. Johan's wife Katja joined us for a meal and a few beers and some unwanted attention from the locals. Since the venue couldn't have live music after ten, we had to head back early, as we would go on first - at a quarter to nine. When we returned to Häng Bar, the place was packed - indoors and outdoors. We hung out for a bit, talking to people we knew who had shown up. Before it was time to play, the place was sold out and it was extremely hard to make it through the crowd up to the stage.
Considering the doll-sized amps and stage we were playing, the gig was very good. Hell, it would have been good even if we'd had full stacks and multiple runways tor prance around on. We played yet another new cover song from the upcoming e.p. and by now, people who have seen all our gigs throughout the last 12 months should be able to figure out a pretty complete track list for that release, apart from a few that are really difficult to play live. Anyway - lots of fun, lots of sweat and bad smell. We had a great time.
We barely had time to clear off the stage and sell a few shirts before Bäddat started playing and - as always - they played one hell of a show. By now, they've put out too many releases to be able to play all their songs, so there's bound to be some favorites you don't get to hear, but all in all it was a very good show. We did our part to help too: Fenok joined them on drums for "sånt e livet" and Norse and Ola shared the vocals duties on "Bäddat för Trubbel", making it a bit louder than it usually is. Again - lots of fun.
The normal post-gig stuff ensued: selling stuff, talking to nice people and drinking a million beers. Ola got into a huge row with some dickweed in a hat who, out of the blue, decided he hadn't gotten the respect he deserved (actually, he'd gotten far more than he deserved) and Piffe dropped a brimful beer on the ground, enraging the waitress at the bar - which didn't turn down the drunken million watt smile on his face even a hair. We all helped carrying the gear back to Piffe's place (and were once more thankful the amps were small), where he showed off his Harry Potter castle and got out his Sambuca bottle to get everyone even drunker.
You'd think that Malmö would have an abundance of illegal after-hours bars (it's got that feel and loves its reputation as a continental and lawless place) but after Häng Bar closed, most of us ended up in a huge and well-lit pool hall that was oddly situated on the fourth floor of a nondescript building. At least they sold beer, but at that time, we were not the ultimate party band. Norse, who was hanging out with his family the next day, had already left. Ola and Fenok were taking an ultra-early train the next day and on top of that, Ola had a six hour drive as soon as he got off the train. We didn't exactly spend a fortune on pool hall beer.
To wrap up the night, we joined Esse and Hjelle for a late night falafel. In Sweden (where we have a depressingly shitty kebab culture - nothing like central Europe and its Döner), Malmö is well known for its falafel. Was it good? Hell, we'd been drinking like fish for hours upon end - who knows. Even if we'd remembered, we weren't exactly great judges of taste, we would have eaten anything at that time.
Even if getting up and getting home was a bitch, this was yet another little success of a trip. Thanks to everyone who was part of it and extra special thanks to Esse for setting up the Malmö show and letting us stay at his place.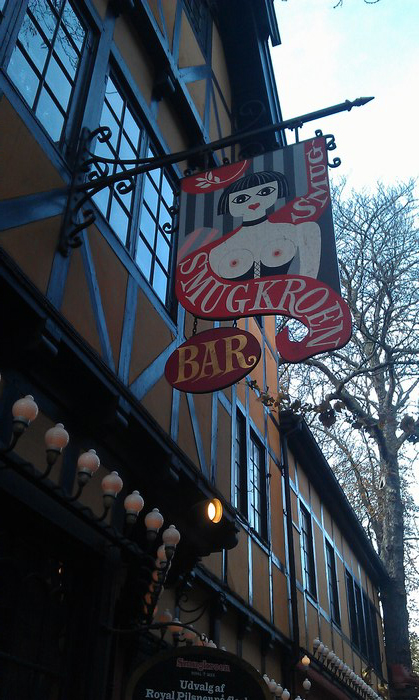 Danes... Drug crazed porn fiends, the whole lot of them!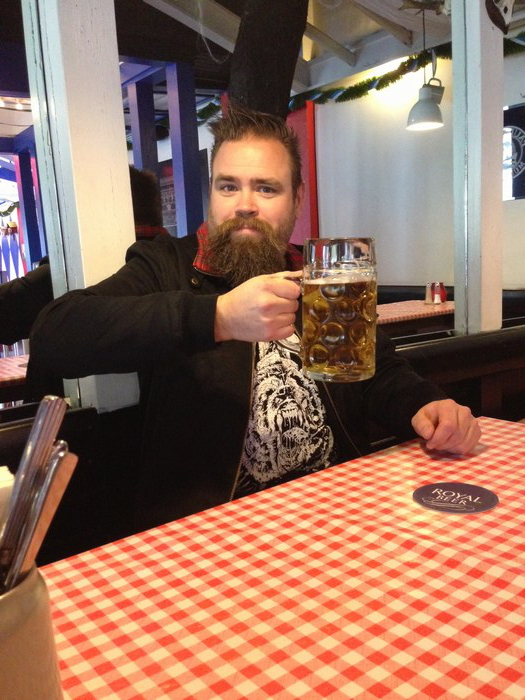 Swedes, on the other hand, are all about the simple pleasures in life. Beer.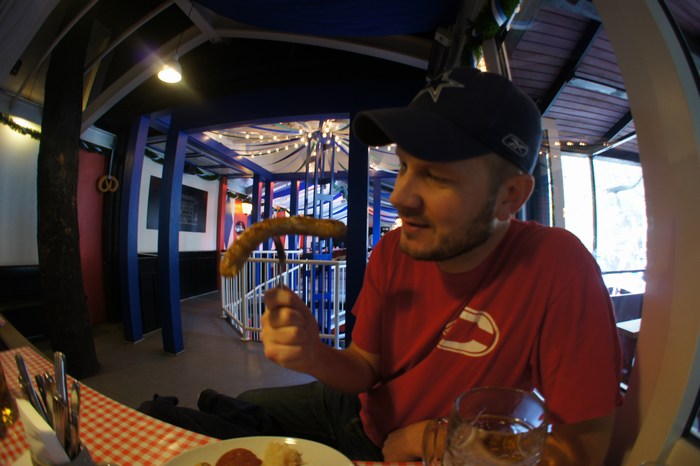 And bratwurst. Norse, ejoys the food in a very empty Bavarian restaurant.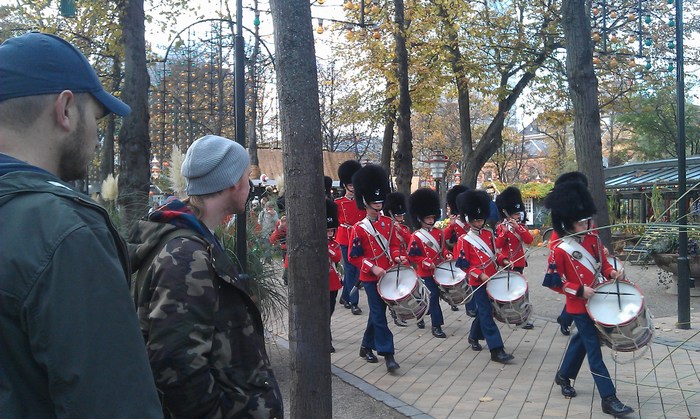 Norse and Fenok, enjoying som local culture. Not very fast drummers.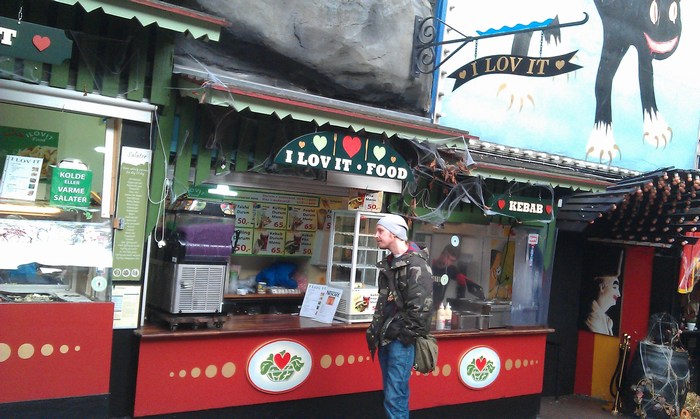 Fenok finds the only food vendor in all of Tivoli that sells something vegetarian apart from cotton candy.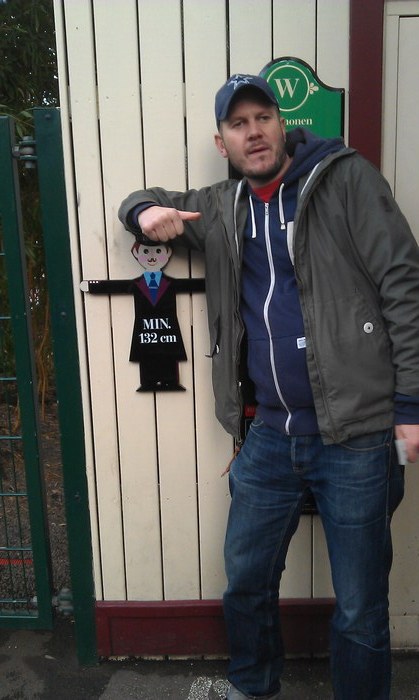 No problemo! 'The giant' breezes by the height restrictions without a hitch.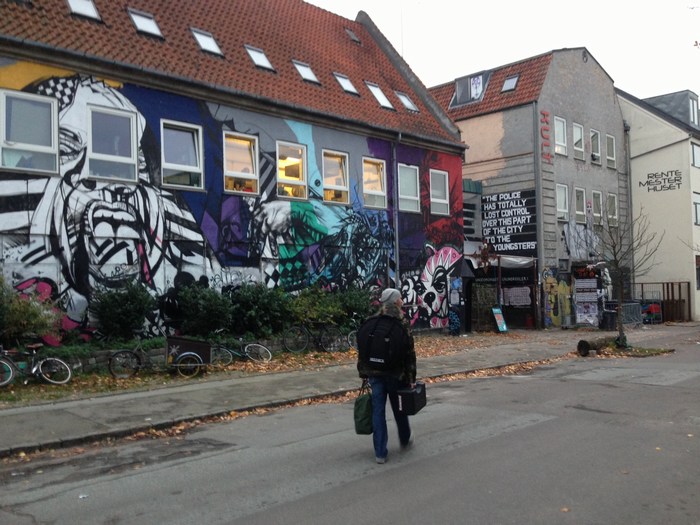 Walking up to Ungdomshuset. It's not super hard to spot.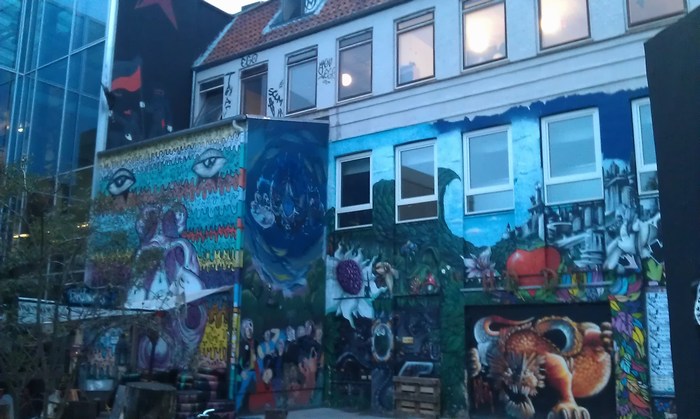 There goes the neighbourhood...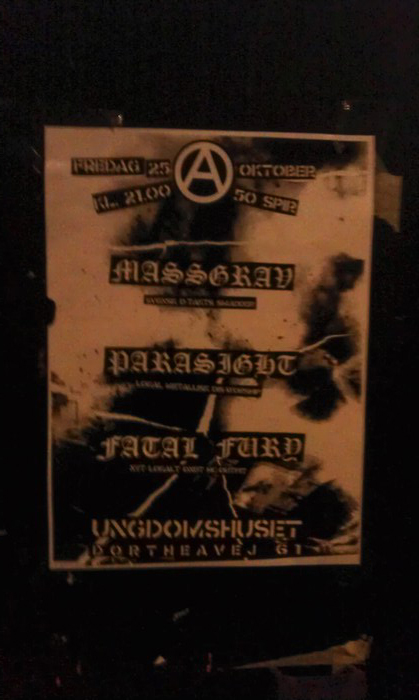 Ok, so this may not be the most artistic poster we've ever been on. Or original. Or pretty. Still does the job though.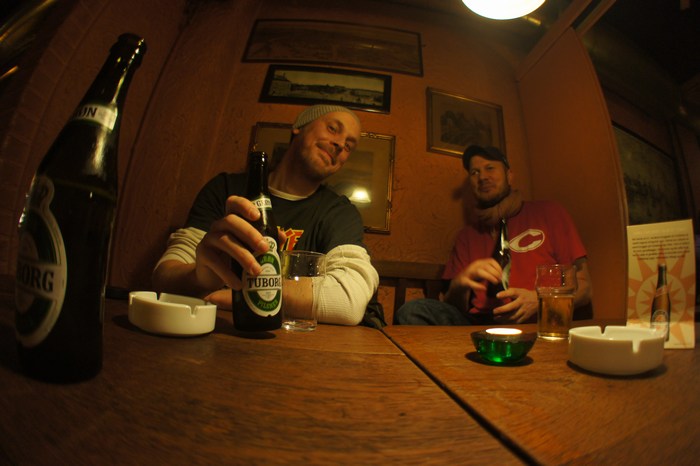 Waiting for the others in some random, very brown, bar.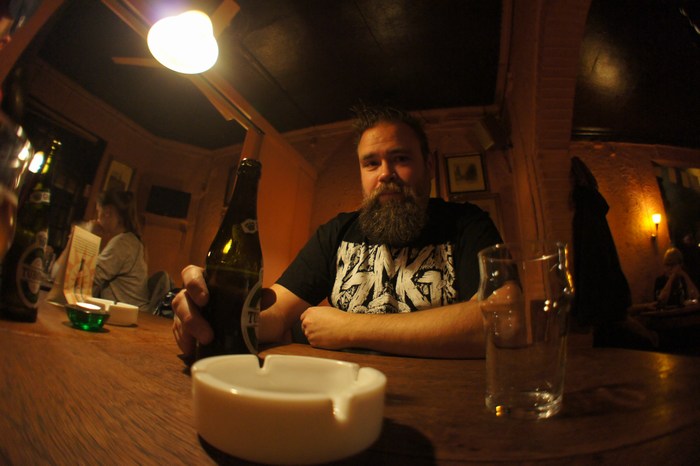 Siberian Meat Grinder, reprazent!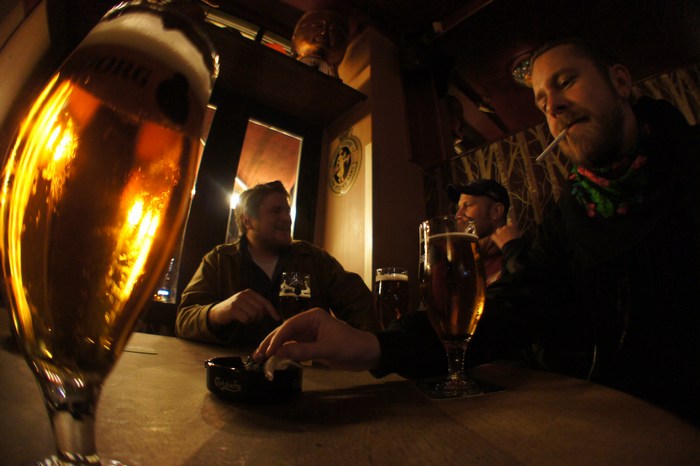 Erik (right) and Lucas (left) join the party.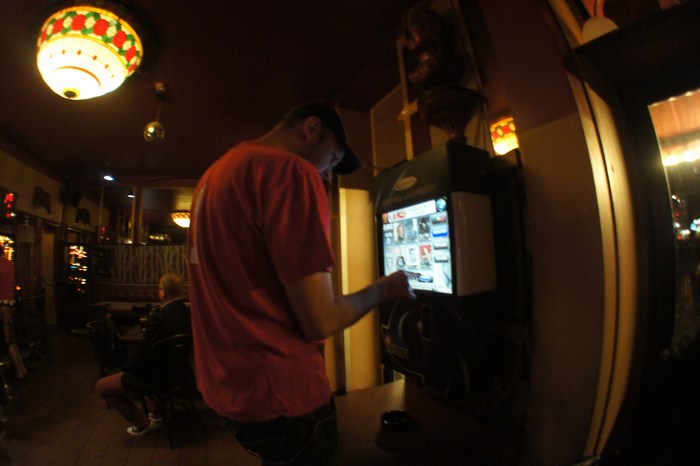 And Norse tries out the jukebox under strict supervision from the alkie lady that ran the bar. NO Rammstein before ten pm! As if...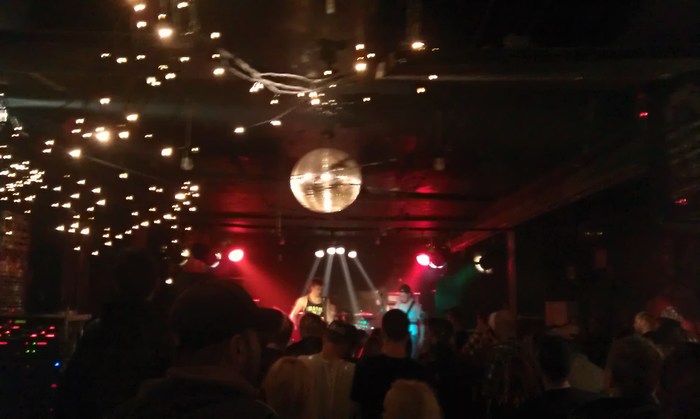 Parasight (probably) doing their thing at Ungdomshuset.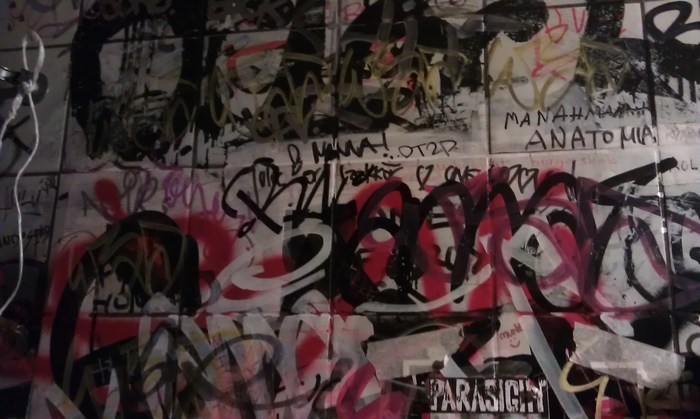 Ungdomshuset. This part looks a lot like Kafé 44.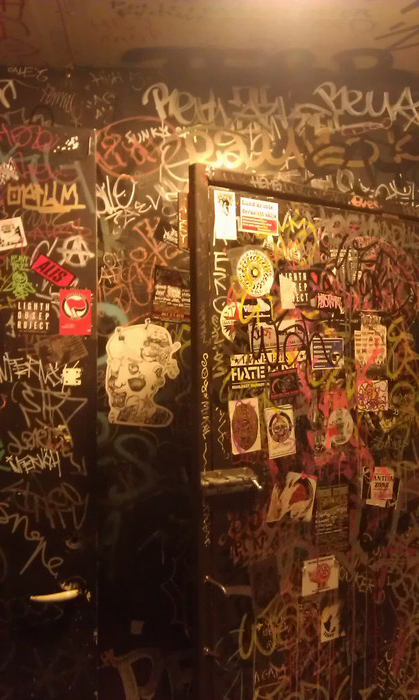 This part too.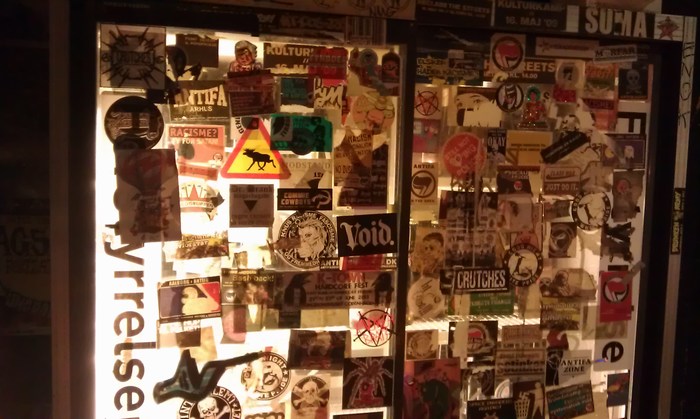 Ungdomshuset beer fridge (that didn't see enough use - it's a good idea to keep the fridge filled up so that the beer has time to cool. just a piece of friendly advice).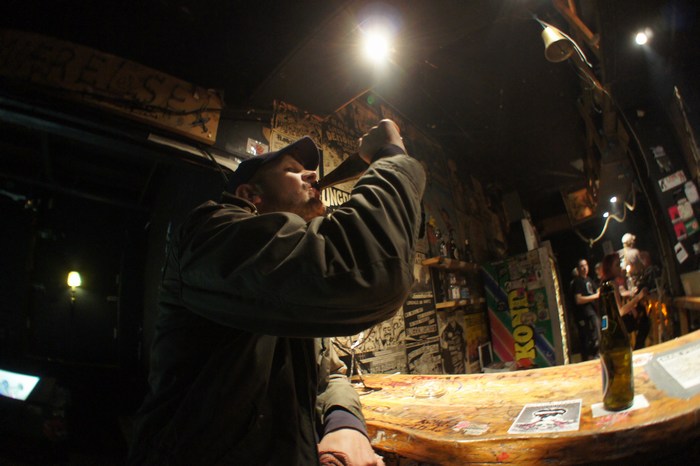 Drinking at Ungdomshuset after the gig.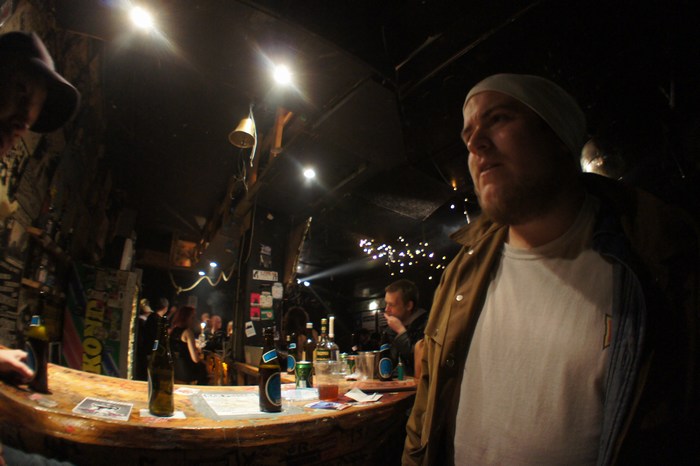 Erik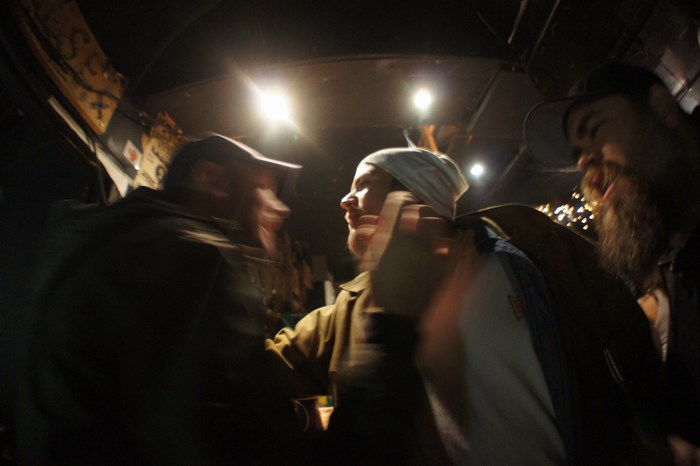 Some sort of argument, fuck knows about what.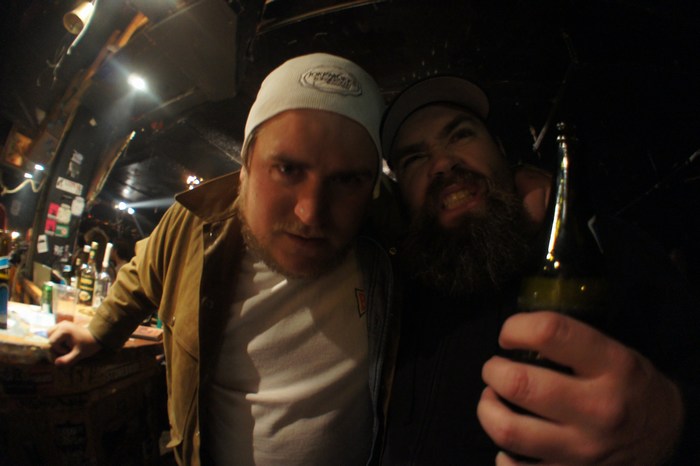 Talking bout the moron bros...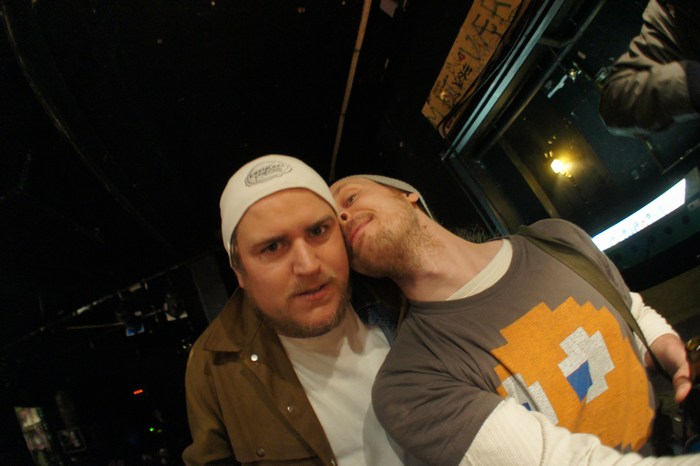 Fenok snuggles up close to Erik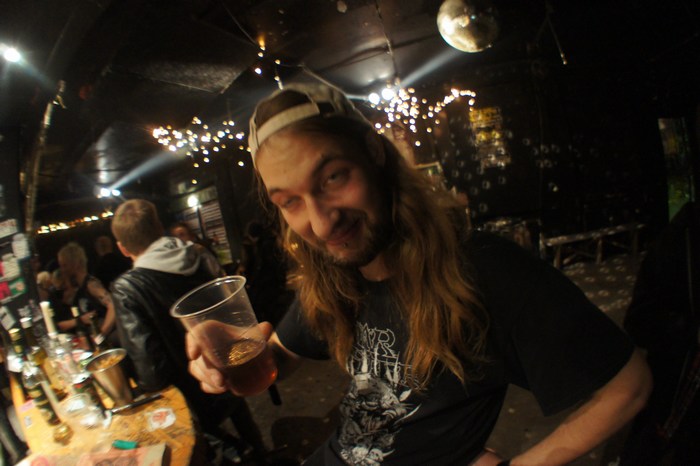 This is Alex who set up the show. To be fair, he doesn't always look like this.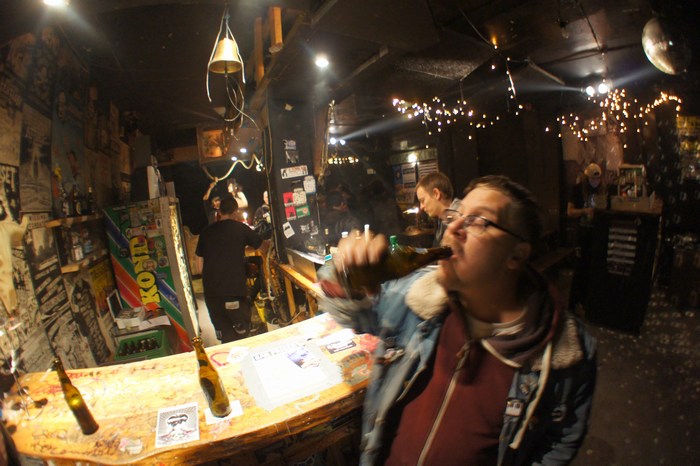 The one and only: Esse Bloodshed!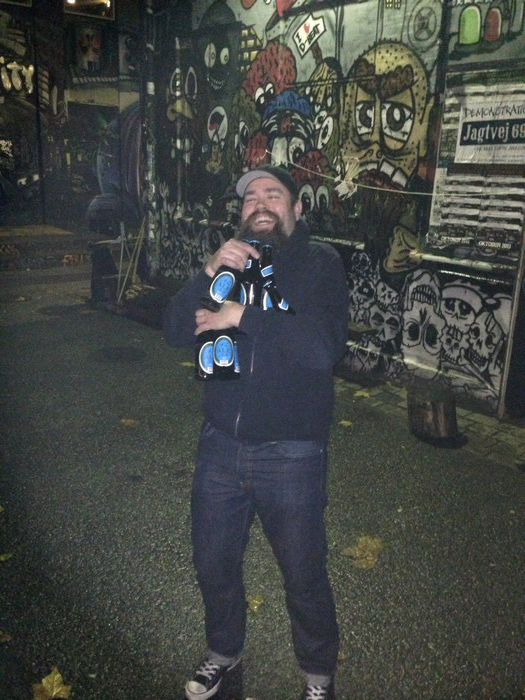 Ola, trying to get rid of all his Danish coins in the only way imaginable.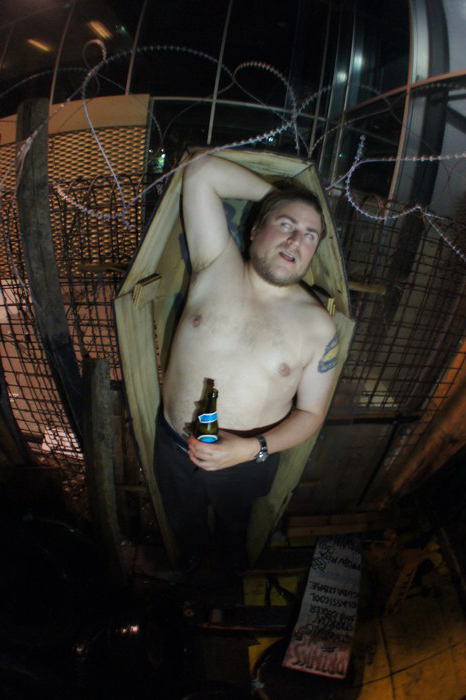 Erik, trying on a casket for size. Why no shirt? No idea!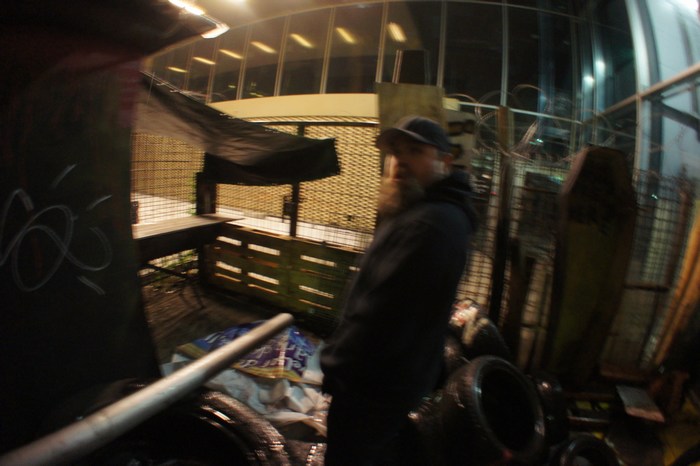 Huh?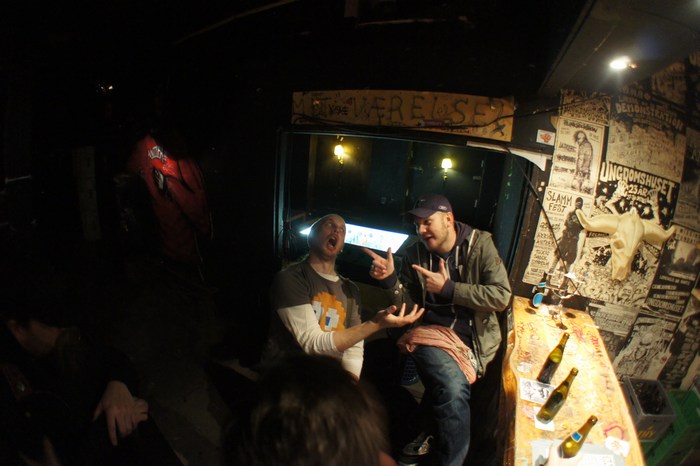 Abbath and Kenneth Andersson, living it up at the bar.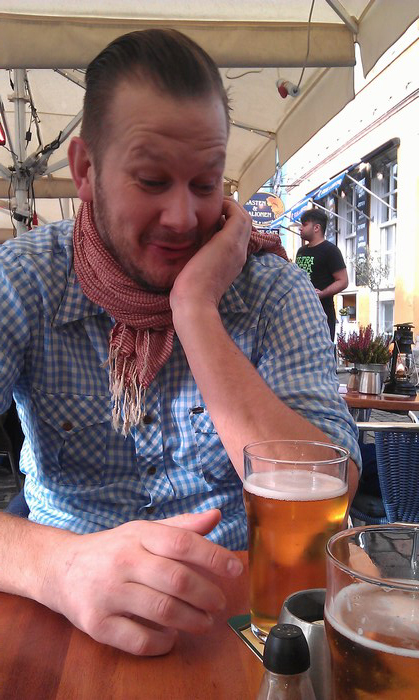 There's no beer like the first beer on the day after. Lovely sunshine at Nyhavn. Norse looks like he should be reviewing wine for a moning news show.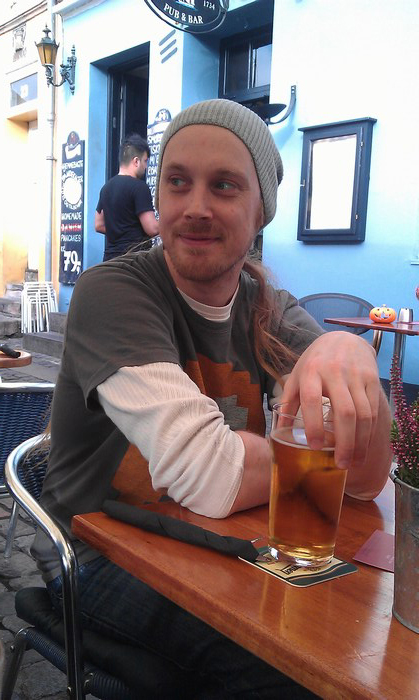 Fenok, enjoying a bit of touristy patio-sitting.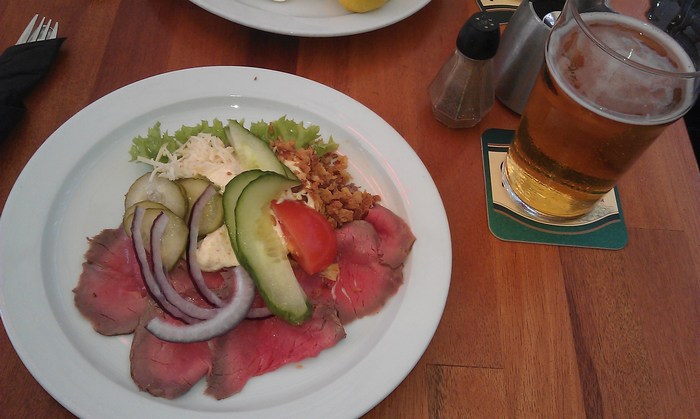 Smörrebröd! The epitome of Danish cooking. Roast beef and horseradish.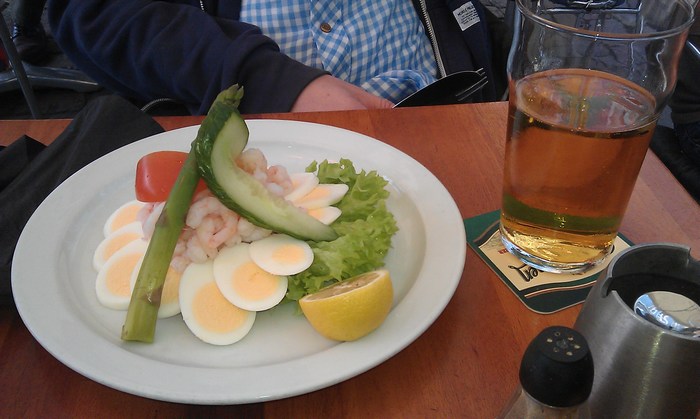 Shrimp sandwich.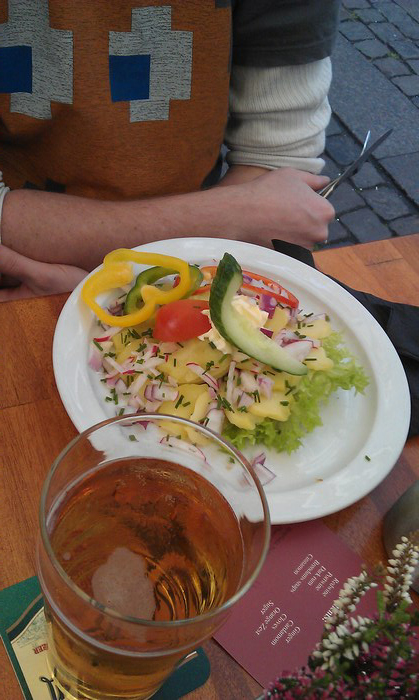 Aaaand... boiled potatoes. It's like all of Denmark hates vegetarians.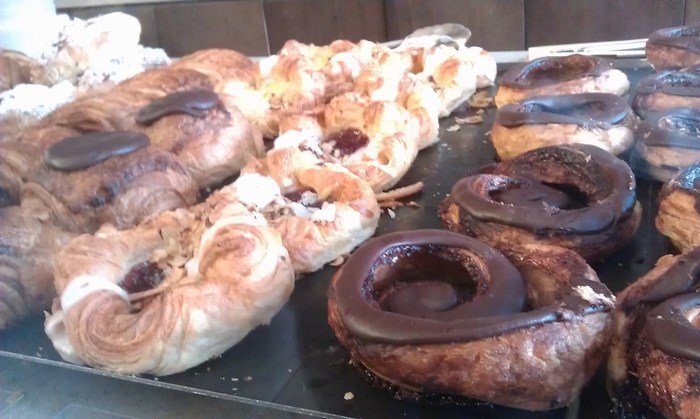 And, to finish it off - a Direktörssnäcka. One of these holds enough calories to feed an entire family for a week.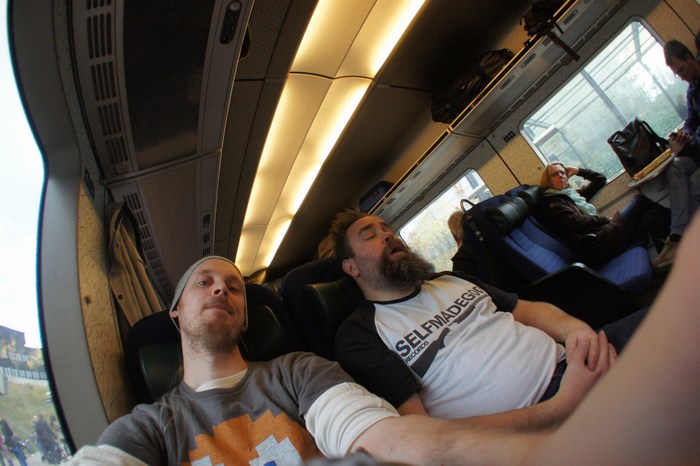 Looking hot and sexy on the train to Malmö.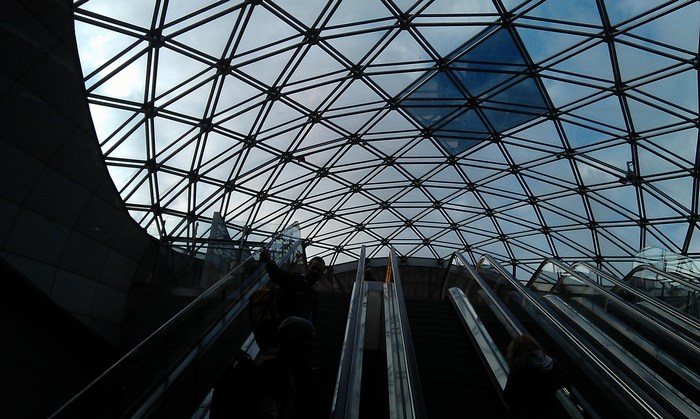 Triangeln train station - Malmö looking all futuristic and cool and stuff.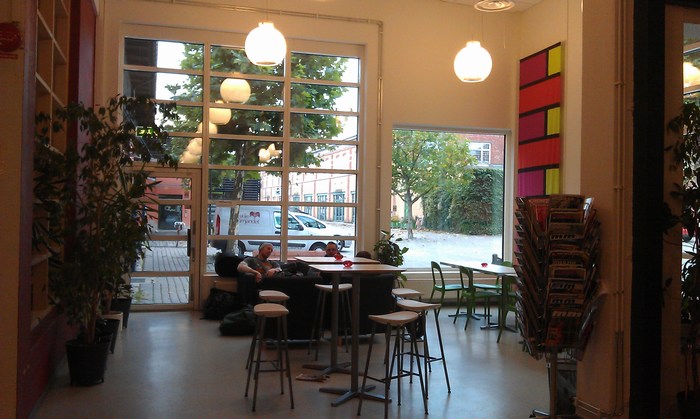 Swanky as fuck rehearsal space lobby, with a cafeteria and all.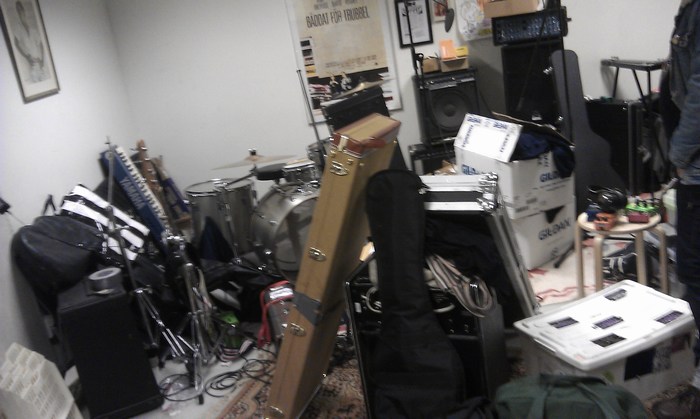 Too bad the Bäddat för Trubbel room (that they share with Pyramido) is a total dump.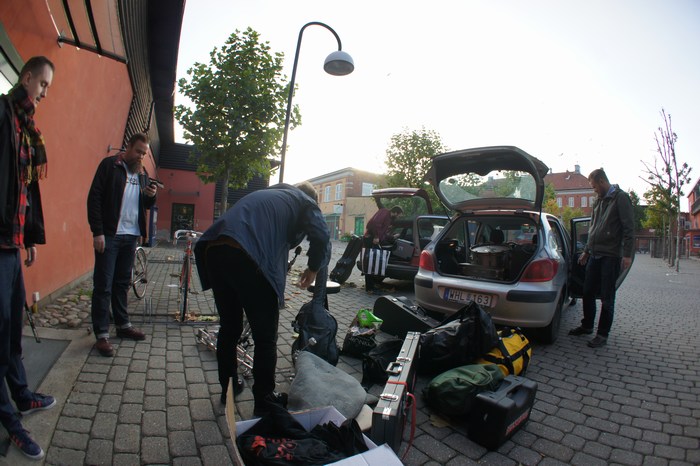 BfT loads the miniscule cars. Ola watches and tries to look busy.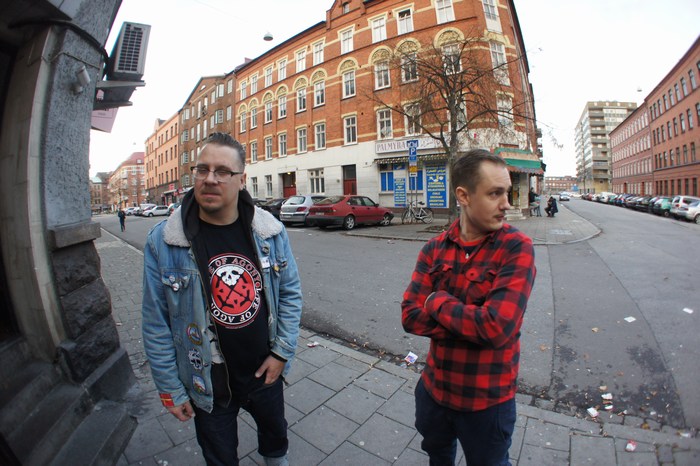 Esse and Ola (have a look at our OEF giglog from way back when to see much younger versions of these guys (ok, here's a cheat link)).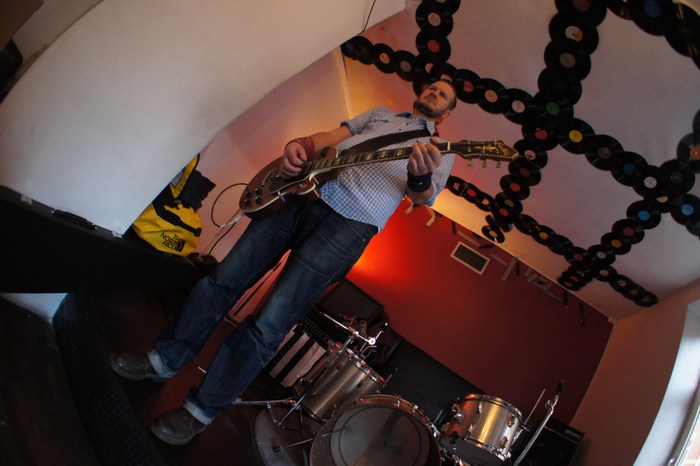 'the Giant' strikes again. This stage is not very big and the ceiling is not very high. Nice place though.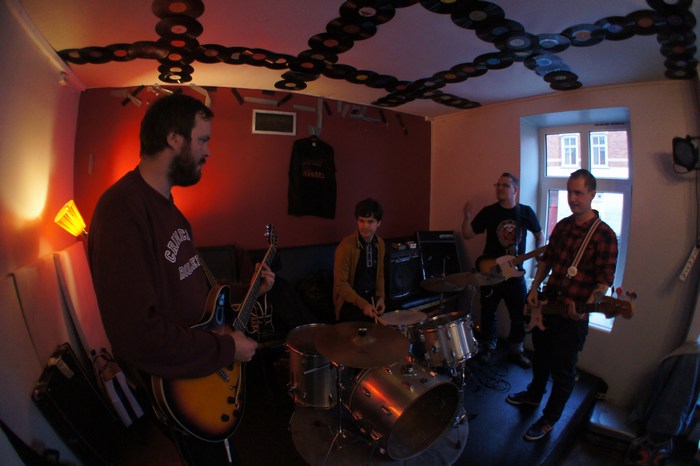 Bäddat för fucking Trubbel!!!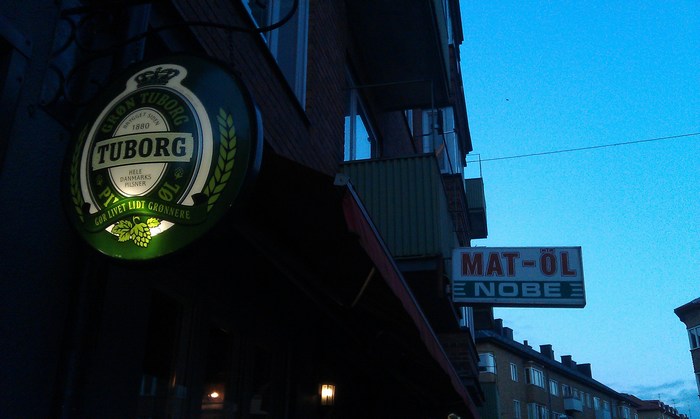 Off to Nobe for some food.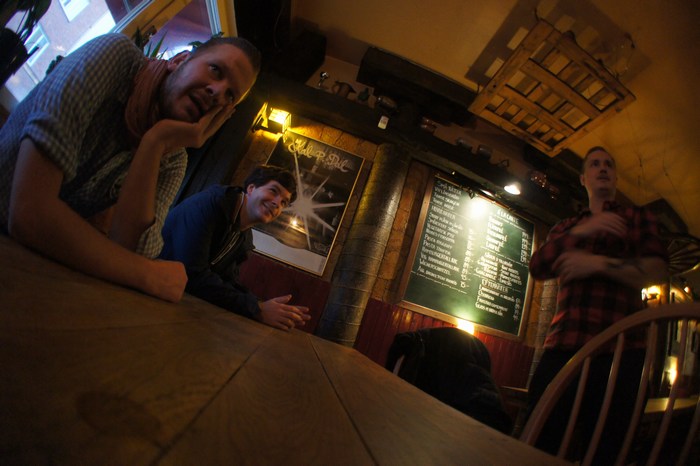 Norse, Piffe and Ola in anticipation of...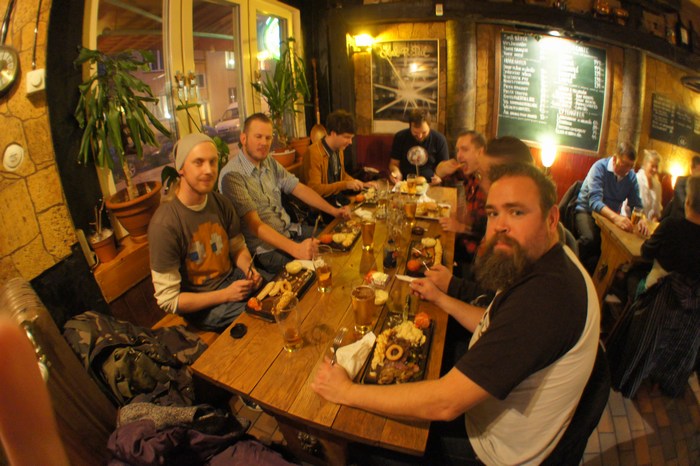 Plankstek for everyone! The crown jewel of the Swedish kitchen!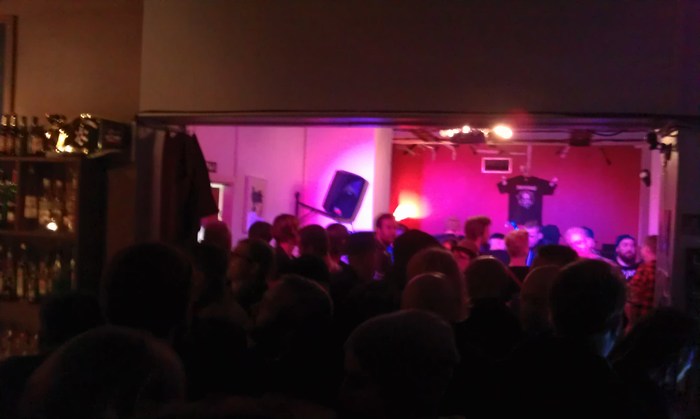 Häng bar in all its pink glory.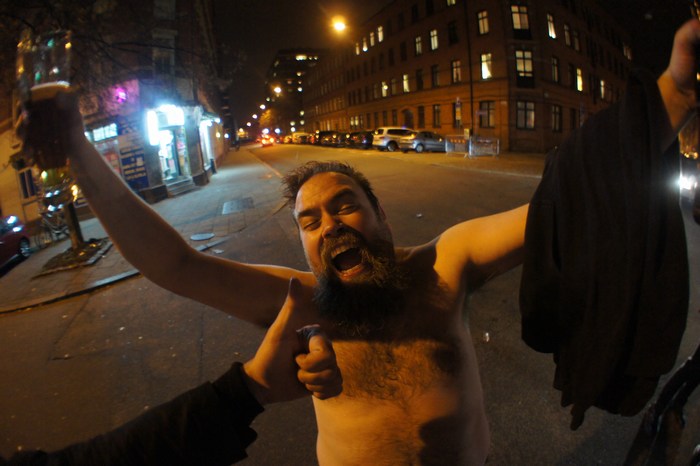 Ola, looking happy with the gig. Too bad Burst/Nasum-Jesper has to ruin a great photo with his thumb though.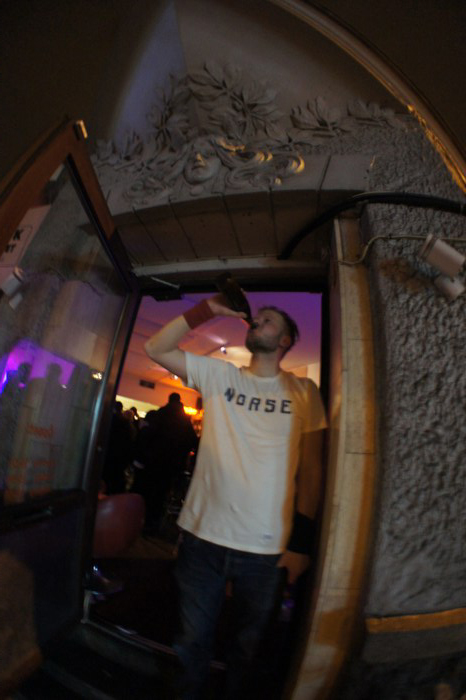 Beerdom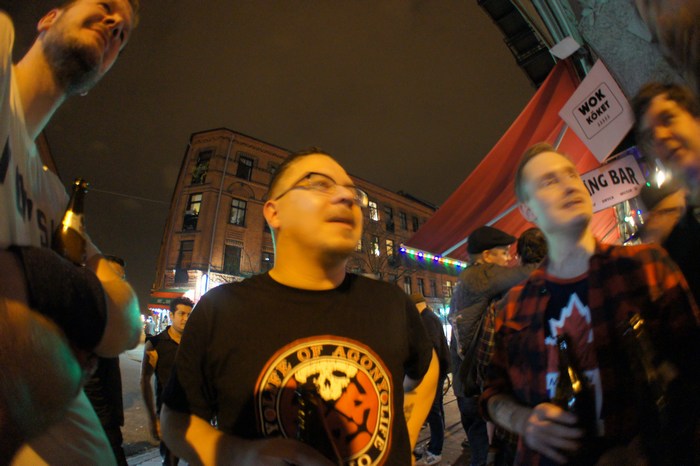 Hanging out at Häng bar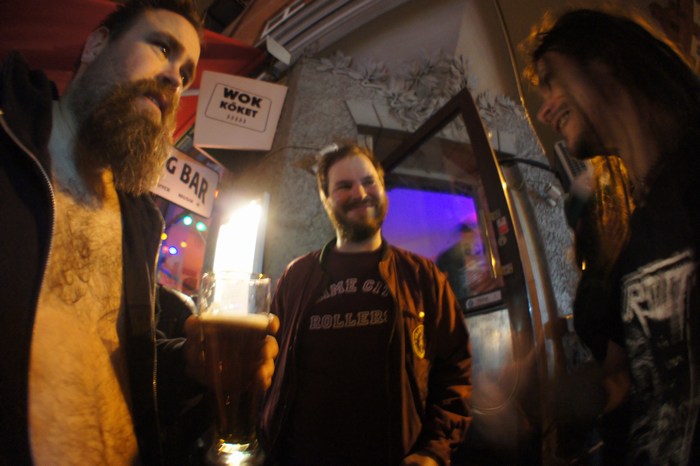 Ola, Hjelle and the sound guy, looking sweaty and happy.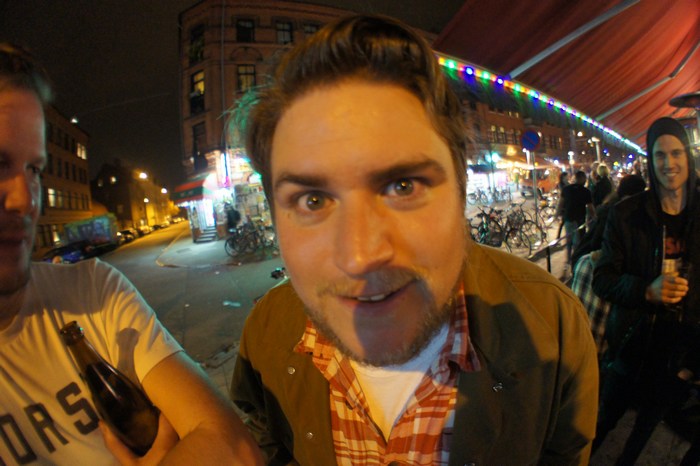 Erik, looking up to no good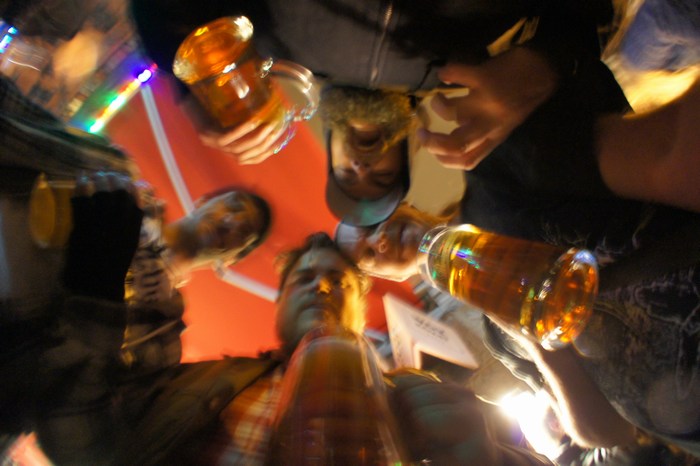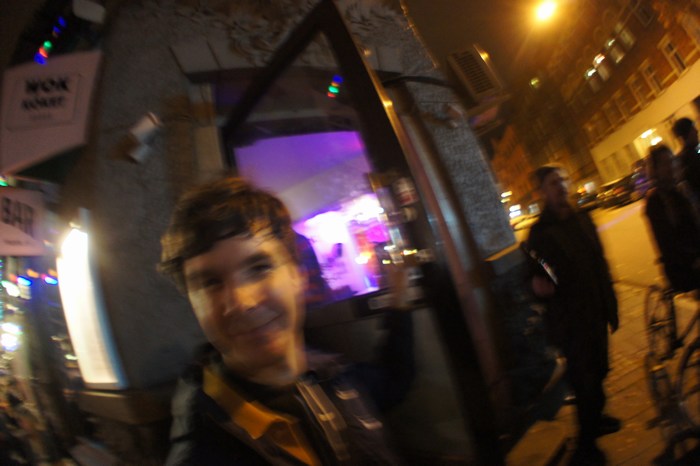 This is Piffe, minutes before he drops a full beer on the pavement and gets yelled at. He looked just as happy and blurry afterwards, though.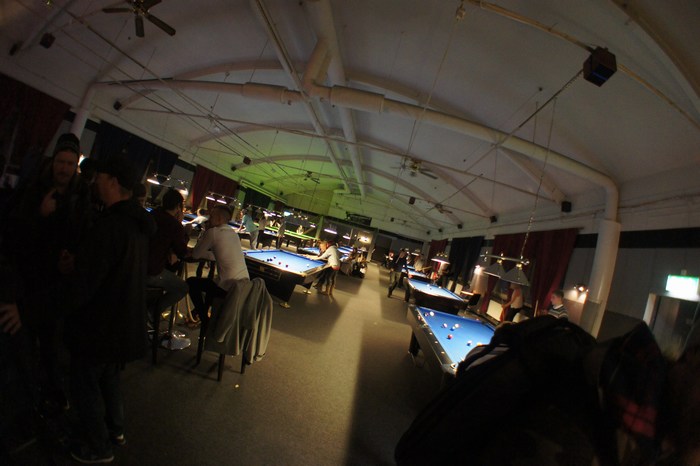 Weird pool place on the top floor of some office building.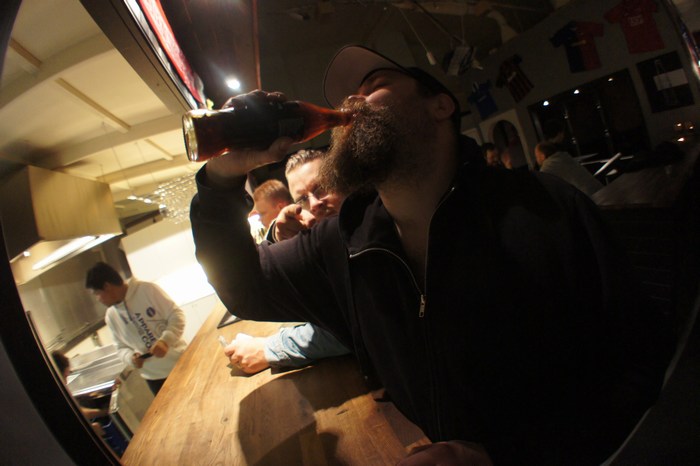 At the pool hall. Esse shames Ola for drinking non-alcoholic stuff.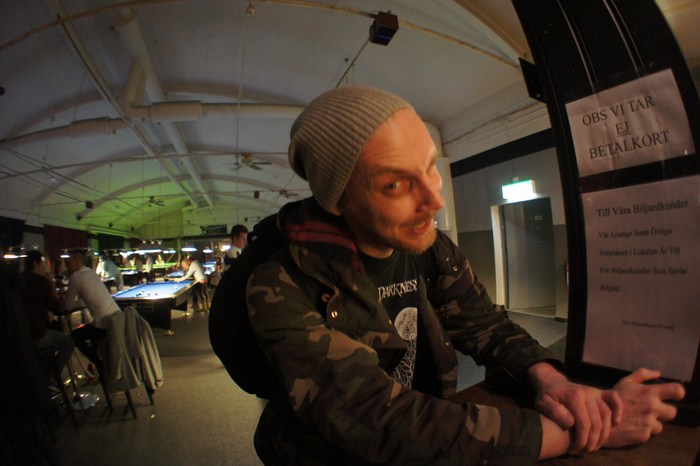 Fenok, looking like it's time for him to switch to soda as well.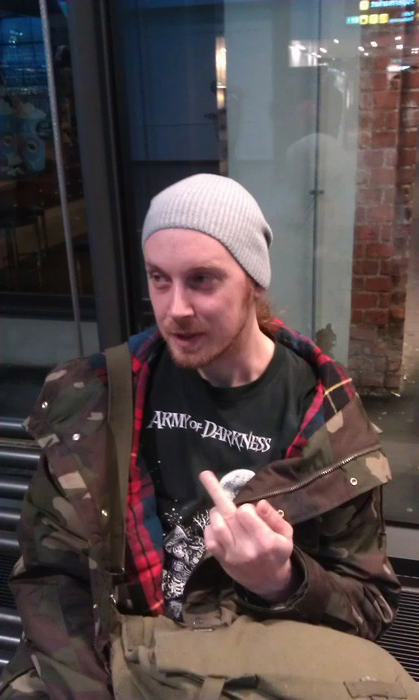 7 in the morning, waiting for the train, Fenok suddenly has no sense of humor.