Massgrav in finland 2010

Well, we've been to London and we've been to L.A. Spain, New Zealand, and the U.S.A. Ok, so that was the Ramones, Massgrav haven't been anywhere near any of those places and neither had we been to Finland. Until now. Now we have. Here's what happened.

Since it's really hard to bring your car on a plane, we had to take the boat to Finland – for some reason we didn't even think about the possibility to take trains and busses around the country, maybe because we had to go from Tammerfors to Åbo so damn early, maybe because we just don't think that much about things. All things considered, this was the right thing to do – the boat is an interesting place to be, having a car is a handy thing to transport yourself and your stuff in, especially when the weather sucks and hey, we were in Finland, of course the weather sucked. The only thing that's really bad about having a car with you is that someone has to drive it and that person can't get wasted. We solved this by bringing Erik, Ola's younger brother, who turned down an all expenses paid poker tournament in Vegas to drive three idiots around a gray and wet Finland – a decision he would come to regret…

Since Ove broke his arms this year and had to trick Fenok into joining the band and learn our old songs all over again, 2010 hasn't been our most active year when it comes to playing shows – the Helsinki show was to be the first of the year, and the first one with Fenok behind the drums. Exciting.

Ok, so we got on the boat and Ola turned the car keys over to Erik and we headed for the overpriced buffet restaurant to fill up on assorted smorgasboard stuff and giggle at the funny looking/sounding metal guys a few tables away (we later discovered they were the band Portrait, who were about to enter the Necromorbus studio, where the latest Massgrav release, the split with Blood I bleed, was recorded). Once we all felt like pythons who had swallowed a deer whole, we shuffled to the karaoke, only to discover there were absolutely no songs worth singing. We were left with no alternative so we headed for the disco bar and hit the beer. At midnight, we made a quick stop at Åland and the Tinner boys joined the party, as they were also playing at Patch fest II in Tammerfors.

Saturday morning. When the ferry opened its gigantic doors, it was like a portal to a great, gray void. Everything was bleak and gray. Finland.

We drove across town to dump our stuff with our Helsinki contact person, Sini. Or, "Sini Satan" as she calls herself. She turned out to be a friendly enough but rather sleepy crust/hc/pc punk with a couple of tiny dogs and a tiny apartment where we were informed two of us would probably sleep. Ok, fine, we'd prefer to all sleep in one place but whatever, apparently everyone who could normally house us was already in Tampere for the Patch Fest we were playing the next day. Sini was nice and trusting enough to give us her spare keys and we set off to explore Helsinki.

To make a long story short, we walked forever in circles, ate bad food, had good coffee, did some shopping and that was – as they say – it. Time to go to the venue. We'd managed to borrow a GPS and that was a true life saver, we'd never been able to find ANYTHING without it and now we found our way without a hitch.

Lepakkomies means Batman in Finnish. Werid weird name for a live venue/pub for alcoholics. Who cares though, when they have their own parking garage with convenient load-in, a low but ample stage, a narrow stage room, the nicest staff ever (never before have we been trusted to stay alone in a fully stocked bar (fools!), a totally ok backstage room that is safe to leave stuff in and a sound guy that is not only nice but also knows his stuff. This is a good place to play.

Initially, though, it looked like we'd be playing to the other bands. Few people showed up and nobody bought any of our merch. Sini brought a few buckets of rice based food over and we had a couple of beers and people started showing up. We hung out with the talkative Norwegians of Livstid and sold more and more shirts and crap. A VERY drunk man in his fifties stumbled up to our table (which was situated next to the entrance) and bought 5 CDs but opted not to pay to see us play. I hope he enjoys them. Finns…

When it was finally time for us to do our thing (we TRIED to switch with the Unkind but neither them nor Sini would hear of it), the air in the stage room was so hot and humid, it was hard to breath. Since this was our first ever gig with Fenok, we were a little bit nervous, saying anything else would be lying. We needn't have worried though – the on-stage sound was super great and we tore through our set like a sharp blade through soft tissue. We'd been told the Helsinki crowd sucked and nobody would mosh but we didn't see any of that attitude, the crowd was very lively and appreciative. Thanks guys, we love you too, you ugly, smelly little things!

After we'd played, we only had time for one beer before the bar closed. We packed up the stuff and went to the next bar, which turned out to be closed. At this point, the girl who was letting Norse and Fenok stay at her place announced she'd like to go home, Sini Satan took off without saying much – apparently heading for some swanky night club - and the night seemed to be pretty much over. After dropping the others off, Ola and Erik let themselves into Sini's apartment and went to sleep on a mattress on the floor. But not for long – after about half an hour, the hostess showed up, and she was not alone. Trying to sleep in a one room apartment where 5 finns are drinking beer and laughing is not easy. That most of them left after only an hour would have helped, had Sini not decided it was time to fire up YouTube and play some Finnish disco. That she stopped after being verbally abused by Massgrav members would have made it easier to sleep, had she not continued to talk loudly for another hour, after which she switched to louder-than-fuck snoring. Erik and Ola got up very very early, being sick of waking up every 15 minutes and left the flat in a pretty pissed-off and bleak mood. It was early. It was cold. It was raining. Driving aimlessly around Helsinki at dawn, waiting for the others to wake up did little to improve the mood, not even finding a great outdoor gym.

After a few hours, Norse and Fenok had finally come awake after a nice evening of wine and tea and a comfortable night in their separate beds and a nice cup of coffee in the morning. We set off for Tampere in a very Finnish mix of fog and blizzard. We stopped at a John Deere store, but it was closed. We had brunch at a gas station. We stopped at a train museum but only Erik wanted to go in. We were cold and tired.

Then Ola sees a sign saying Armor Museum and we decided to make a detour. Suddenly, on a hill, there's an armored train like something out of a Tintin album. Frenzied screaming in the car! The bad mood flew right out the window as we spent the next couple of hours in the company of every armored vehicle that has ever been used in Finland, personnel carrier, anti-armor guns and whatnot and then let lose in the gift shop. Happy times!

The first thing we did when arriving in Tampere, apart from saying hello to the Tinner guys and having a look at the venue, was to make up the pretense of Erik having to take a shower (well, he DID, as he refused to use Sini's shower) so we could give our lodgings a good eyeballing and evaluations. We needn't have worried – Tomi and his friend welcomed us to a very nice flat with ample sleeping arrangements and good company. First time ever we slept in a place with a strip pole and a My Little Pony collection, but hey – we're open minded people, right?


We killed a few hours and murdered a couple of burgers with the Tinner crew at the Soho sports bar and then went back to the Vastavirta venue which was yet another premier place with super nice staff and met Iiro, the guy who'd arranged the trip. If he ever gets in touch with you, go for it – he is easily the most organized and nice person we've ever been in contact with. No offense to anyone else, but Iiro is the SHIT!

By now, the armor museum rush had worn off and we spent a few long hours waiting to go on stage. The place was closed to full and the other bands were ok to watch but we were cold and old and grumpy. Luckily, this all wore off the minute we hit the stage. The sound on stage was shit (we got suspicious already when the bass amp turned out to be a Hartke and the sound guy wanted to put the line box before the distortion pedal) but we did the best we could and kicked some royal ass and people seemed to enjoy it, even though it was pretty far from Rotten Sound (who had played the night before). Speed drinking ensued while we let the rivers of sweat dry on our bodies and talked to all the nice people of Tampere before heading back for three hours of sleep.


Nobody cares about going home we'll make it short. We slept for 3 hours, drove for two nightmareish hours to Åbo, got on the ferry and hit the sack. The rest of the day was spent in restaurants, sofas and saunas, feeling dead to the world. Fenok spent all day in bed. We're too old for this shit. Call us next time, we'll be right there.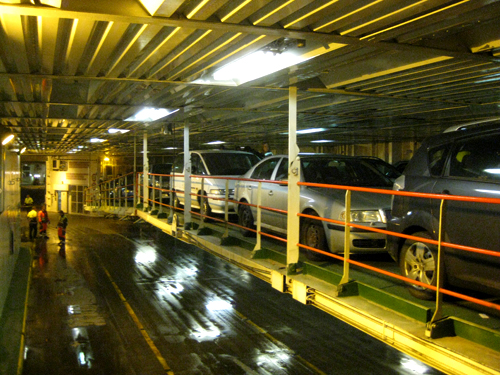 On the ferry, having parked the car on the hanging deck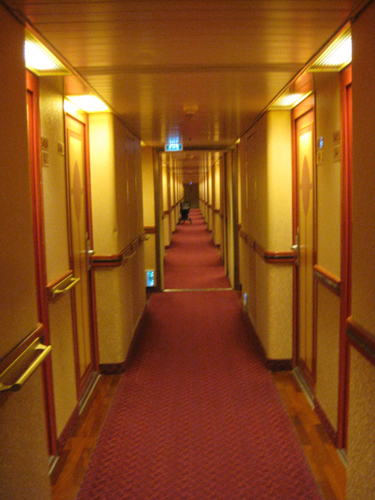 Nope, there's no mirror, these hallways are loong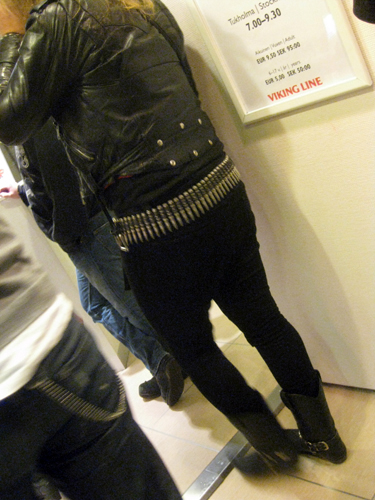 Fist sighting of the Portrait guys.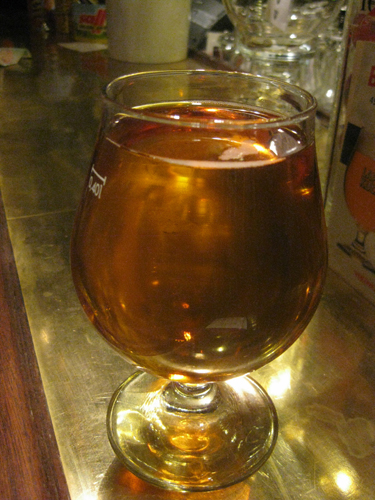 Lapin Kulta - the only beer available on tap on the boat - totally stale, not a hint of foam!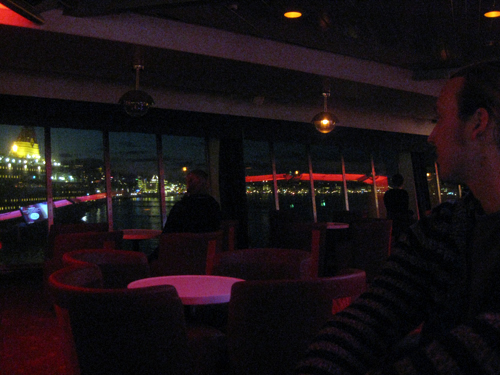 Watching the Stockholm skyline disappear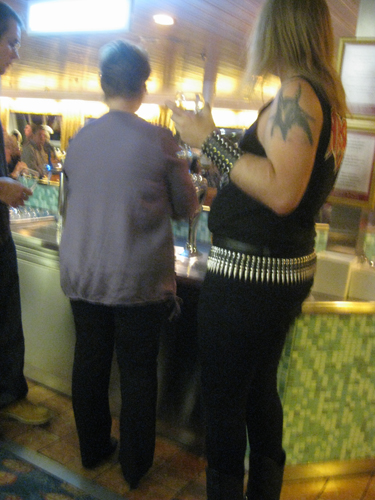 More Portrait metalness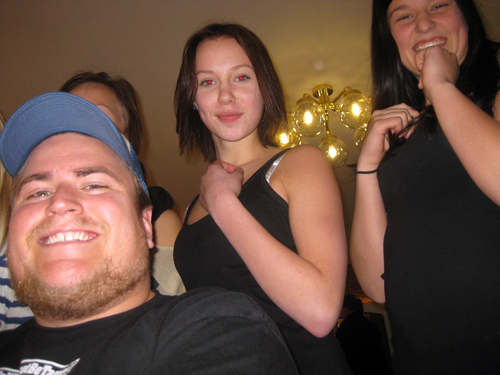 Erik, being famous, posing with fans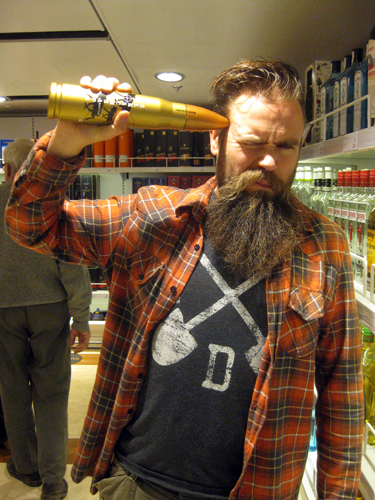 Ola, reuniting with the bullet booze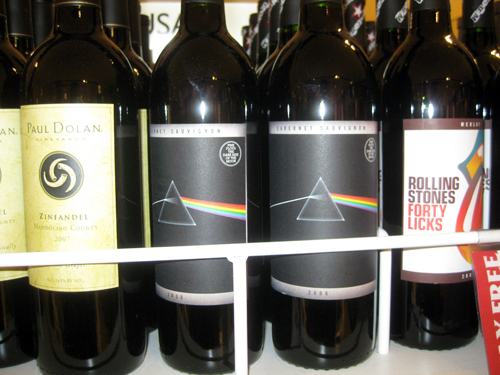 Wine for old people, apparently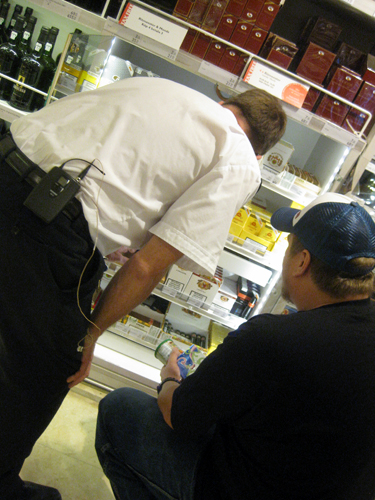 Buying cigars - one of the few vices allowed when you're driving the car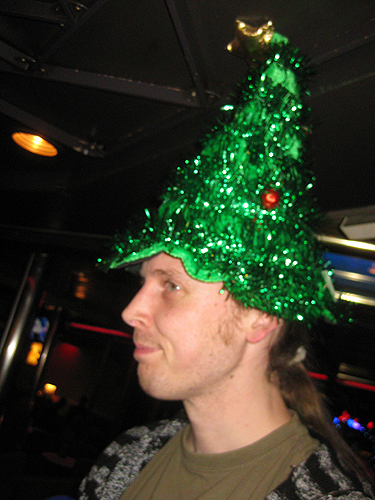 Spexarn Fenok buys a hat.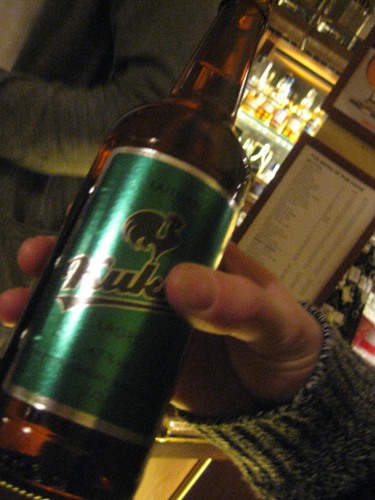 Finally, we found decent beer. Unfortunately, we drank all there was and had to go back to Lapin Kulta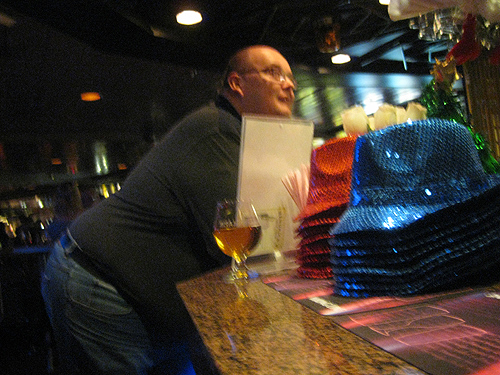 Riding the ferry, buying hats - what's the connection?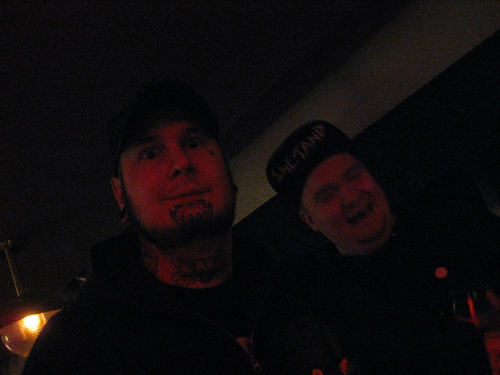 Tinner joins the party

Looking smart on the boat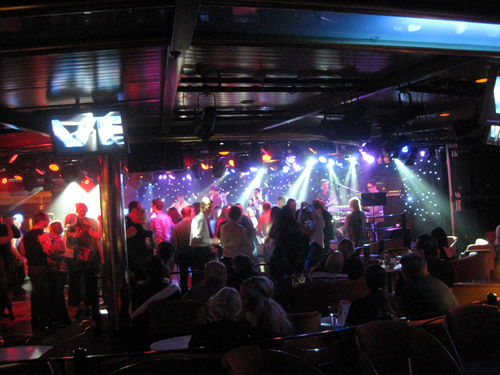 Next time, we'll play here instead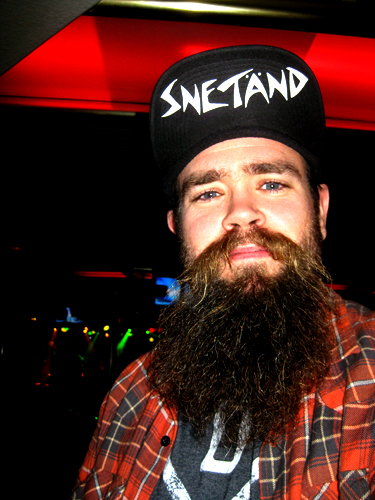 Smarter and smarter for every beer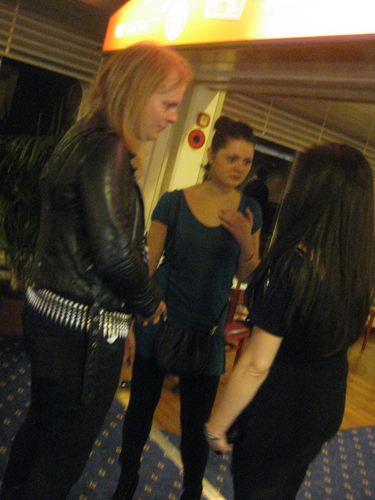 Impressing the ladies with smooth looks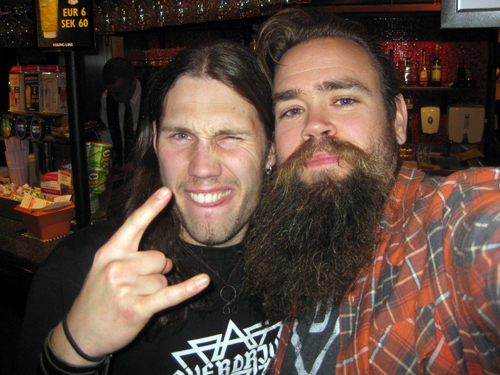 Ola and the Portrait... singer?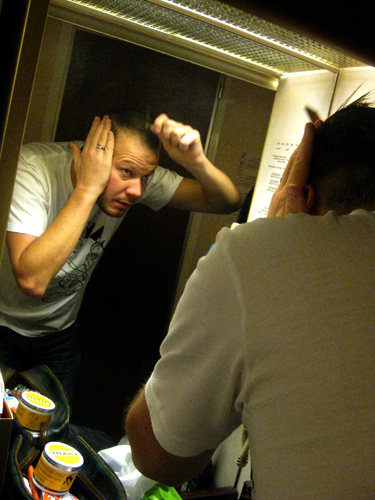 We're in a tight spot - how's my hair. Umpteenth combing session of the day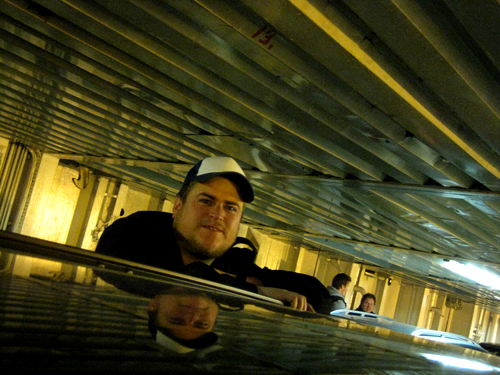 Getting ready to leave the boat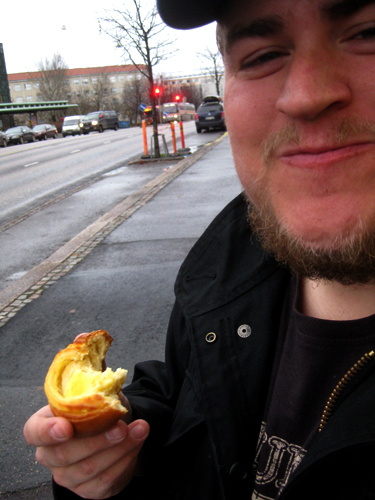 Waiting for Sini Satan to appear, Erik enjoys the finnish cuisine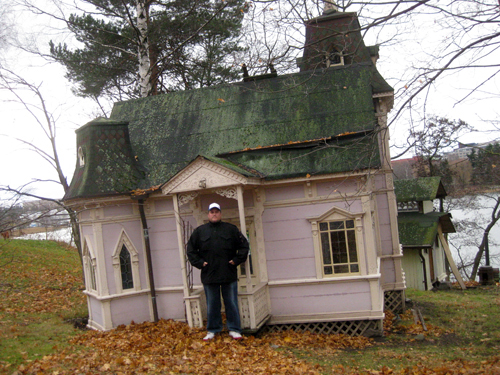 Yeah, Erik is really big. He's about 4 meters tall.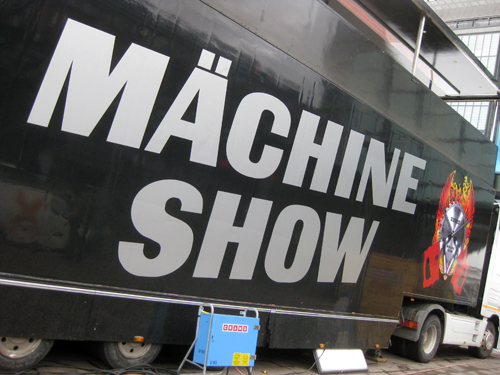 Learn to spell fucking finns!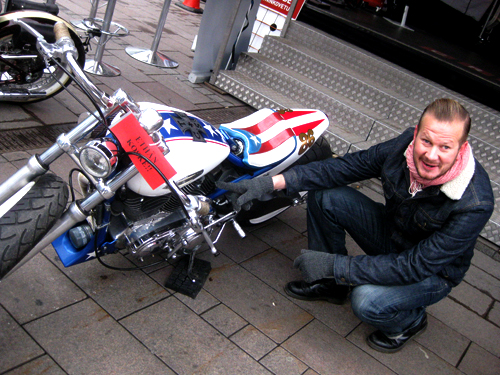 Norse gets very excited about some unusual technical solution and tries to get the rest of the band to give a shit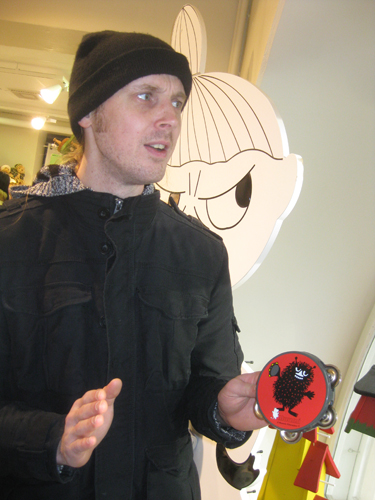 Fenok, trying out exotic, native percussion instruments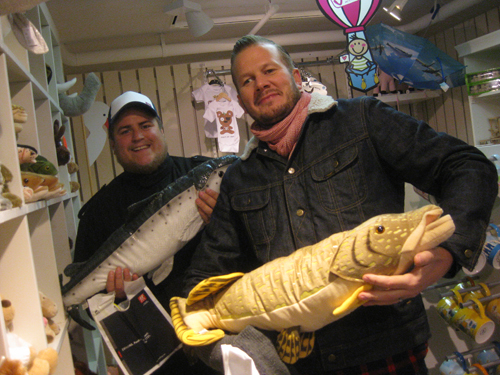 Visst fan nappar det!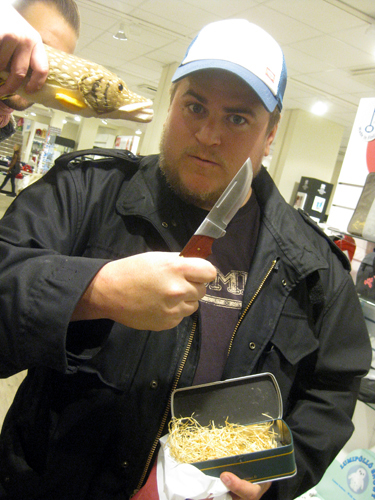 Niiven! Erik realizes he can't walk around Finland without a knife (noone else does) and buys one.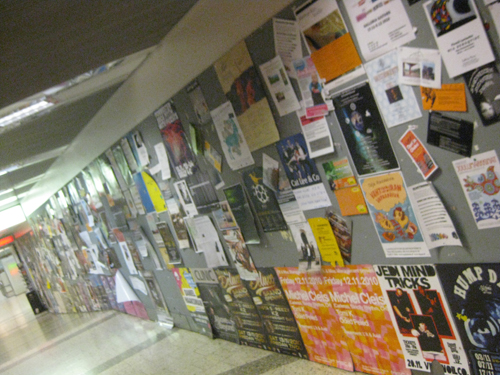 Millions of posters. You think there was one for our gig? Nope.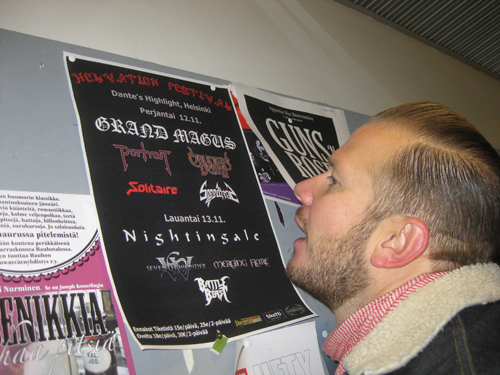 There was one for the Portrait gig though.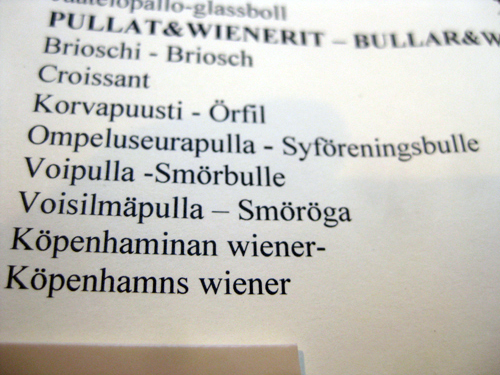 Coffee place in Helsinki, funny-ass names!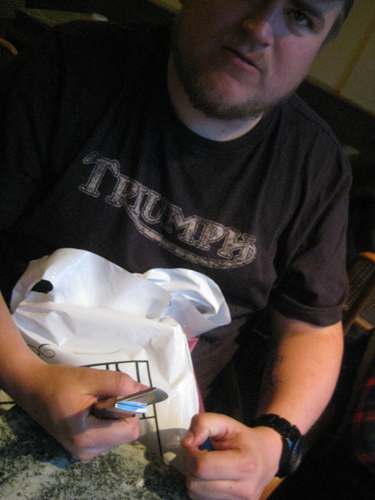 Testing the knife in the café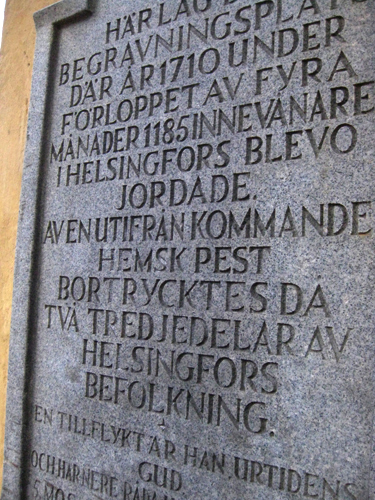 Finns aren't very good at Swedish. They sound funny.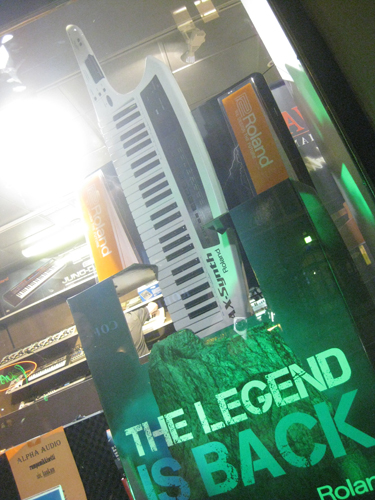 It's BACK! FINALLY! We're getting AT LEAST one for the band.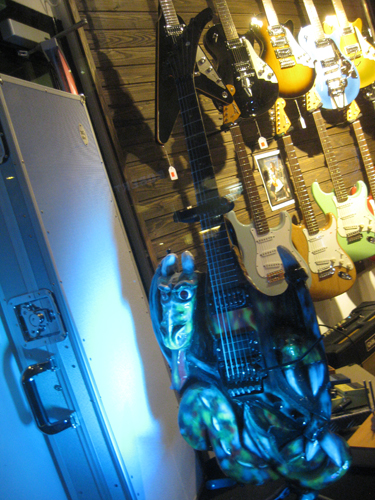 Only in the country of Stratovarious would anyone ever consider buying this guitar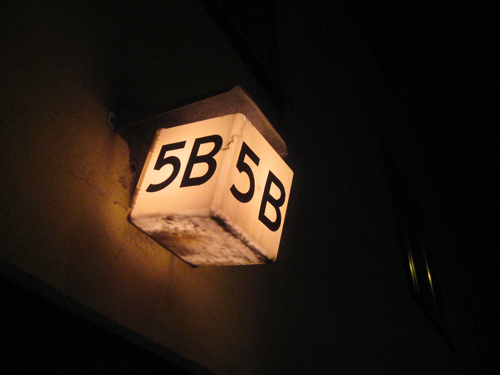 The house of Horror - the house of Sini Satan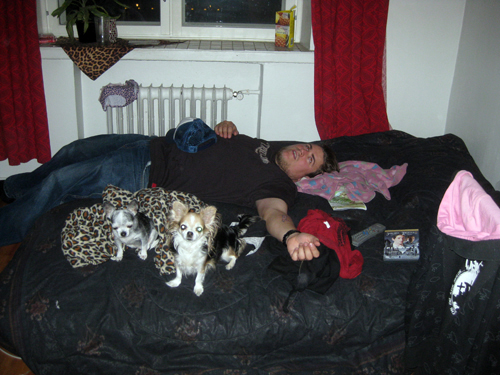 At least 3 items of leopard cloth can be found in this photo. Little does Erik suspect what will happen later in this exact spot...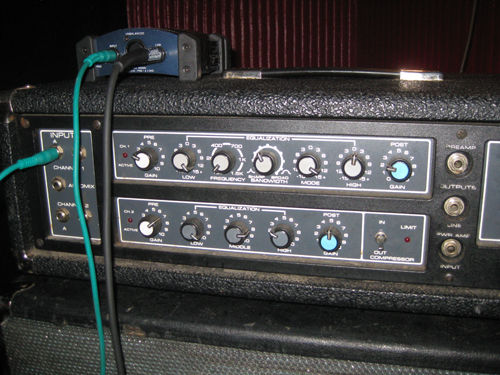 YES! No lame Hartke amp, old-school Peavey power! Ola is very very happy.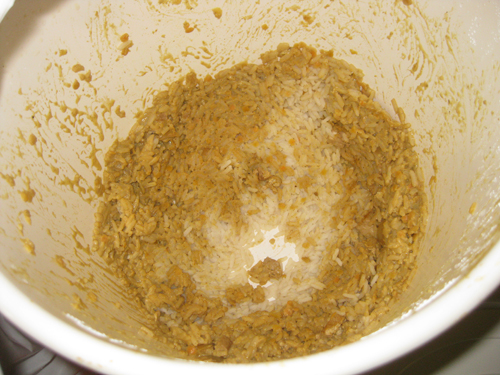 Puke - it's what's for dinner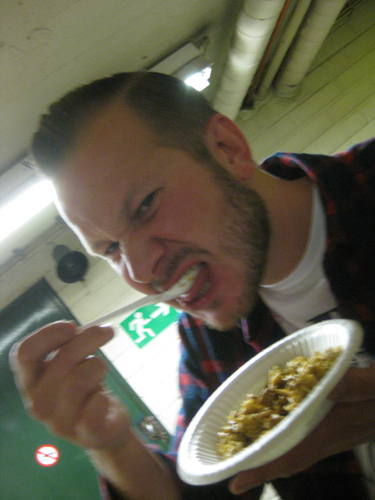 Mmmmmm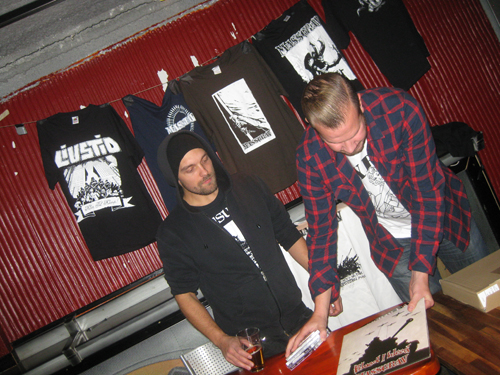 Sharing a merch booth with the handsome norwegians in Livstid.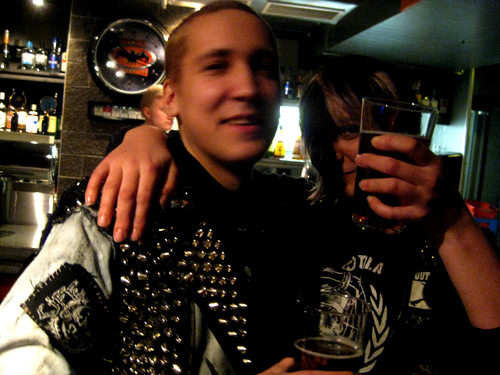 Proud Russian punk who we met in Moscow last year and his Finnish bride-to-be. Congratz guys!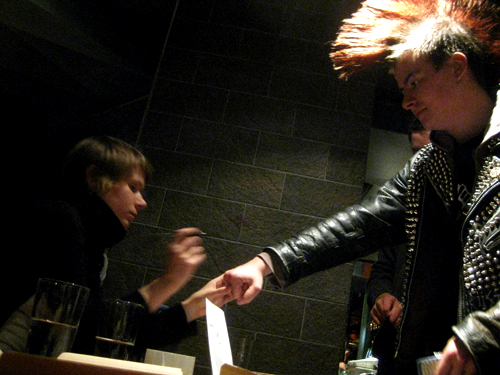 Finns sure wear a lot of spikes and mowhawks!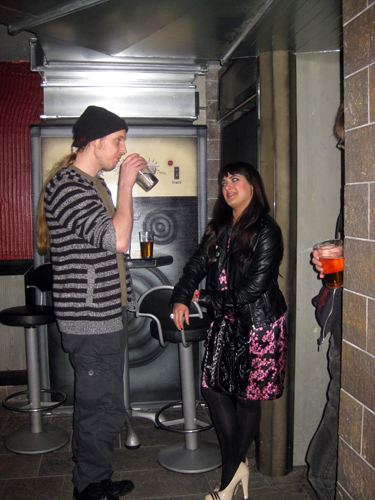 Fenok, hooking up with an old aquaintance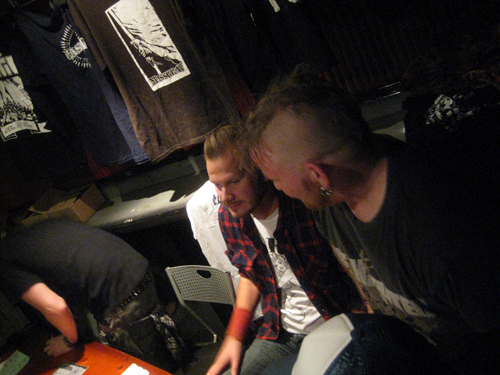 Norse and Kjell-Bjarne in the merch booth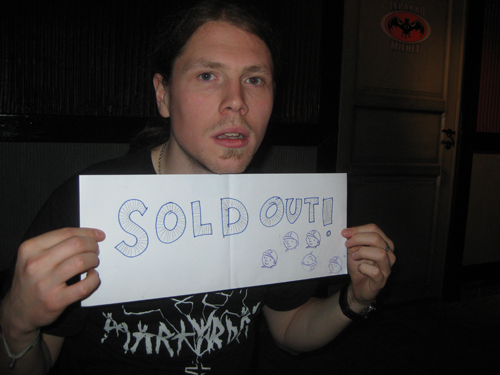 Yeah, we totally sold out that Batman place!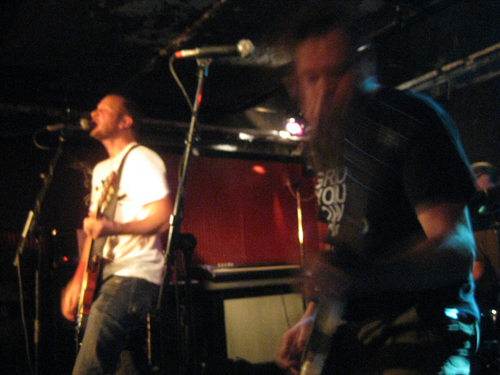 Live alive, live is life, living on the... blablabla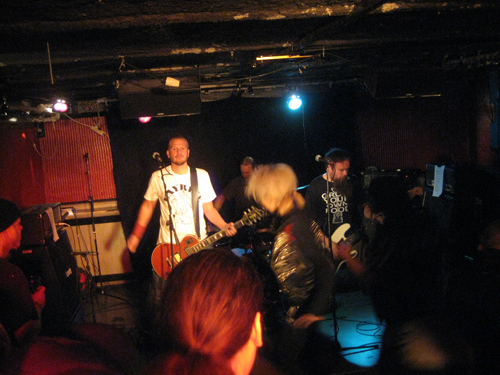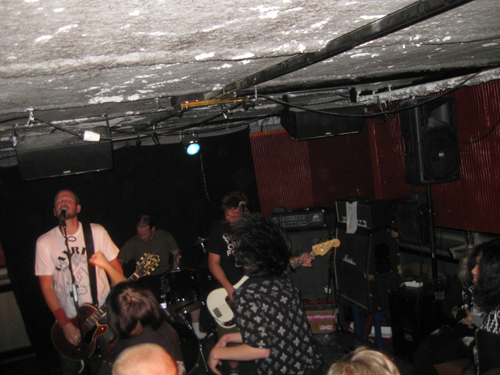 Nice T-rex arms there!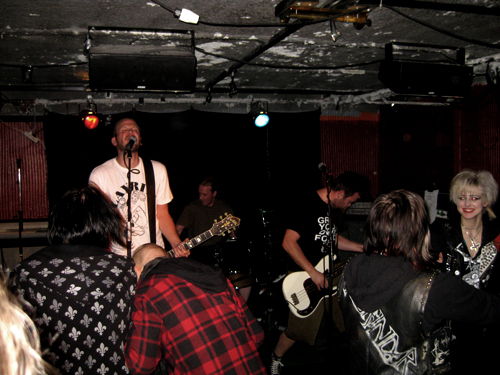 The blonde girl was a big Massgrav fan, according to herself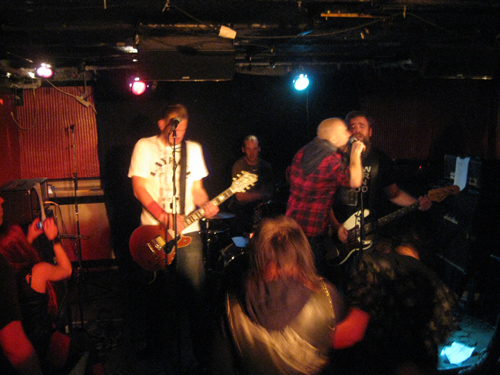 Thanks for the help with the singing!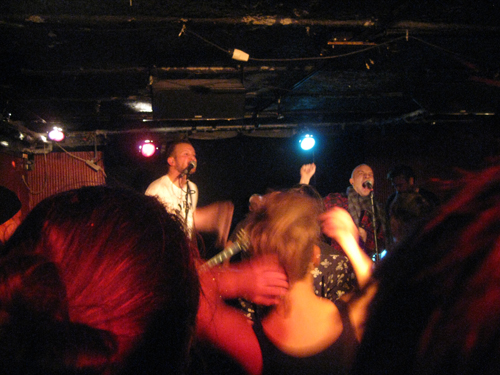 To bad you didn't know any lyrics whatsoever...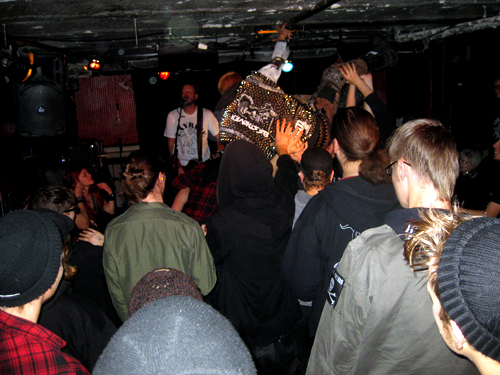 äre klackarna i taket - så klar!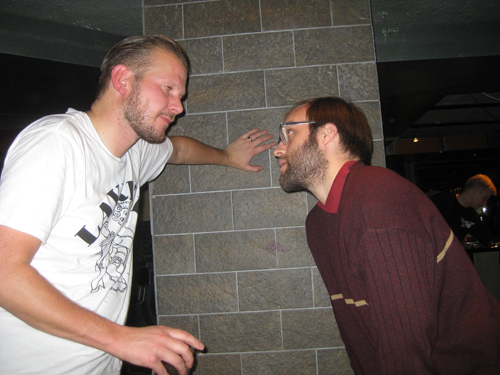 Norse and farbror barbro - one of the few people who seems to have picked up on the funniness of our lyrics. We salute you!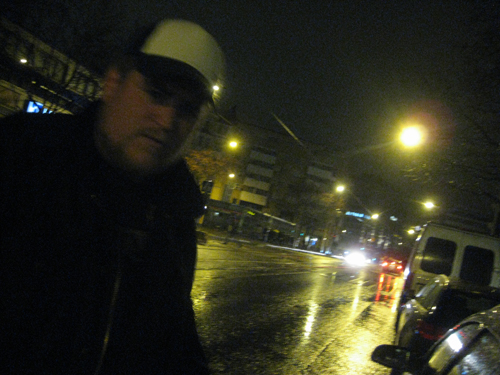 Finnish weather. It's wet. It's cold. It sucks to be out in when you're drenched in sweat.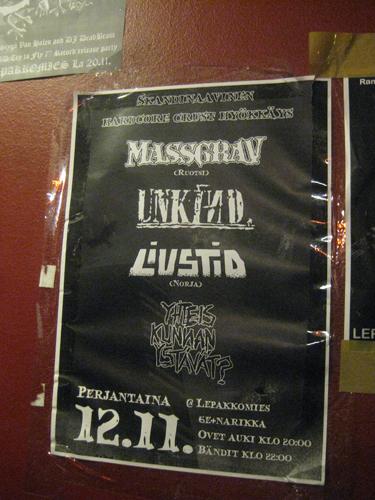 Gig poster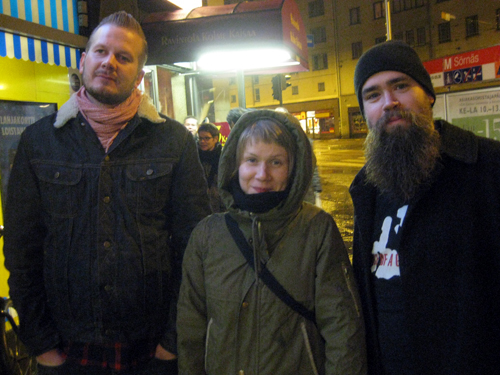 Norse and Fenok's nice hostess (Sinja? Vilja? Vinja? Sorry, we suck at remembering stuff!).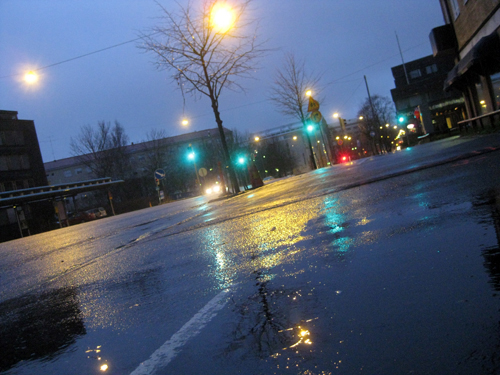 Morning in Helsinki - finally!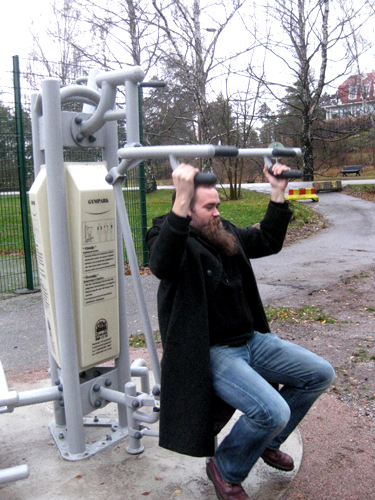 Some morning excercise at the outdoor gym at Blåbärslandet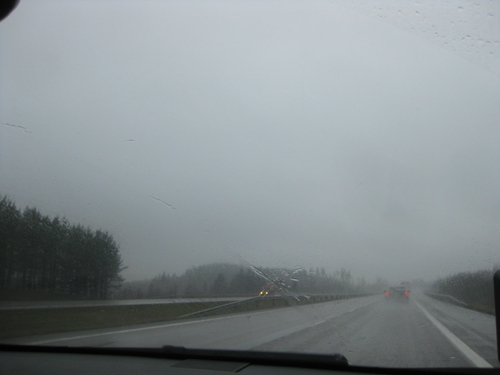 Finnish weather...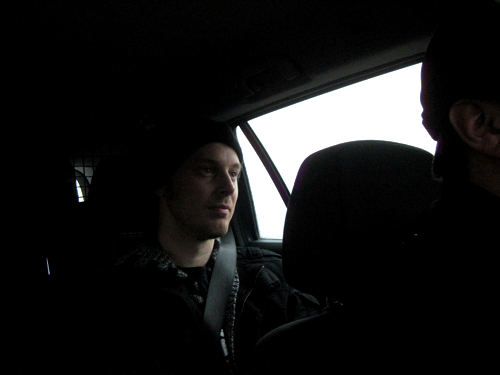 Fenok admires the Finnish countryside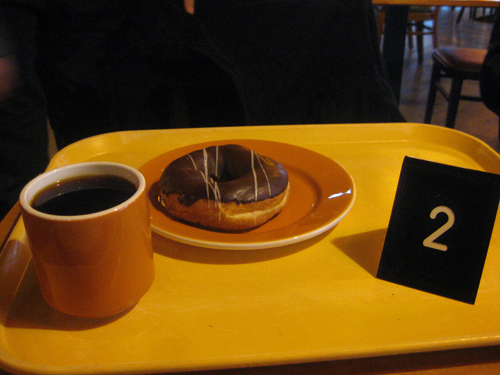 Finnish food. It's very... brown and orange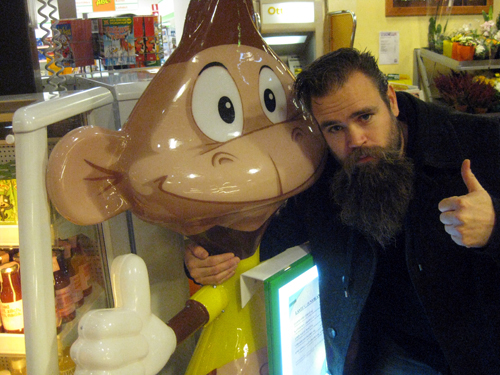 Great minds think alike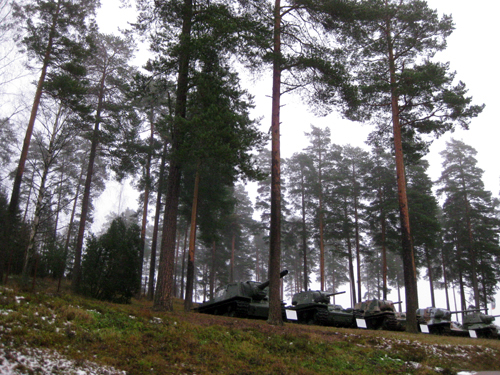 The Finnis armour museum! This really made our day!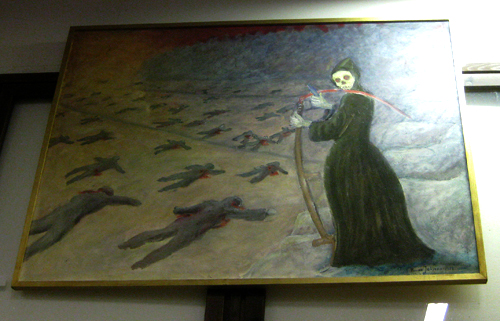 Scary painting. "Yeah, I've killed all these people, time to sharpen the blade. Heeeey... are you looking at me? Are you looking at me?"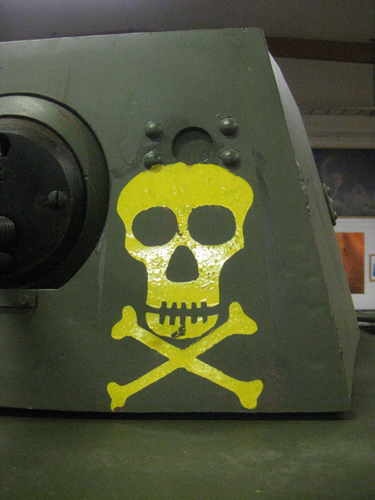 Mad skull-painting skills there guys!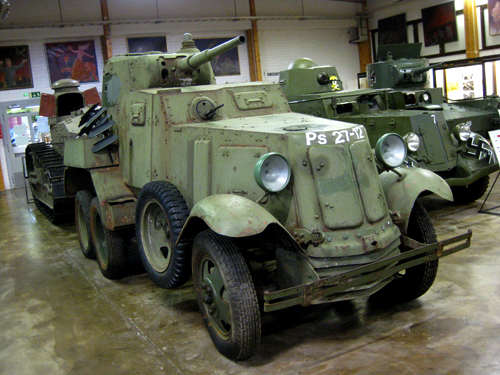 Cooler than fuck vehicles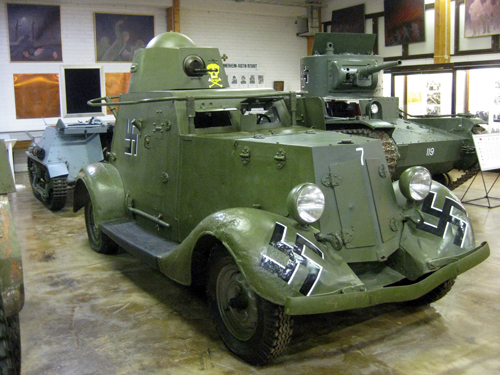 With swastikas everywhere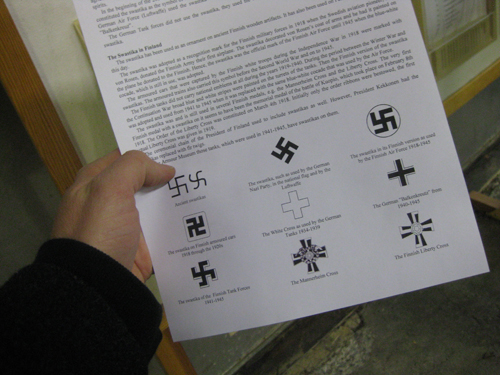 And a handy note, explaining the varieties of swastikas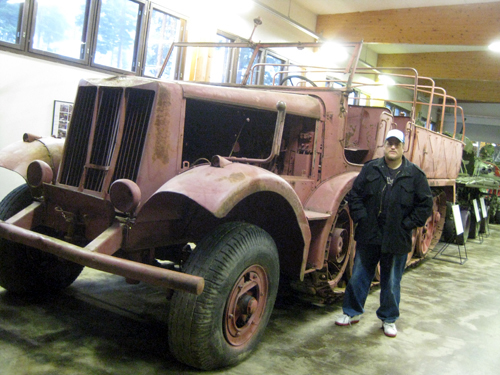 This car is so gigantic, it's fucking ridiculous!

Hummer eat your heart out!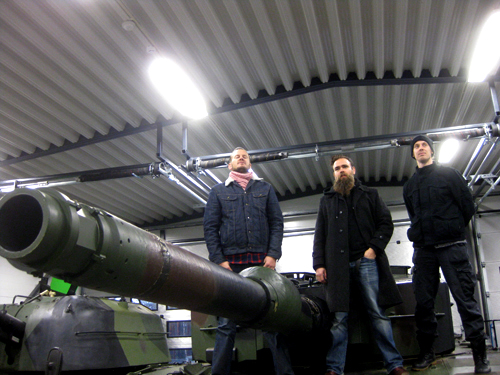 Expect photos from this session to appear on a shirt near you in the future!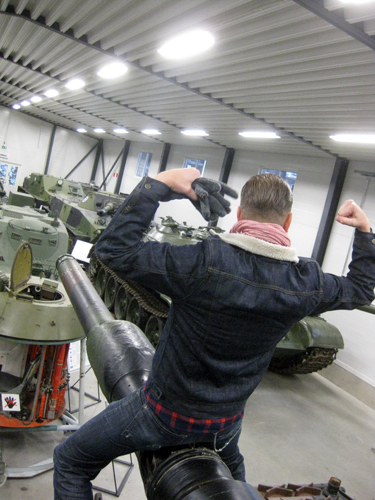 Norse, dreaming big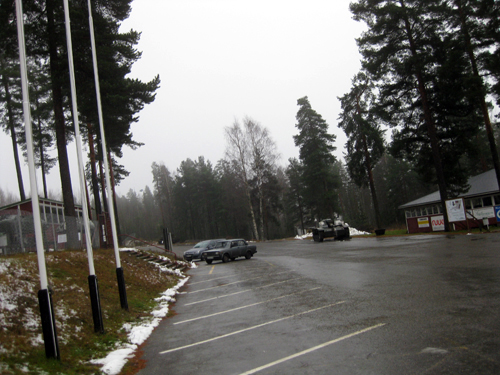 Apart from a russian couple in a Lada, we were pretty alone at the museum. Weird!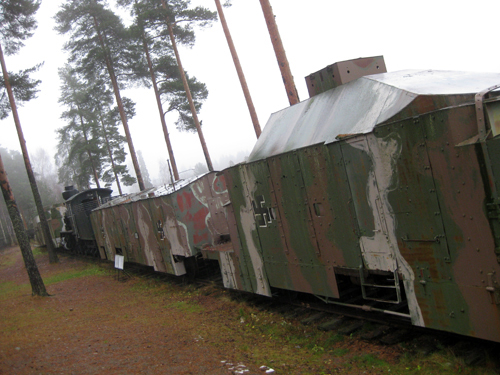 The train!!! The FUCKING armoured train! This was the first thing we saw from the car and we all screamed with joy.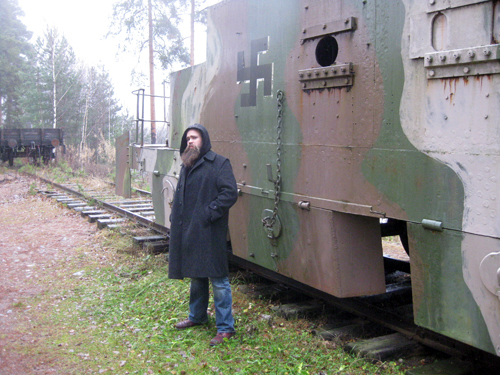 Too bad it was pouring down...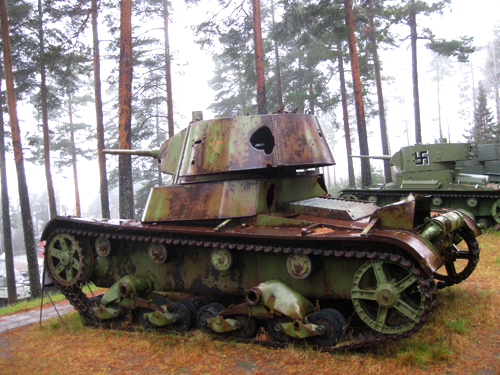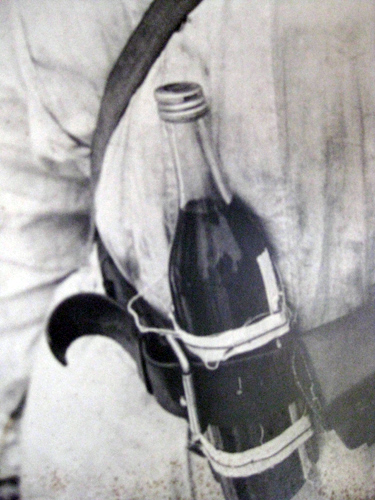 Molotov coctails - oldschool warfare!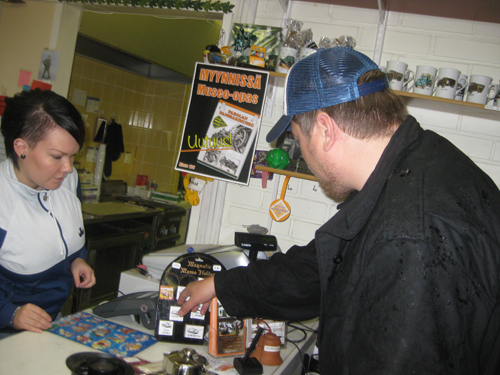 Spending fortunes in the giftshop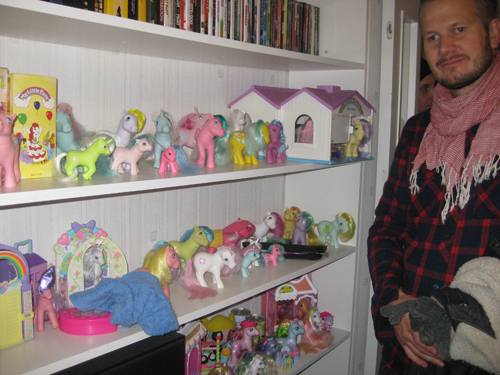 Arriving at Tomi's place in Tampere - Norse checks out the big MLP collection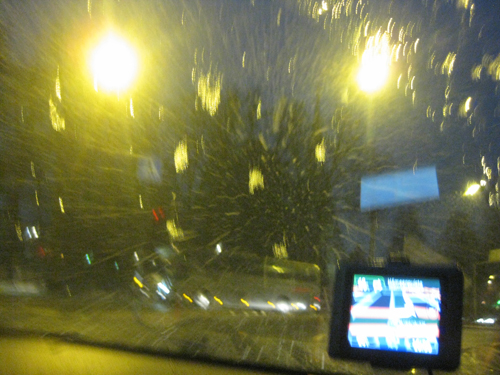 Finnish weather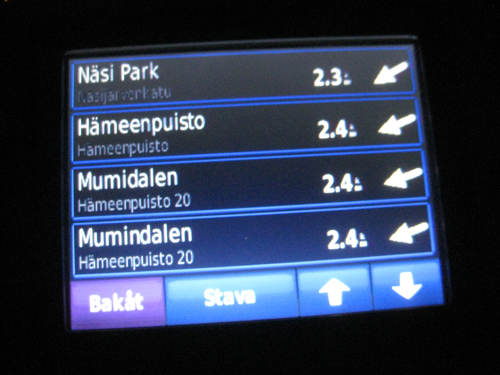 How do you know you're in Finland (except the weather is shit)? Mumindalen shows up on the GPS, that's how.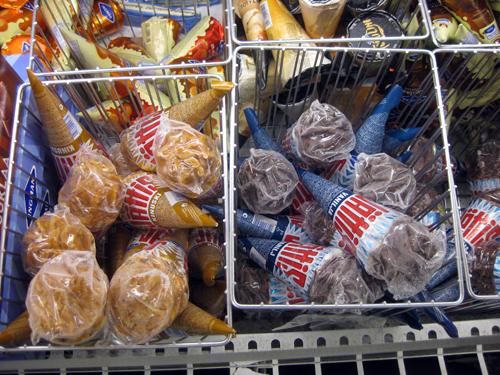 Jättis!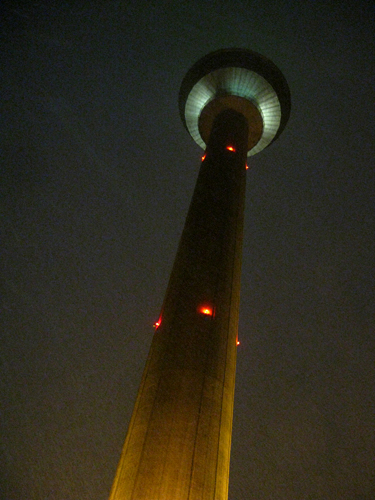 Lookout tower in Tampere - damn good looking! Since there was zero visibility and they charged 8 euros for the elevator ride, we said fuck off and travelled on.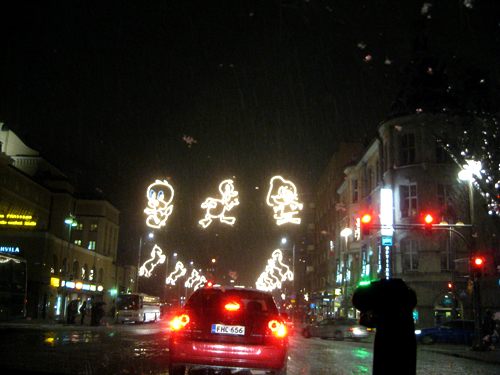 X-mas comes early to Tampere.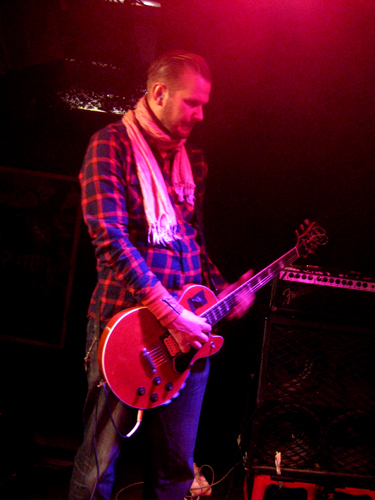 Pretty in pink, soundchecking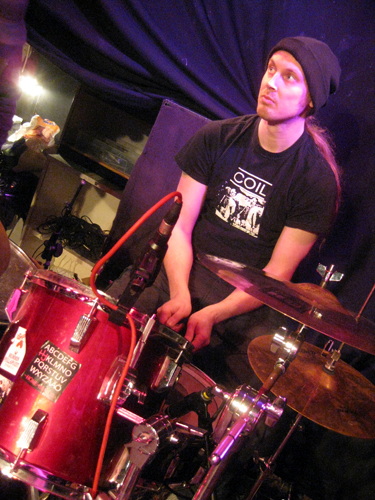 Fenok, getting ready to explode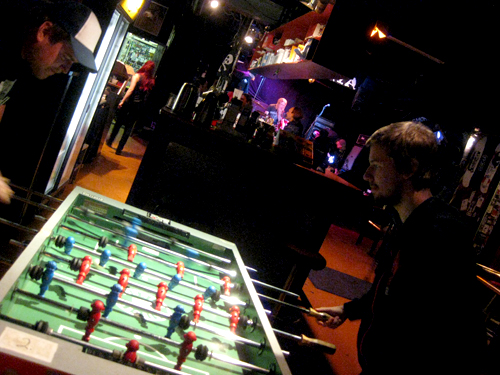 Erik and Iiro, hitting the fussball table again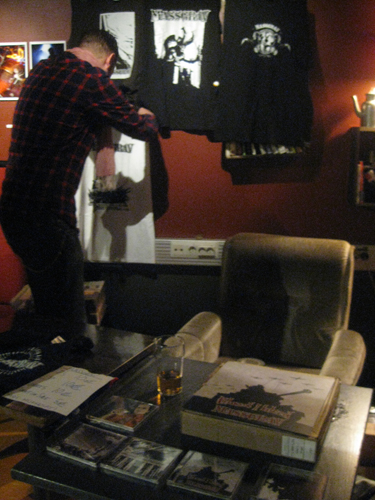 Merchorama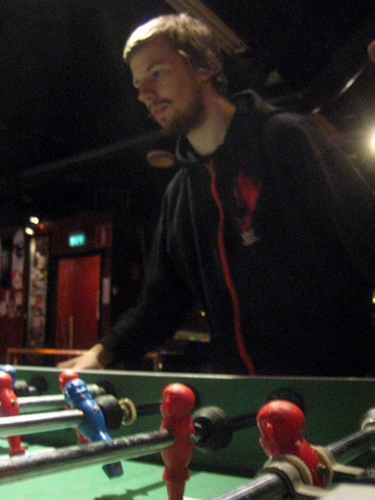 Iiro! Great guy! We like him!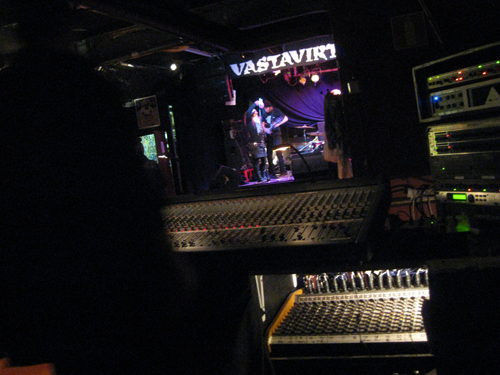 Finnish punk clubs shure have a shitload of buttons and knobs!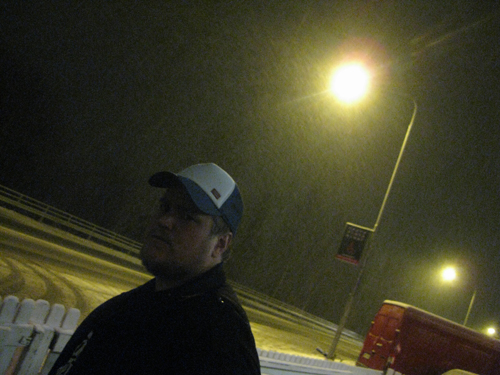 Another nice Finnish evening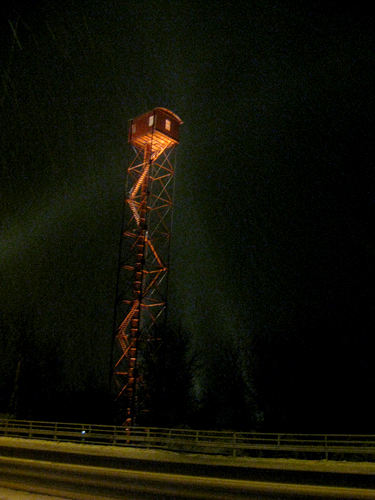 Coolest fucking thing ever - the Tampere Shot Tower! Let's quote Wikipedia: "In a shot tower, lead is heated until molten, then dropped through a copper sieve high up in the tower. The liquid lead solidifies as it falls and by surface tension forms tiny spherical balls. The partially cooled balls are caught at the floor of the tower in a water-filled basin.".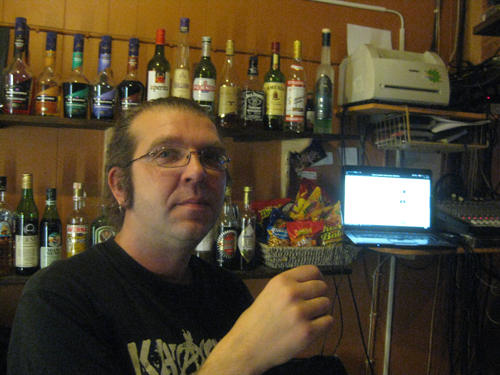 Finnish Dis-Steffe Pettersson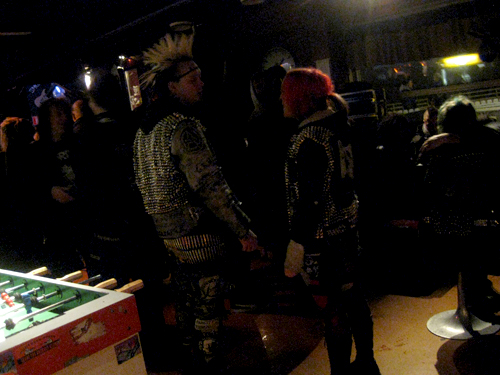 Punk as fuck with TWO bullet belts, a mohawk and facial tattoos in abundance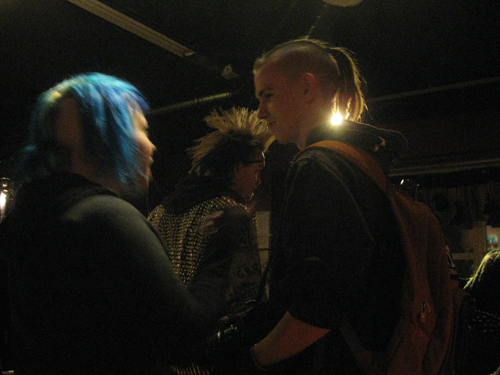 Punks on parole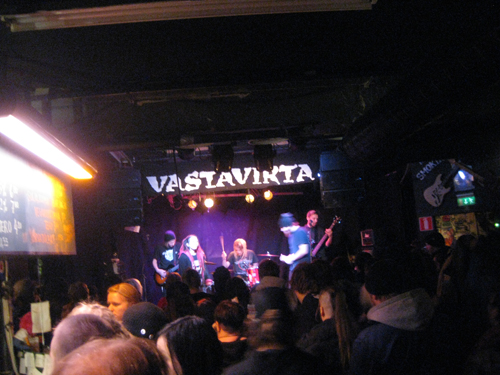 Vastavirta - great place. Petturin Palkka on stage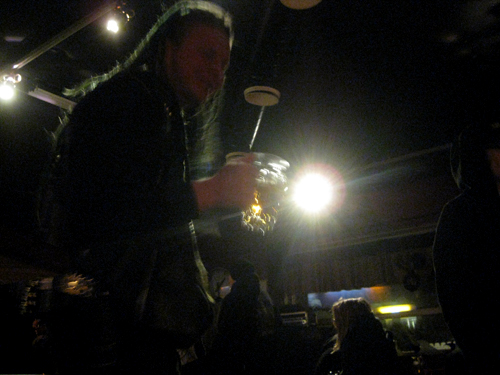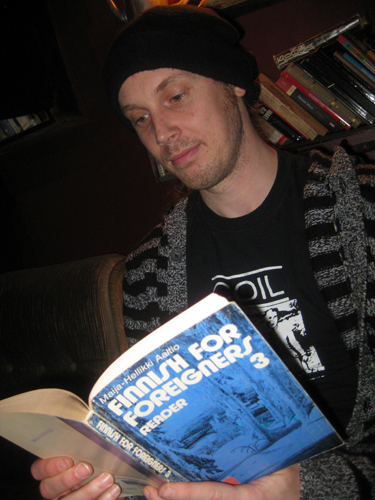 Killing time before the gig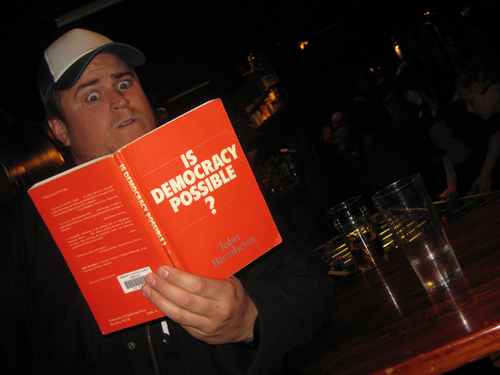 Reading...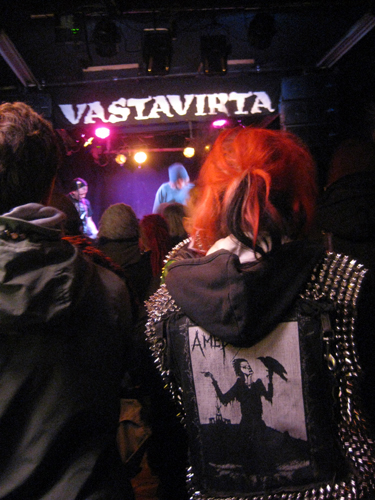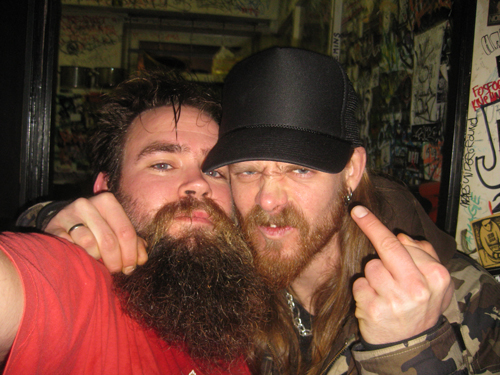 Ola and the singer of Livstid, looking like Finntrolls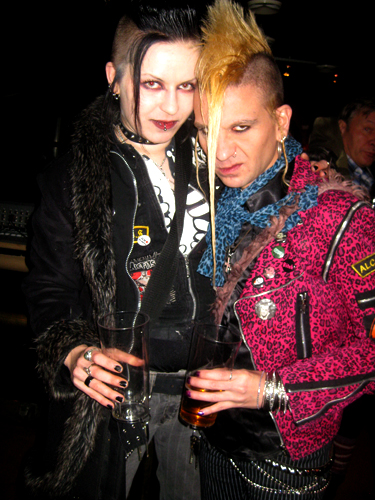 Speaking of trolls...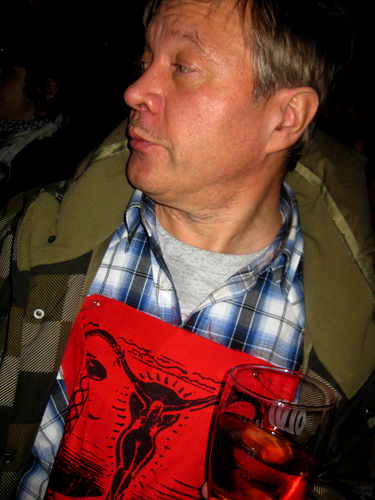 Finnish old drunk, extremely obnoxious, crap at english, bad breath. Nice guy.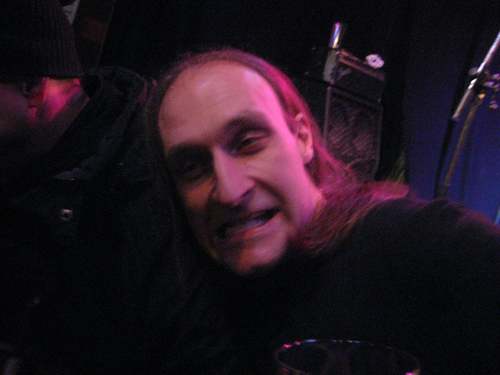 The singer of Noituus - a unique stage prescence!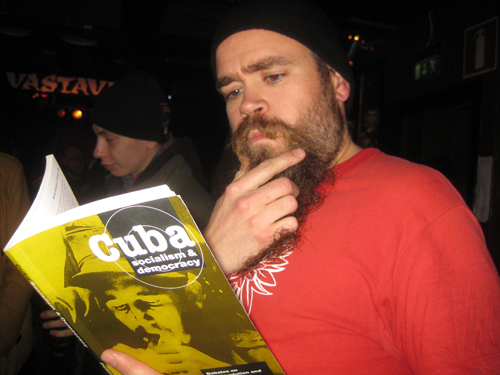 Deep in thought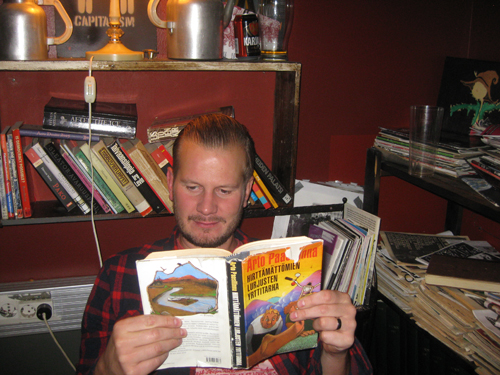 FUCK Paasilina!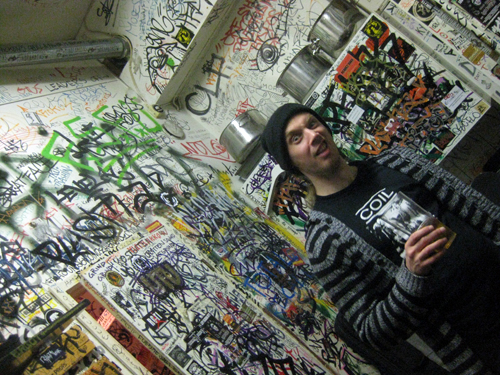 Fenok downing beer in the backstage room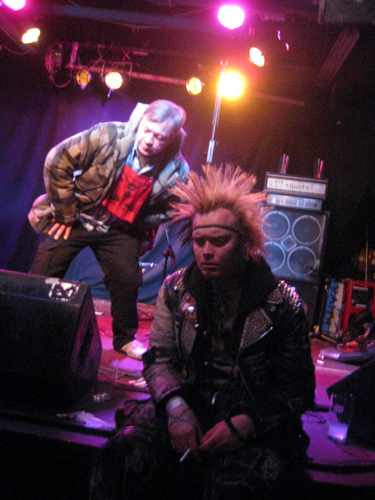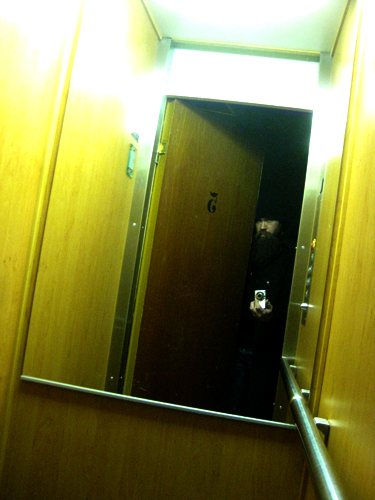 Leaving Tomi's at 5 in the morning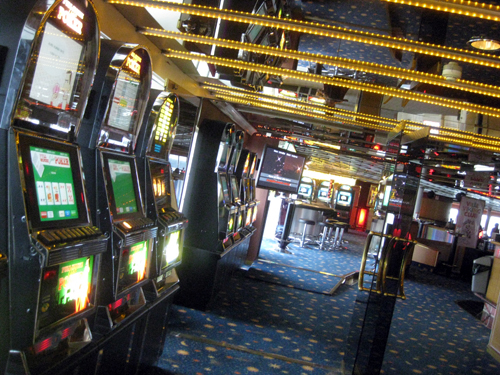 Casino on the boat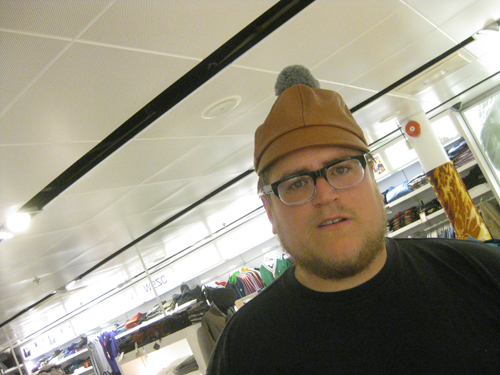 Fashion onboard!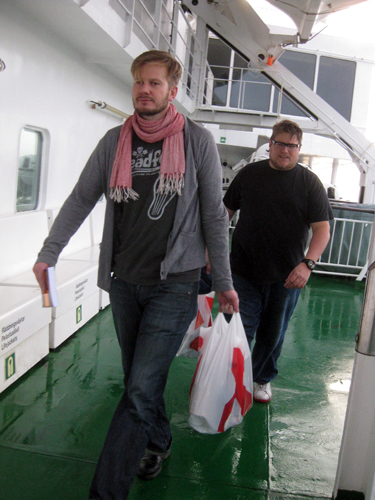 Norse without any goo in his hair!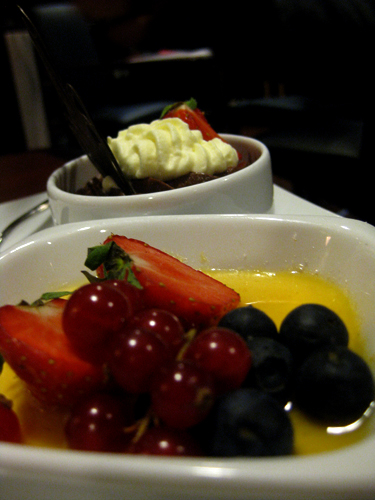 Tapas (their name, not ours) on the boat