Massgrav and Tinner in Gothenburg, March 2012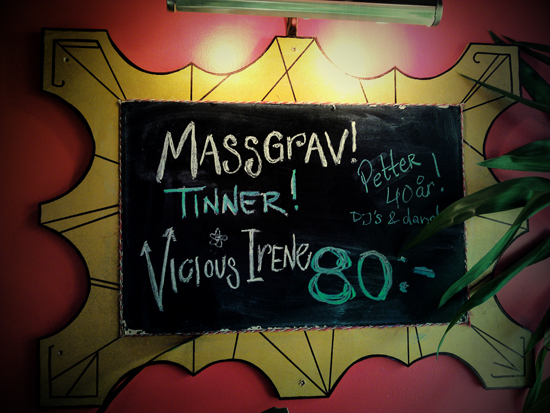 By now, we've played in most Swedish cities within easy reach but for some reason, we've never played in Göteborg. Well, the very simple reason is that nobody ever asked us. We've always assumed that the place is chock full of super PC Punk Illegal-people who think fucking Diskonto is borderline not ok (which would put US somewhere off the scale). But then we hooked up with Martin, who's some sort of resident gnome at Truckstop Alaska when we played with Agrimonia in Germany last year and he asked us if maybe we'd like to come? We obliged, happily, and decided to bring Tinner with us, to add some disaster potential. Then Martin decided to up the ante even more by booking feminist crusties Vicious Irene as the third band of the evening.
We'd decided on taking the train to Gothenburg – both because it's cheaper and because nobody had to stay sober to be able to drive, so we met up with a very hungover Tinner at the train station (they'd played a 'secret' gig the night before at Vieille Montagne and hadn't had much sleep). We haven't done all that many things together with Tinner before, a gig or two, but we've known Grulle since our trip to Obscene Extreme and they're good fun to be around. The train ride south was a very relaxed and nice affair with lots of laughs and a few beers (and a few dirty looks from other passengers who didn't appreciate loud, tattooed people discussing pornos and punk rock). Grulle got a bit miffed when Norse thought his Traci Lords tattoo depicted Maja from The Sounds but apart from that, all went well.
For those of you who don't know, there's a strong rivalry between Stockholm and Göteborg and even though only Utmo (as his top-secret Tinner name is) and maybe Fenok are originally from Stockholm, we were in a right fuck-off mood as we got off the train, ready to heckle and spit on the people of Göteborg – the ass-crack of Sweden. Well… it didn't happen quite that way. From the time Martin picked us up in his minivan, we were treated so damn good, it was impossible to be nasty. From the "welcome to Truckstop" and on, we were treated to a top-notch treatment like never before. Snacks and drinks, food and staff – everything was so far beyond what you're used to! And the venue itself… if you haven't been to 'Trucken', you're missing out, that's all there is to it!
The main problem by now was that it was four in the afternoon and we were supposed to play sometime after midnight. Soundcheck and dinner were coming up so we didn't have time to go into town and once they were done with, we couldn't be bothered. Ola and Norse had a long-time-no-see-friend, Ribban, coming to see the show and hang out and we ended up just hanging out at Trucken, trying our best not to get too drunk. People started trickling in when the place opened at nine, but there was no rush exactly and Vicious Irene did the classic "first band of the night" thing, trying to delay their set as much as possible, hoping more people would show up, starting at the last possible second of their allotted starting slot. Whatever… People seemed to like their stuff, though it wasn't our thing exactly. Slow crust punk with high pitched vocals, lots and lots of it. Let's leave it at that and be diplomatic for once.
Tinner got on stage and started their onslaught and by now the place was almost full. They had a real hardcore group of fans up front, moshing like crazy and they did a great show, until the power went out. Suddenly, everything was dark and quiet on stage. Confusion ensued. Martin and the sound tech (her name escapes me, she was very nice though, sorry) frantically tried to locate the problem, some less intelligent parts of the crowd though the whole thing was deliberate and tried getting on stage to play the encores they wanted by themselves and Ola had to kick them off the stage and we were starting to think we might have to go home without playing a single fucking song.
After about 20 minutes, they got parts of the PA and most of the lights working and Tinner did another three songs and FINALLY, at about 1.30 am, it was time for Massgrav to get on stage. At soundcheck, things had been great, but that was before the power failure, and suddenly we had close to no sound in the monitors, which makes things a lot harder. Drinking beer all day (no matter how slow you try to go) doesn't help either. All in all, things went great though. Fantastic crowd, great stage size and height and an overall great feeling. People moshed like lunatics, sang along and threw beer (next time, empty the cans before you throw them please) and we ended up doing a few encores before getting off, drenched in sweat, only to be followed by Onkel into the backstage room. For those of you who are not familiar with him… I don't know, google 'bajsmannen' or something, but anyway, he told us he'd enjoyed the show so much and gotten so inspired, he'd opted to piss his pants during the last song (we'd been wondering why the area in front of Norse suddenly got a lot emptier) and he'd also written some lyrics that he wanted to entrust to us, for future use. Thanks man...
Unfortunately, we'd scheduled this gig on the night where you switch to (or is it from?) daylight savings time, so it was suddenly 2.30 in the morning and just as we could start to drink properly, most people started to head for home. Lots of familiar faces had show up (large parts of the gang that came to the Napalm over Warsaw show, and others) and it was a pity the timing was off, would have been nice to play at 11.30 or something. Next time we'll open for some bigger band...
Before long, only Ola and Fenok and a small group of Trucken regulars and staff were still up and at it. About 5 am, the party was over. Next day, we got up, were driven to the station by Martin and took the train back home, end of story. This was a fucking great trip and we plan to do it again, so all that onstage talk from Norse about this being our first and last gig in Göteborg… don't believe it.