Massgrav goes to Germany - again.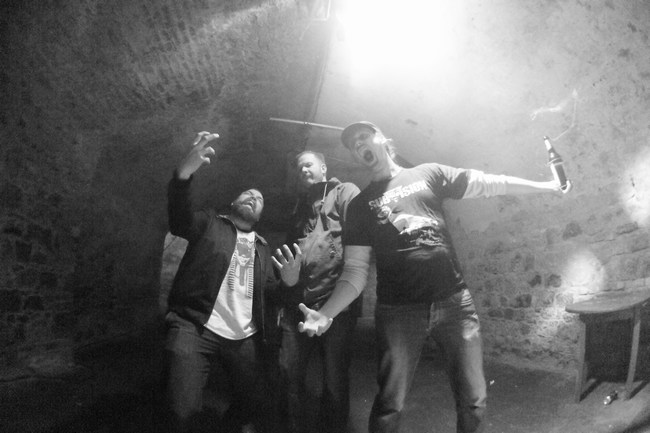 The last couple of few years, we've heard from a guy called Ralf every year, trying to book us for a festival in Germany where every band could play for 15 minutes and no more. He seemed like a good guy and his label Flowerviolence has released Diskonto among others, so we were totally ready to go, but unfortunately, he always wanted us to go over easter, which is of course impossible (that's when we have the annual Massgrav egg hunt and drink until we fall over). This year, he decided to move the festival, called Dräschsfeschd, to late April. Not only that, he also stretched it out into two days and booked some really good and fast bands like Blood I Bleed, Yacopsae, Strong Intention and such, so it was a good thing we waited until now. In order to make the most of the weekend and to make some extra cash for plane tickets, Ralf also helped set us up with a show in Frankfurt. We were looking forward to a weekend of warm sunshine, fast music, free beer and all the döner we could eat.
Friday
When we landed in Frankfurt, it rained. It was also very cold. We were met by one of the people setting up tonight's show; Ulla, who helped us ride the commuter train into town and walked us to our hotel. We agreed to meet at the venue later on and we headed out in search of döner. It was not a coincidence that our hotel was two blocks away from Frankfurt's "little Turkey" (the proximity to the red light district, however, was not quite as thought out in advance). We walked through the freezing rain and finally selected a cozy döner joint that also served german beer in manly steins. The döner wasn't exactly Hasir, Berlin class, but it was still nice.
We took the U-bahn north to the venue, which was some sort of culture center on a very nice, slightly suburban street with flowering cherry trees and lots of restaurants. Ulla and her partner in crime, Sif, welcomed us and told us there was a stage play going on, which meant we couldn't make noise until ten pm, but maybe we wanted to check out where we'd be playing? At first, we thought we were taken in through some sort of emergency exit when we went down some extremely steep and narrow spiral steps into an old nazi air raid shelter. Vaulted brick ceilings, old pipes and dirt - reminded us a bit of Koma F, the basement of Köpi, but much bigger and nicer. Perfectly sized stage room, but with nothing but stone, we imagined horrible sound.
Anyway, we walked back upstairs, got some food and Oli showed up. Oli was one of the guys who set up our show in Weil der Stadt a few years back and showed us around Stuttgart, nice to see him again! Also, the second band of the night, Slump, turned up. They had been nice enough to agree to lend us some equipment for the gig and Ola was a bit worried when he found out that not only was the bass he was using tuned down halfway to the center of the earth - it was also impossible to use with anything except its original Warwick (NOT his favorite make) shoulder strap.
People started trickling in and when Slump started playing, there was a good crowd in the room. Slump mixed slow and heavy parts with some fast as fuck mayhem and the sound was - to our great surprise - very good. Their down-tuned double guitar wall of sound shook the foundations of that basement like a carpet of allied bombs (sorry, it's REALLY hard to write about a night in a WWII German bomb shelter without mentioning the war).
Next up: Massgrav. We had a pretty ambitious setlist - the extremely compact 15-minute set for next night, with about six more songs added to it. The stage was very small so Ola and Norse got down on the floor, turning the stage into a giant drum riser for Fenok. Sif cranked our amps a few more notches and we were ready to go. The sound was great, the crowd was great and - most importantly - we were great! Check out the videos below if you don't believe it, Frankfurt was treated to Massgrav at our very best and we had a lot of fun and lost about half our own weight in sweat. Finishing up with two of the songs we plan to record for our upcoming cover EP (one of which we'd had no intention whatsoever of playing), we left the crowd happy and begging for more.
We spent a few great hours chugging beer, selling merch, hanging out and being loud and obnoxious and had a lot of fun, until it was time to leave. Sif and Slump were heading for an afterparty at Sif's place, but we had more important stuff on our minds. We somehow found a taxi to take us back to the hotel, dropped off our stuff and headed next door for another döner and a last beer of the day. Great end to a great night. Frankfurt - we'd love to come back some day!
Saturday
As our hotel was situated really close to the train station, and the Frankfurt Hauptbahnhof is one of those gigantic, classic train stations with hundreds of little restaurants, coffee shops and bakeries (and bars, and shops, and casinos), we decided to have breakfast there - cursing ourselves for not insisting on taking the train to Hamburg - German trains are the best! Sif and Ulla were driving us to Hamburg and we envisioned rattling for endless hours up the autobahn in some old rustbucket. So when Sif pulled up in a rented Audi A4, with a sticker saying "please don't drive this car faster than 240 km/h" on the dashboard, it was a welcome surprise. We didn't drive faster than we were allowed to, but we got real close...
Good thing about having a super modern and advanced car: when Sif wasn't alert enough and we almost crashed into a car in front of us, the car detected it and slammed the brakes all by itself. Bad thing about having a super modern car: it tells you exactly how much longer you can drive on the gas that's left in the tank. When it says 10 km and Sif drives right by a gas station, you start to get nervous (the rain was pouring down and none of us felt like walking to the next gas station). When it said 0 km for quite some time before we finally pulled into the next gas station, we were sort of holding our breath a bit.
After some problems with finding the place, partially caused by Sif not having the address and partly by Ola stating it was in some non-existent suburb he made up, we arrived at Dräschsfeschd, making the journey 90 minutes faster than Slump, who travelled in an old VW van. Our plan was to take a bus into town and see some sights and get a bite of you-know-what to eat while the first four or so bands were playing. However, as someone had stolen the bus time table and the bus seemed to be bi-hourly on weekends, we realized it was not to happen. We settled in for a looong wait. We were playing at midnight. It was now four o'clock. When every band plays for just 15 minutes, you get an awful lot of bands playing in that time. We hung out, talked to new and old friends, amongst them Loffi from Cyness and the guys from Blood I Bleed, flipped through some distros, had food, met Ralf, arranged what gear we would be borrowing and tried to stay off the beer as much as possible. Unfortunately, Ralf's band - Attack of the mad axemen - had played the previous night. They play dressed up in animal costumes, which would have been fun to see. Loffi told us a story about when their drummer drove 3 hours to Brandenburg to parttake in a blastbeat competition. After the drive, he dressed in his snail costume, make-up and all, rigged some fireworks and then played his 15 seconds and ended up third. Some people have too much time and energy!
The venue was an old disused school, where we played in the cafeteria - perfect place with very few close neighbours. While bands played, there was a projection behind them, counting down their 15 minutes and when they were up, the PA was shut off. Some bands (we won't mention names here but we played with one of them in Frankfurt) tried to cheat by continuing with backline only. Some bands, especially Yacopsae and Blood I Bleed were a lot of fun to see and put on great shows (although Yacopsae cheated and played a lot of slow material) but seeing 16 bands in one night is a bit much and after a while, the grindcore bands started to blend into one another. Would anyone still be in the mood for music when we finished the night?
Sure they would! Although our set was plagued by technical problems of all sorts and various band members were slightly distracted by the 100 or so balloons that suddenly flooded the stage, we and the crowd rocked out like spastics. 16 songs in 15 minutes, despite the problems - not bad. During the final song, the crowd got one hell of a circle pit going - nice to see! When we finished with 2 seconds left and started to leave, Ralf - who had been up front, shaking a leg all through the gig, shouted that it was totally ok with him if we broke all rules and played some more, so the sound guy was forced to turn on the PA again and we did a few more before calling it a night.
As always, playing last sucks because when you finally get to hit the beer (HARD), lots of people start leaving. We still had a nice time with the remaining few though, before braving the ladder to the loft where we slept. Sometime during the night, Fenok decided to jump down (or so he claims - there is also the chance that he fell) and made enough noise for people sleeping in the next room to burst through the door to see what the hell had happened. None of the others in our band noticed a thing though.
Sunday
Luckily for us, Sif and Ulla were meeting some friends in St Pauli, so we hitched a ride with them and walked around the weird bar and strip club-ridden touristy area for a few sunny hours, having good ice cream and bad döner before it was time to fly back home. We also narrowly escaped getting caught in a police force operation, where riot geared-up cops were herding a bunch of football supporter skinheads towards the arena. Spending a whole day still not having taken a shower after last night's super sweaty show, and having slept fully dressed (shoes included) is a bit yucky, but as a whole, it wasn't an all bad going home day.
So, summing up; yet another little trip that was a whole lot of fun. If you ever hear someone talking shit about Germany, then don't know what the hell they're talking about, ok? Big thanks to Ralf for setting everything up, to Sif and Ulla for taking such good care of us and to Oli, Loffi and the Blood I Bleed guys for being good company. See you next time!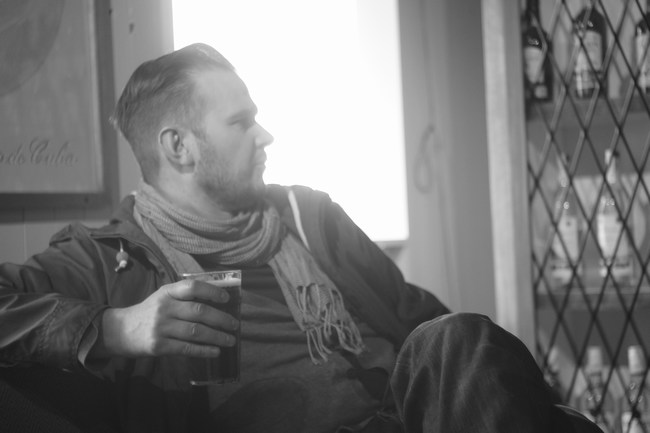 Drinking in style at the airport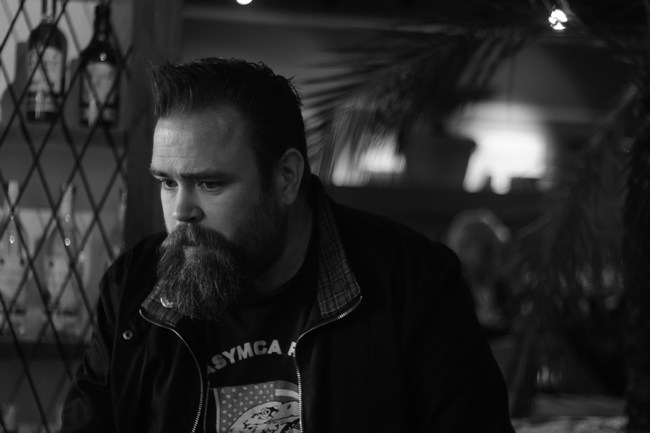 Zombified or just trying to look smart, who the fuck knows?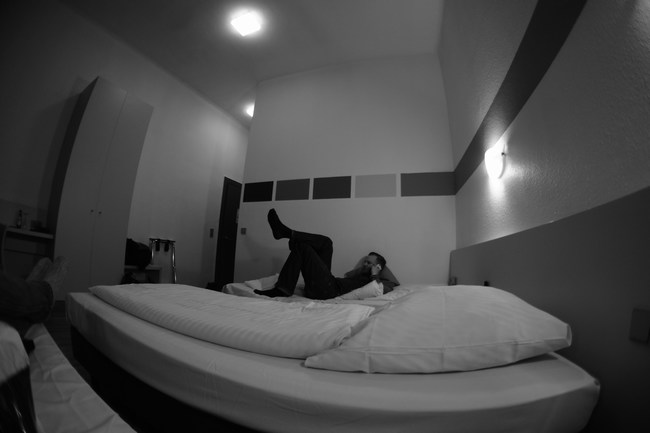 Hotel Colour, Frankfurt - very roomy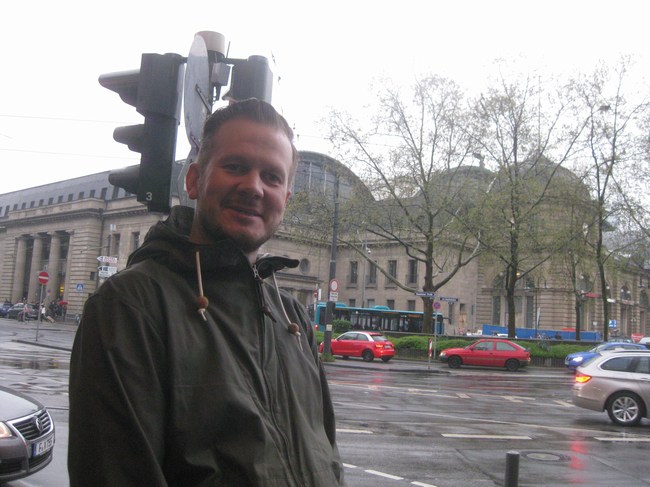 Norse, thinking about christian gaylords.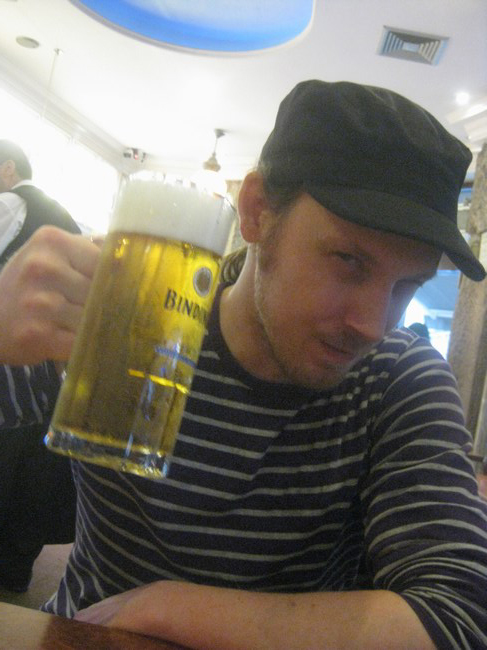 Finally, bier and döner!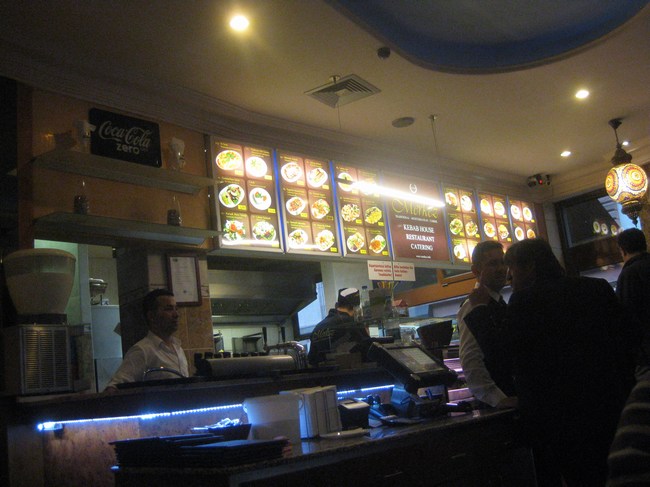 Pretty nice dönerplace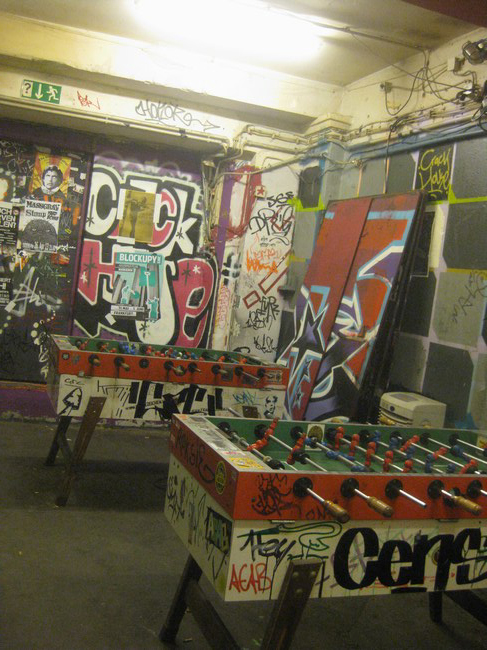 No continental venue is complete without a fussball table or two.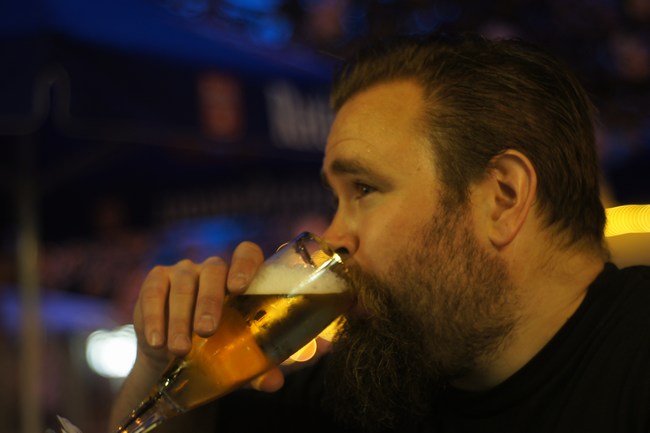 Drinking beer outdoors, very nice compared to Sweden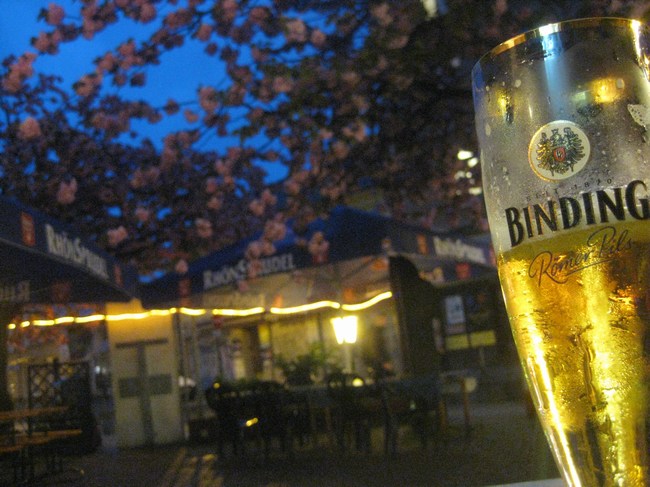 Mmmmm... beer.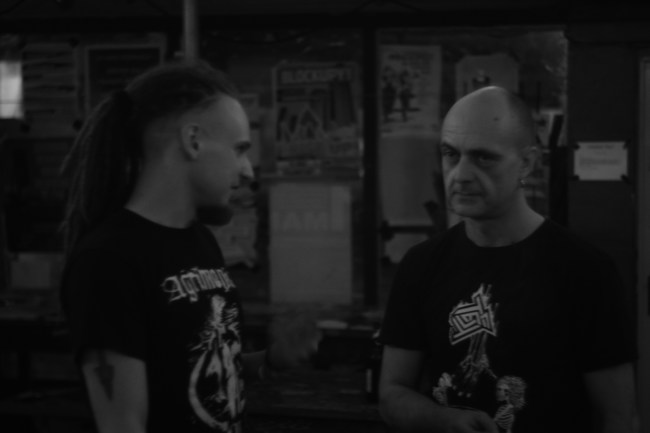 Oli and Sif - two of our favorite people in Germany.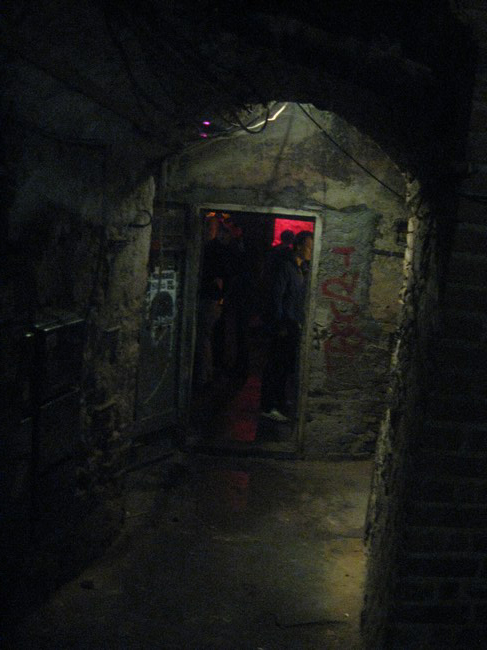 Exzess, Frankfurt - deep and dirty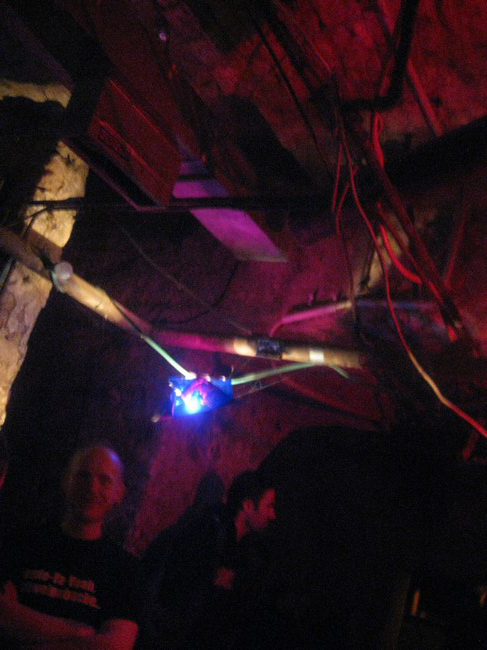 Exzess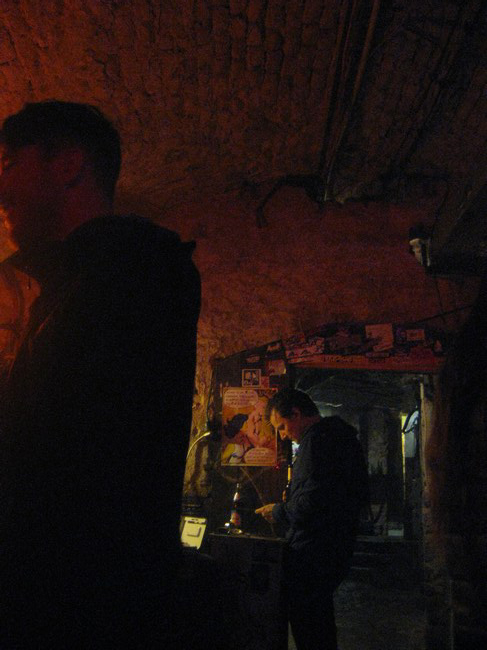 Exzess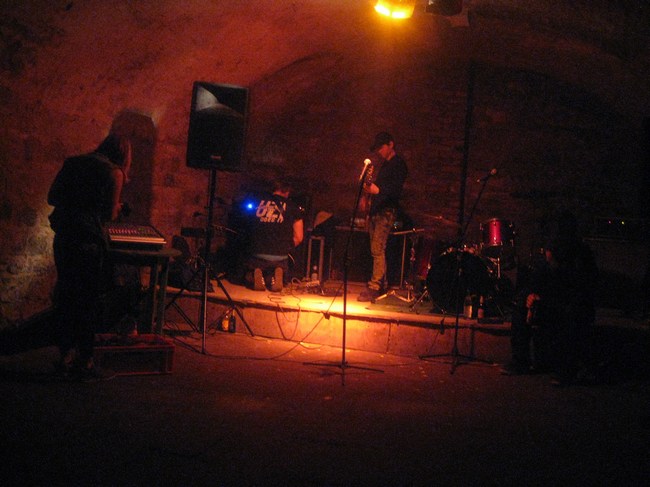 Slump, soundchecking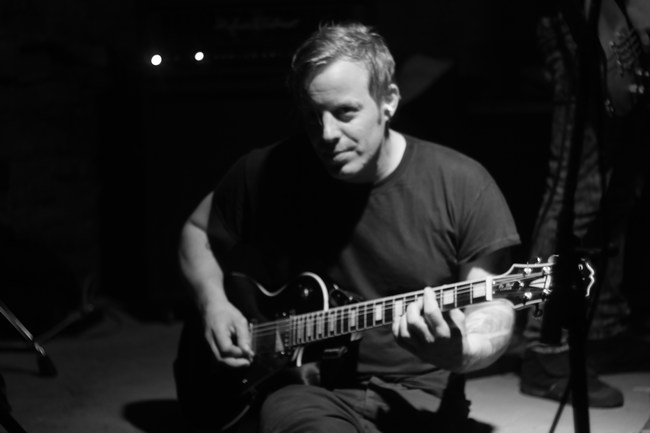 Slump guitarist who's name has to remain secret since we can't remember it. Great guy though.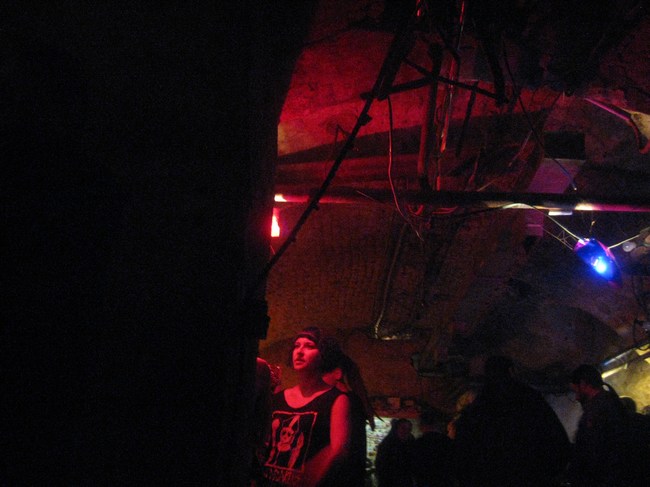 Exzess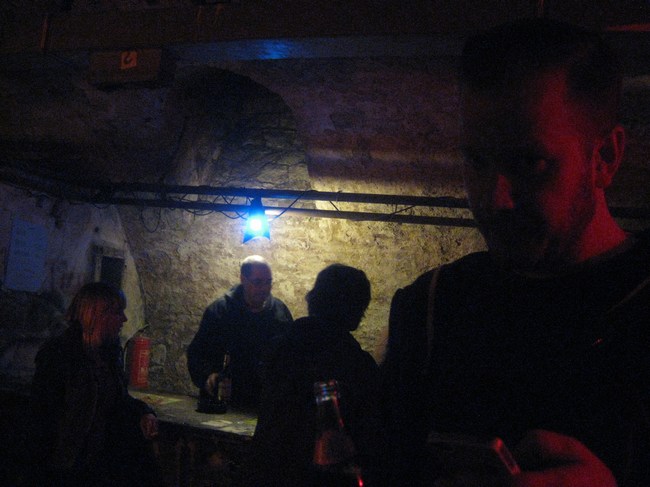 The bar at Exzess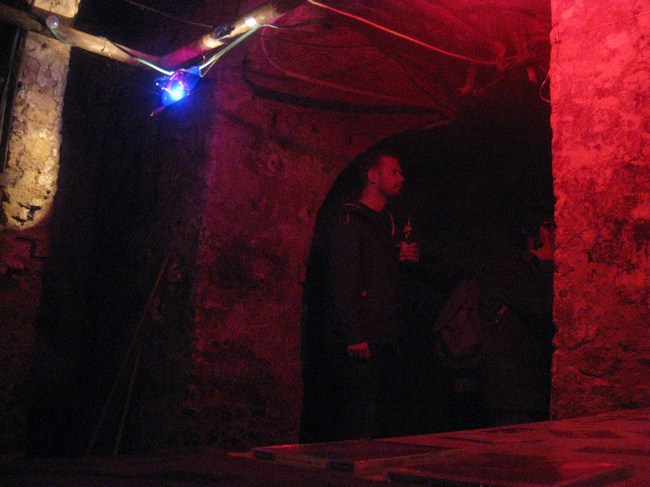 Norse, watching Slump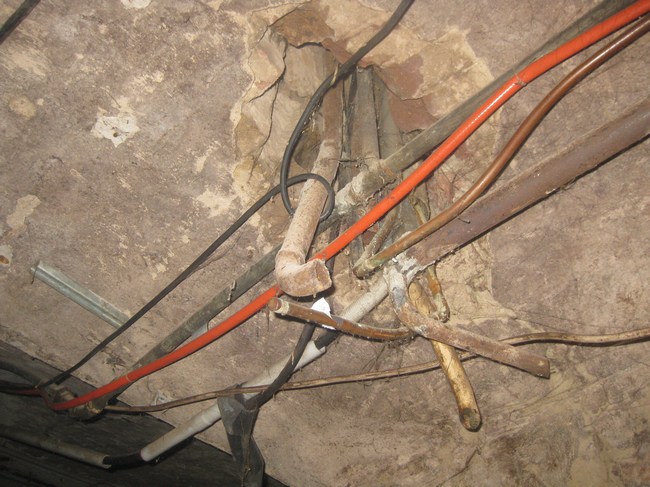 Feels like there's a building regulation and safety rule or two that's being broken here...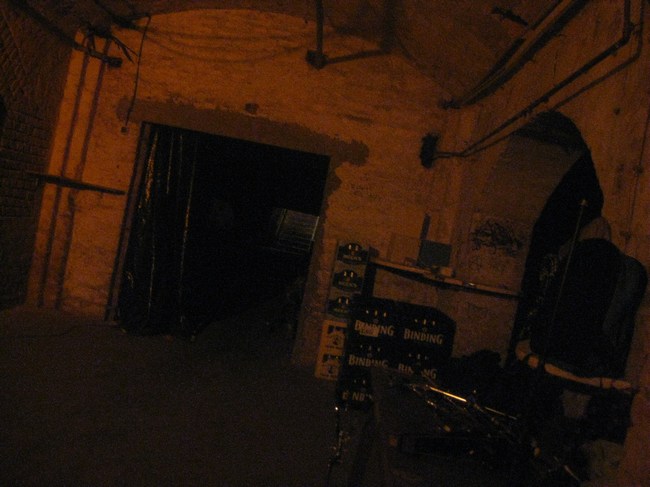 Backstage at Exzess - tunnels and bunkers forever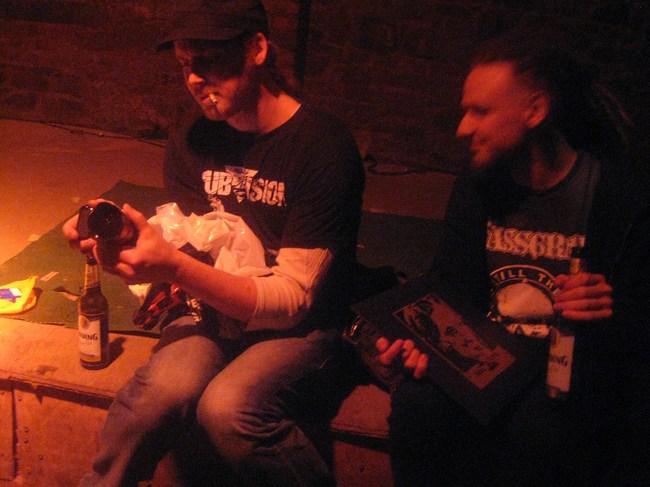 Fenok and Oli, living it up after the show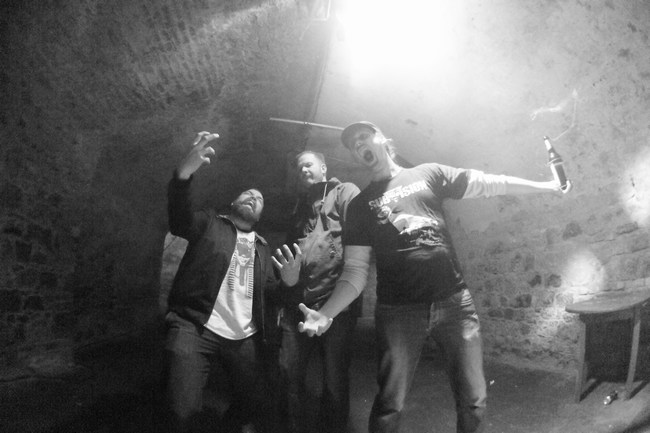 Screams from the underground, haunting the Frankfurt sewers.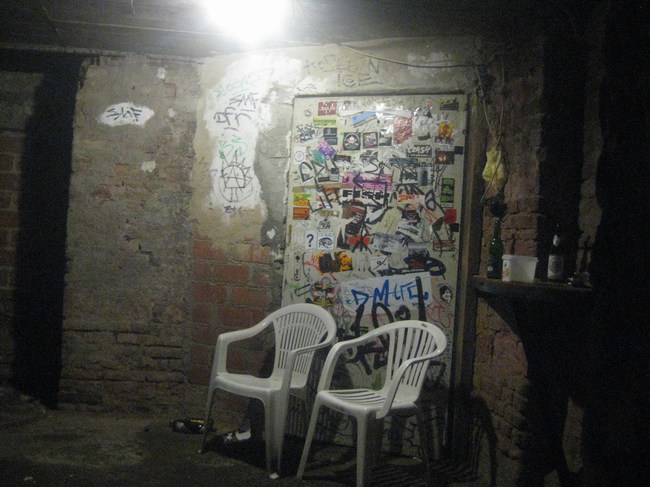 Exzess chill out area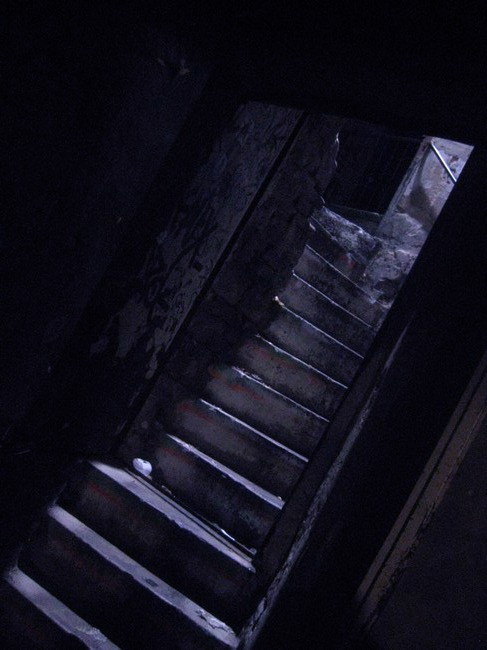 The one an only entrance/exit. Yeah...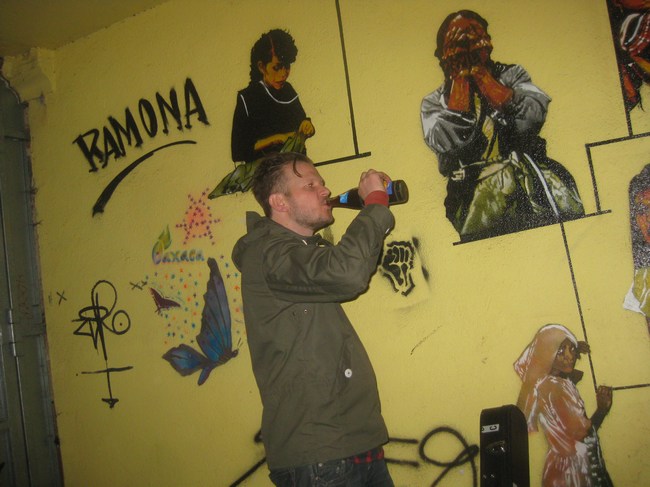 Norse, downing the millionth beer of the evening.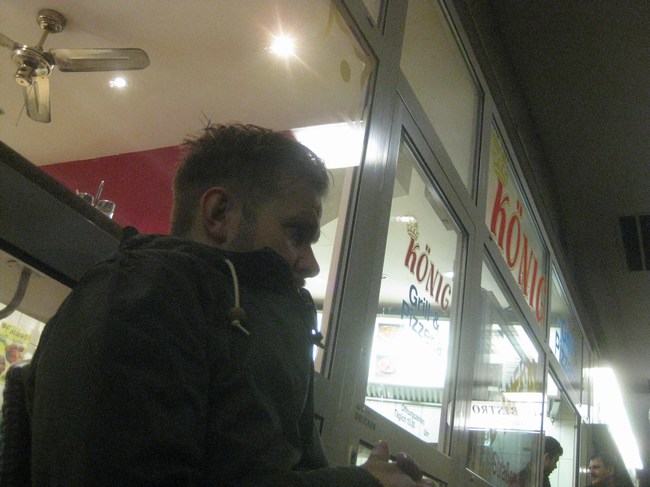 Perfect end to any evening - a döner and one last beer.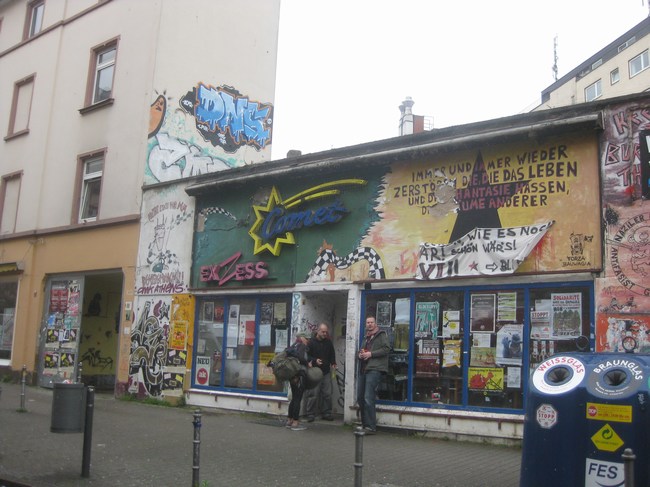 Picking upp Ulla at Exzess before driving to Hamburg.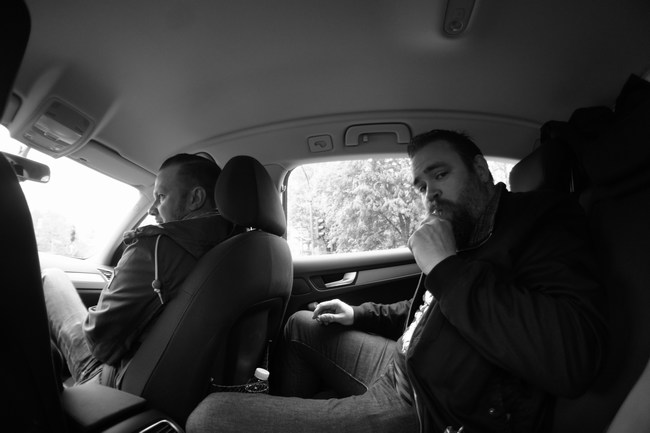 Feigling - the breakfast of champions!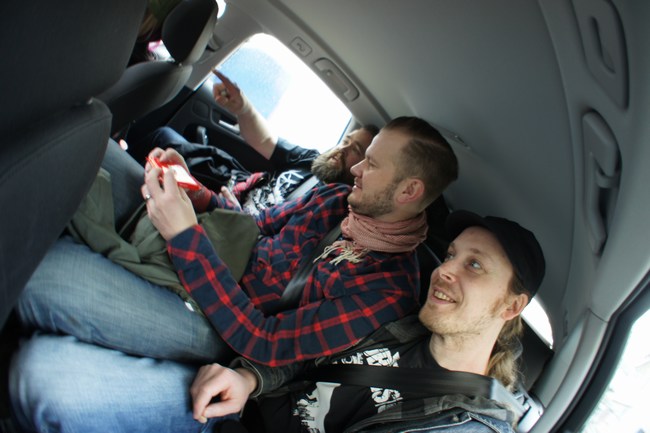 The car was very nice but three big swedes in the backseat was a bit cramped.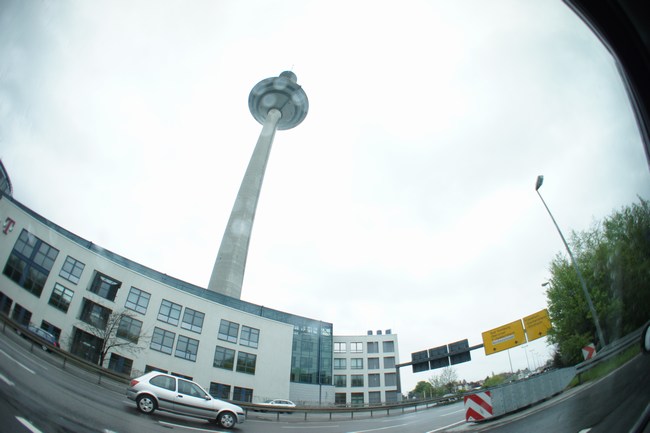 The Frankfurt TV tower - closed to the public to everyone's great distress.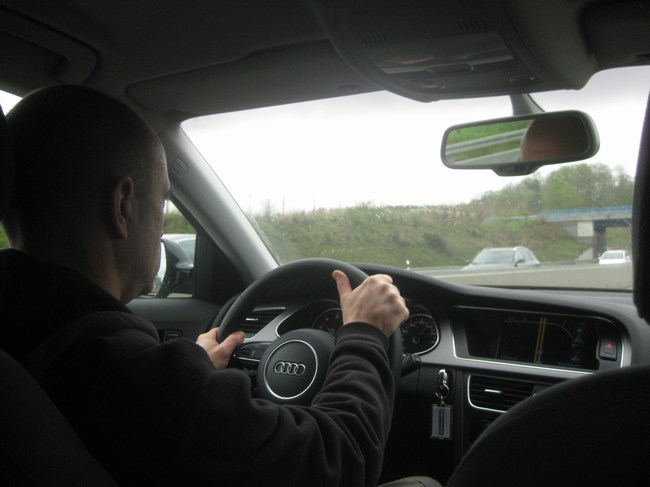 Doing 220 km/h on the autobahn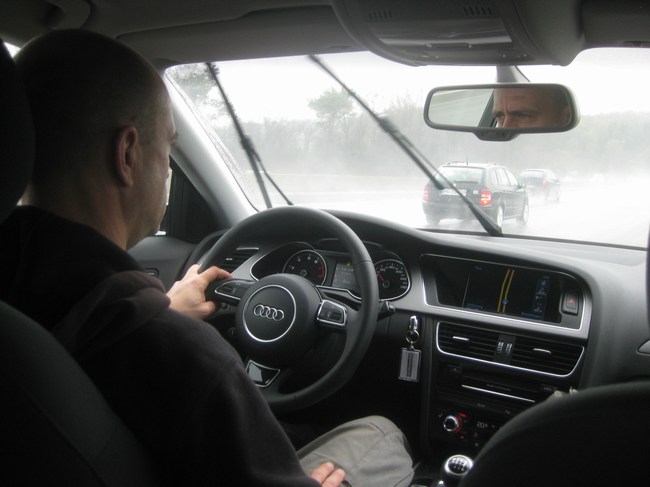 Meter showing we can go zero more kilometers on the gas we've got left.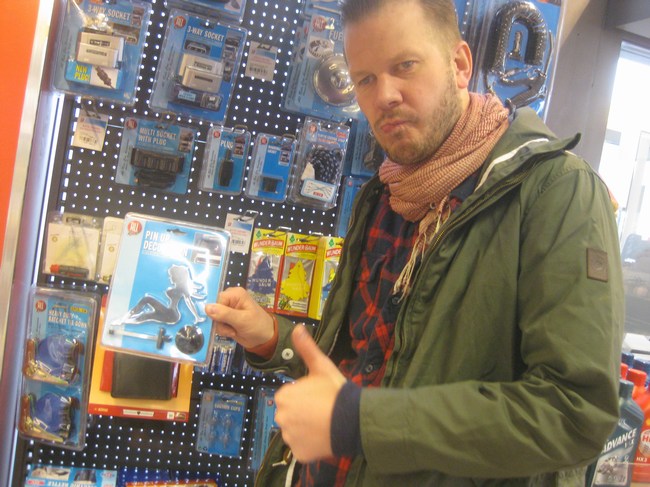 Keep on truckin'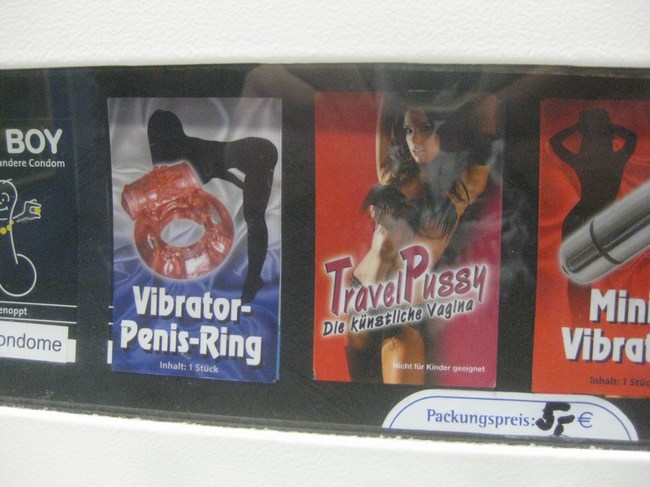 German gas station toilet vending machines...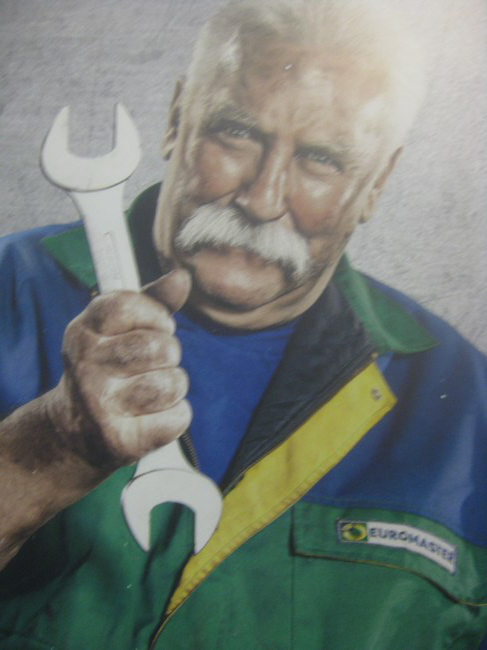 And the guys who use them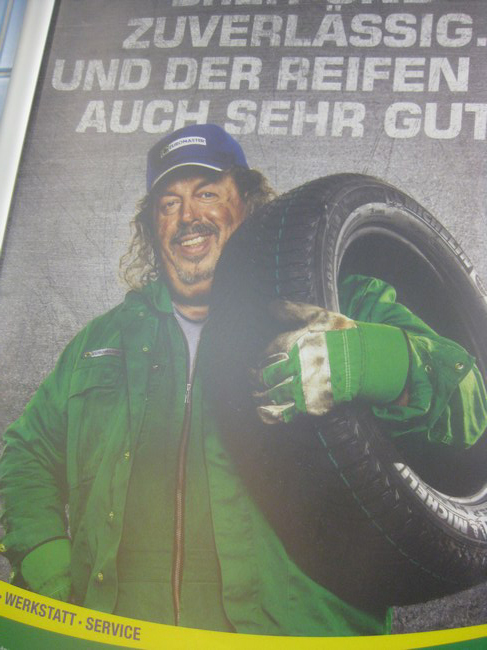 Of proud german origin, I presume?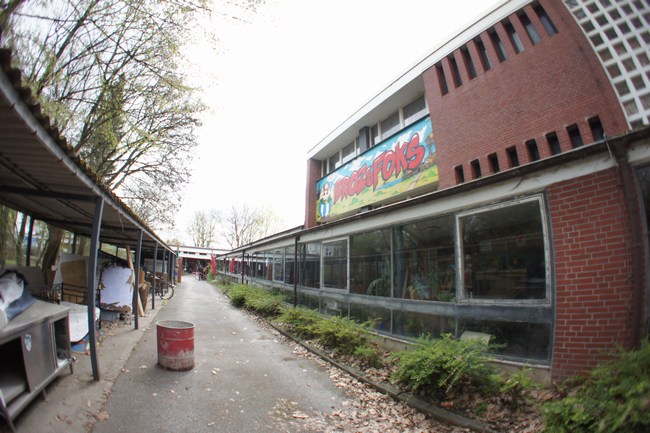 Dräschfeschd venue - an old abondoned school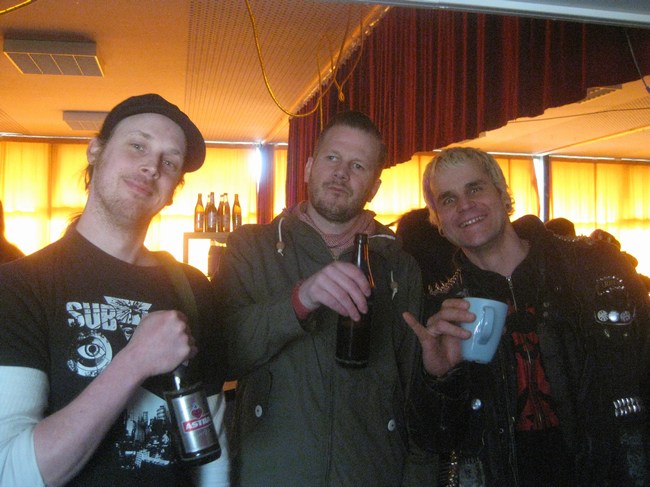 Fenok, Norse and Loffi, drinking in style.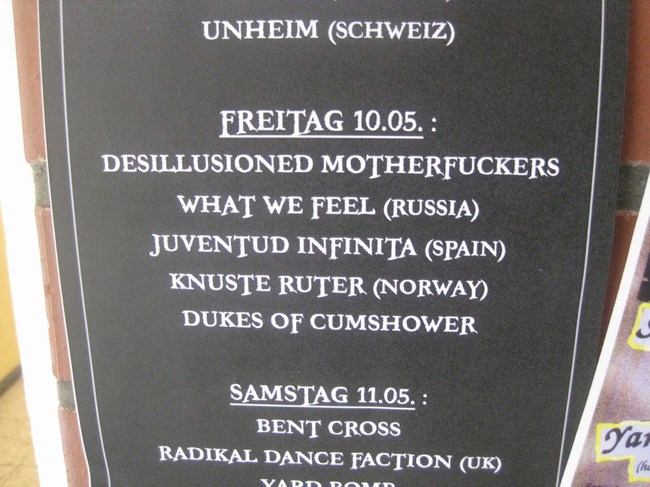 What the fuck is wrong with some people?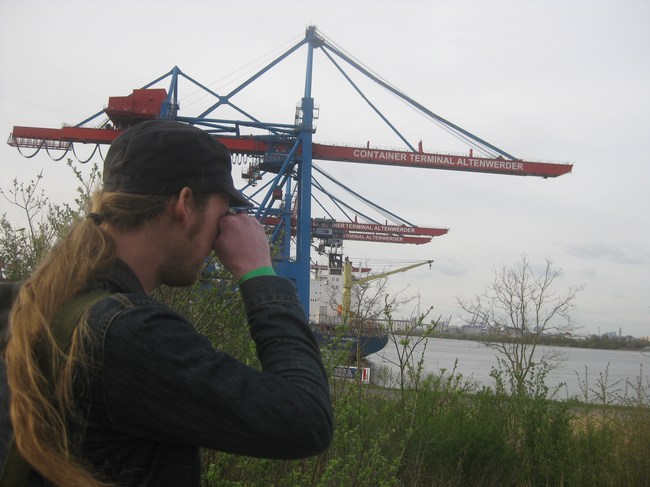 Fenok gets all teary-eyed of the beauty of the Hamburg container port.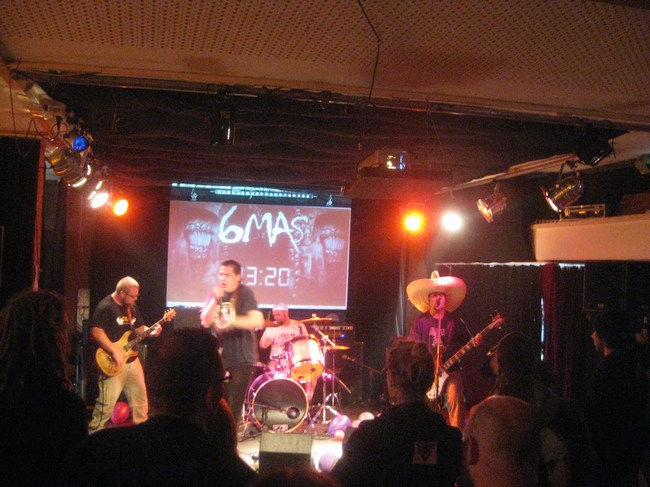 For some reason, it is very hard to picture a Swedish grindcore band doing this.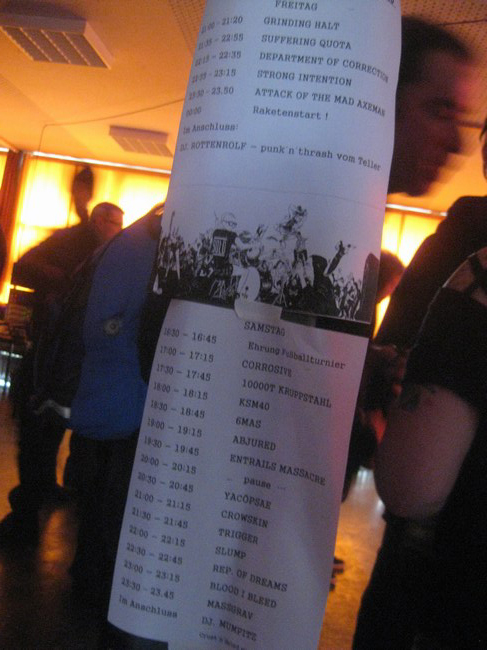 Yeah, a lot of bands played. We played last.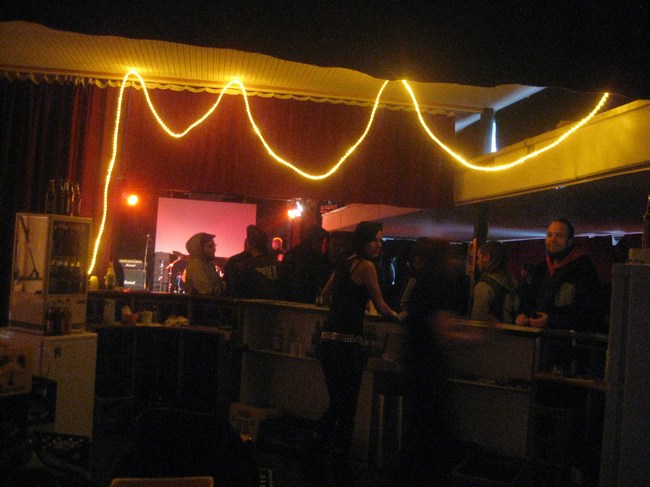 After hours at Dräschfeschd.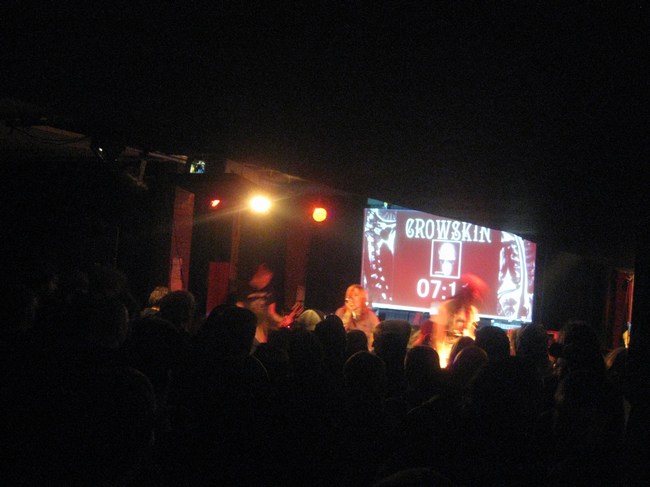 Crowskin, with Loffi behind the drums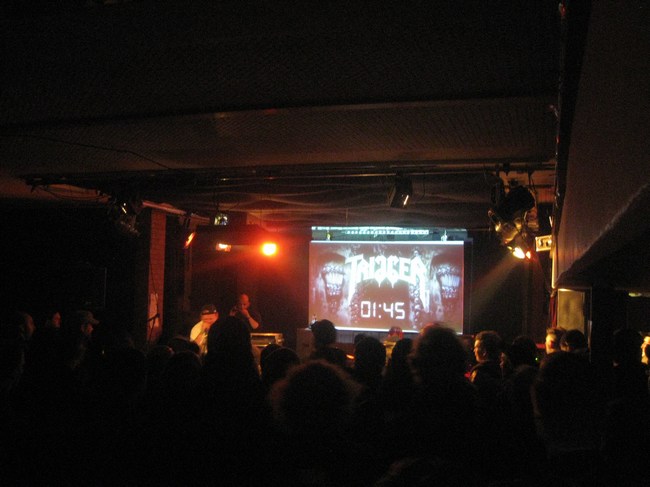 Trigger, doing their somewhat unusual 60% improvised drums and bass grindcore set.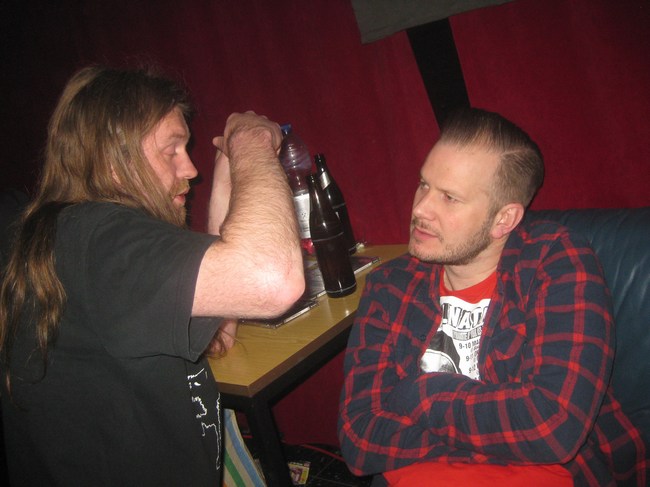 This guy had a lot of things to talk about, mainly about Swedish trallpunk. Norse looks fascinated. He isn't.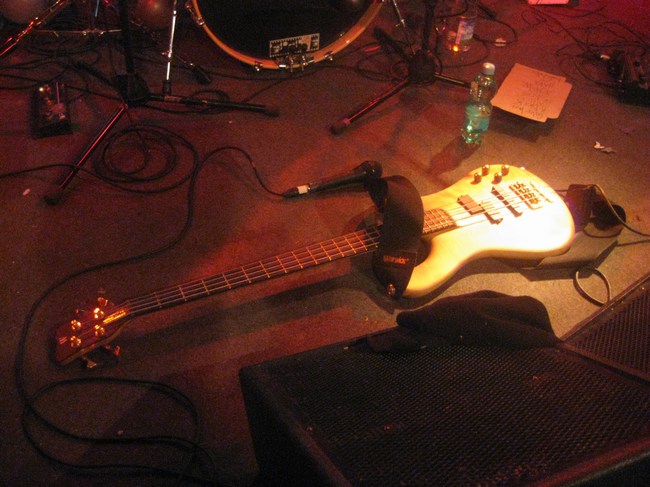 Here's the ultra hi-tech bass Ola used in Frankfurt.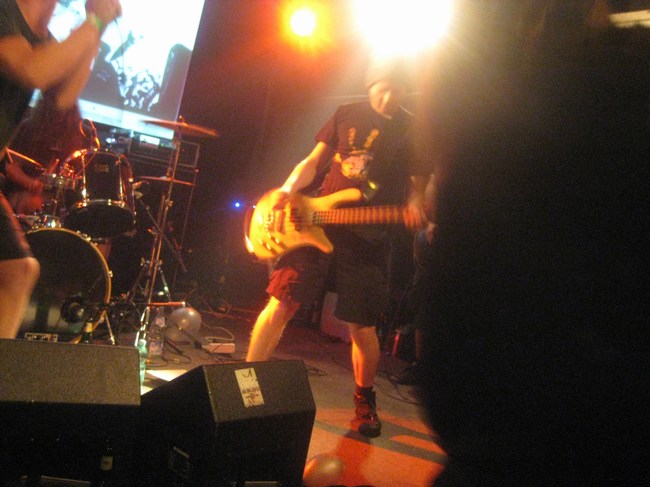 And here it is in action.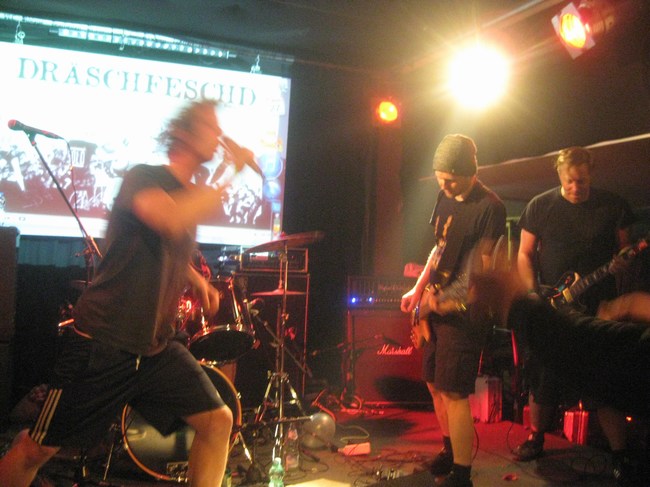 Slump in Hamburg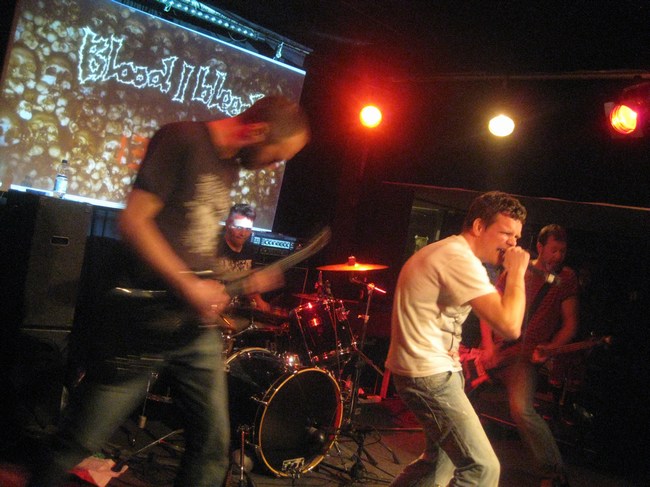 Blood I bleed - killing it live!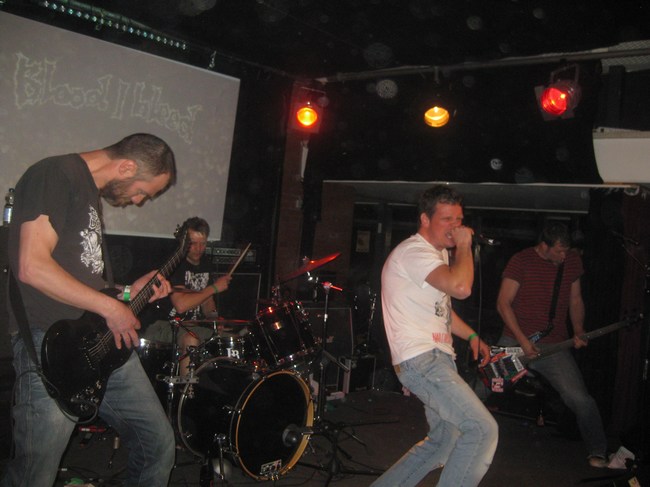 Blood I bleed, calling for some chaos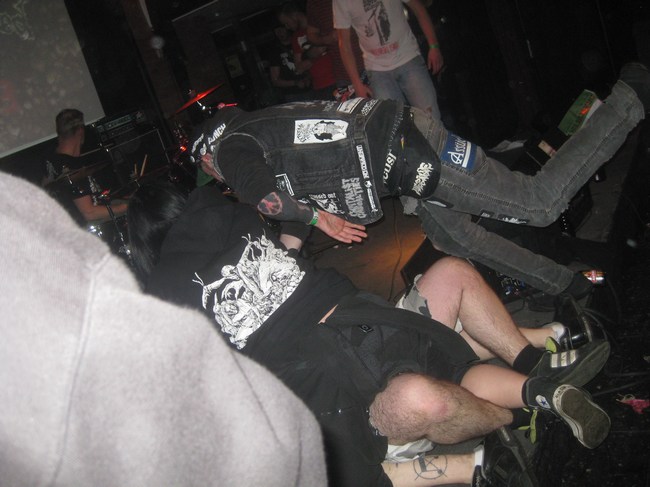 and receiving it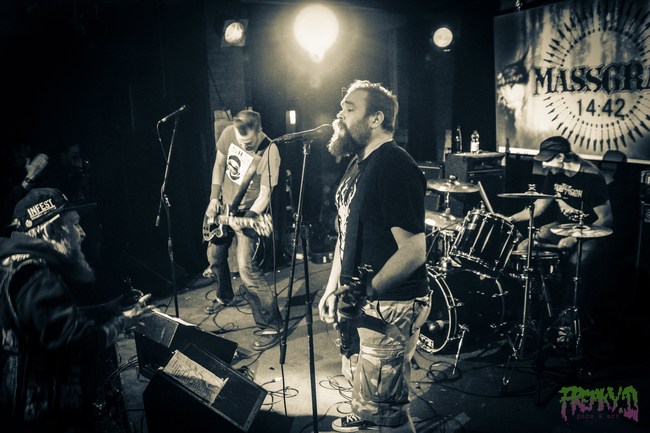 Massgrav live at Dräschfeschd. Photo by: www.freakyD.com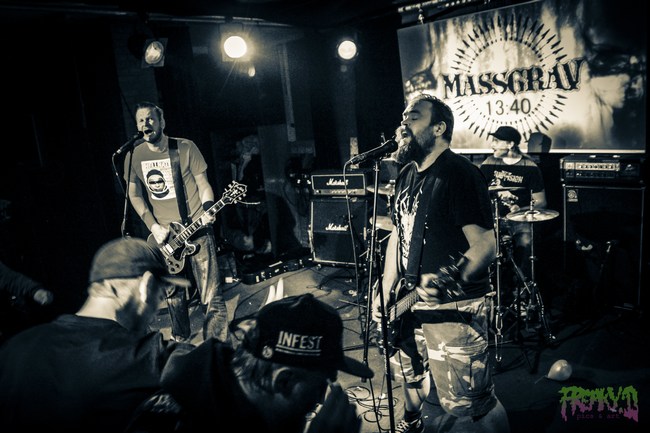 Massgrav live at Dräschfeschd. Photo by: www.freakyD.com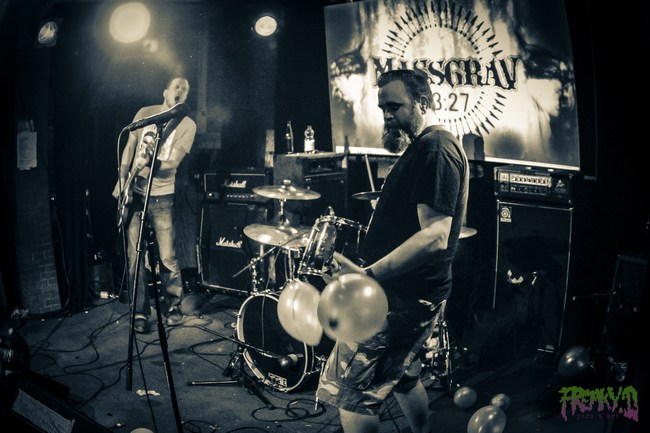 Massgrav live at Dräschfeschd. Photo by: www.freakyD.com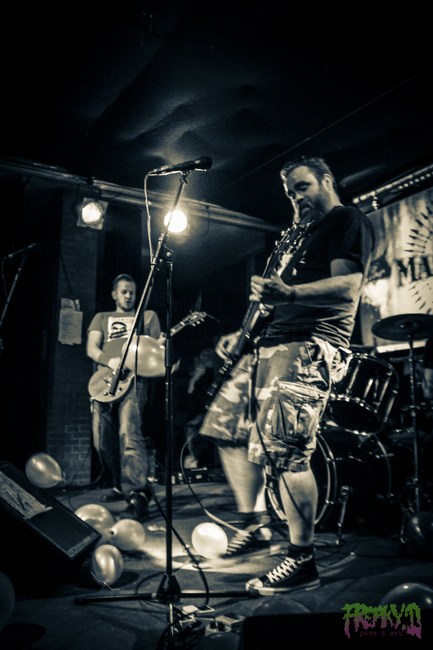 Massgrav live at Dräschfeschd. Photo by: www.freakyD.com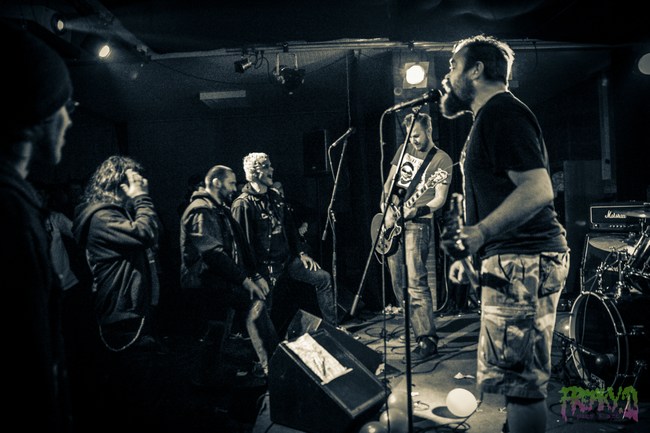 Massgrav live at Dräschfeschd. Photo by: www.freakyD.com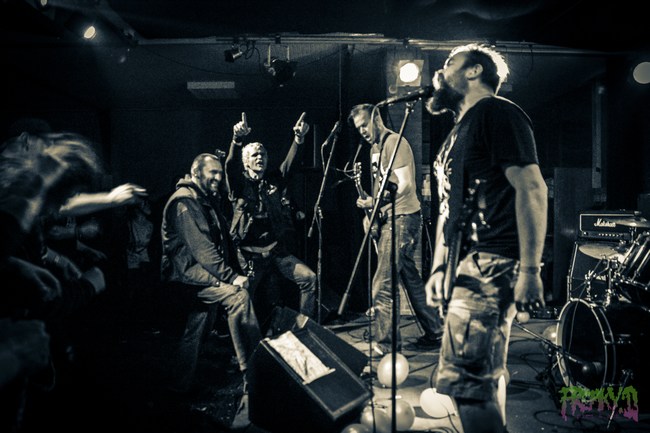 Massgrav live at Dräschfeschd. Loffi and Ralf lapping it up in the front. Photo by: www.freakyD.com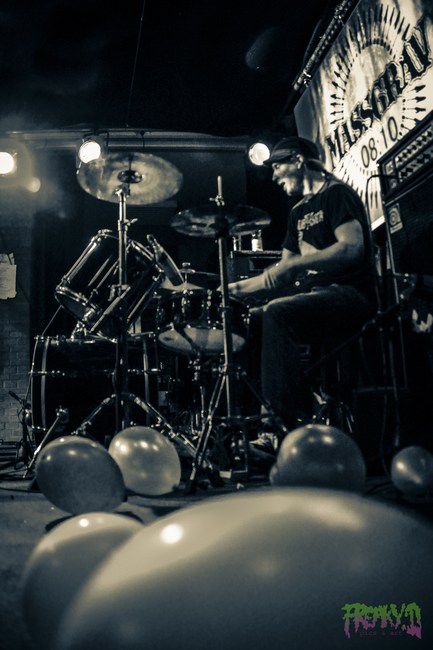 Massgrav live at Dräschfeschd. Fucking balloons everywhere for some reason. Photo by: www.freakyD.com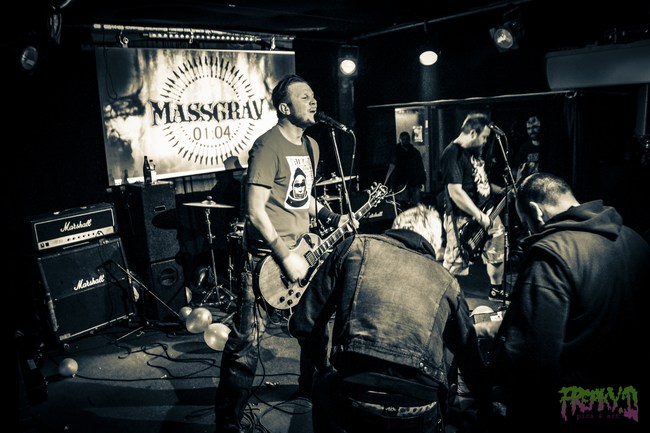 Massgrav live at Dräschfeschd. Countdown getting very close to zero - good thing we're megastars and were allowed a few extra minutes. Photo by: www.freakyD.com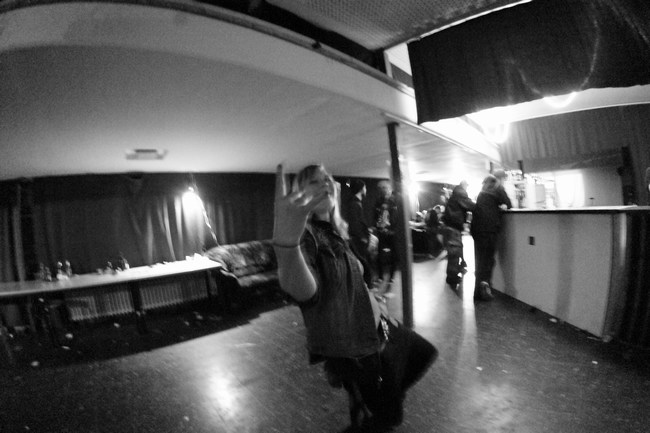 Ulla Langbein haning out in the after hours.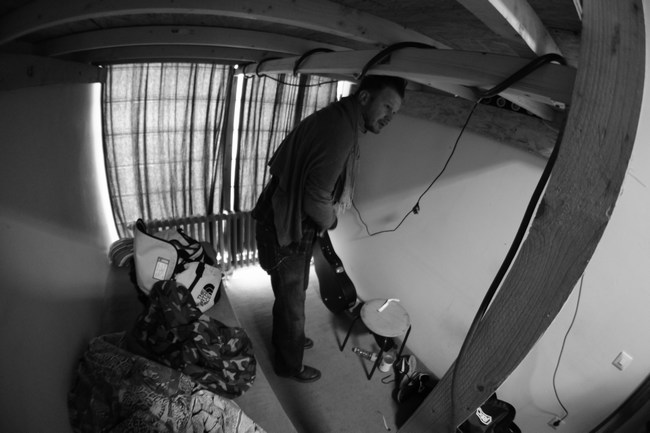 Under the loft in our sleeping quarters in Hamburg - where Ralf normally practices his drums.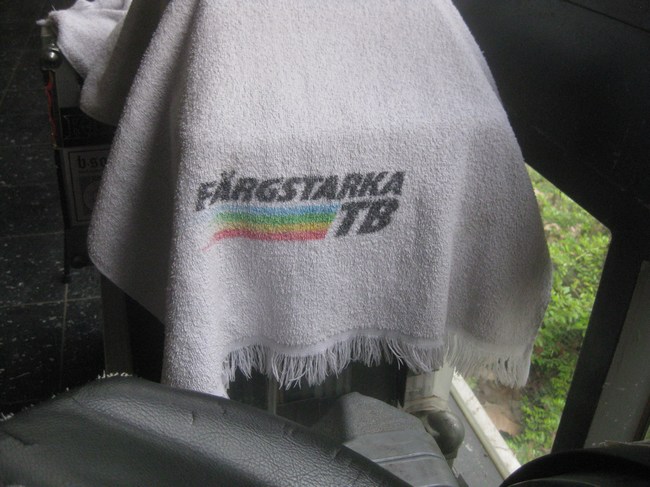 Jo tack!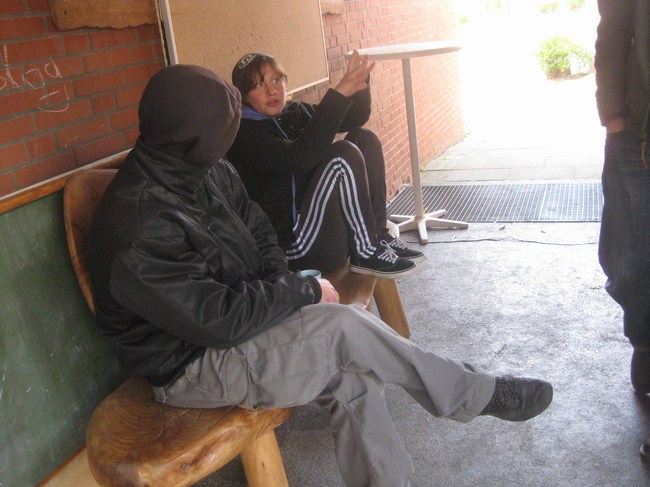 Sif and the woman in charge of the food (which we somehow guessed was Ralf's missus).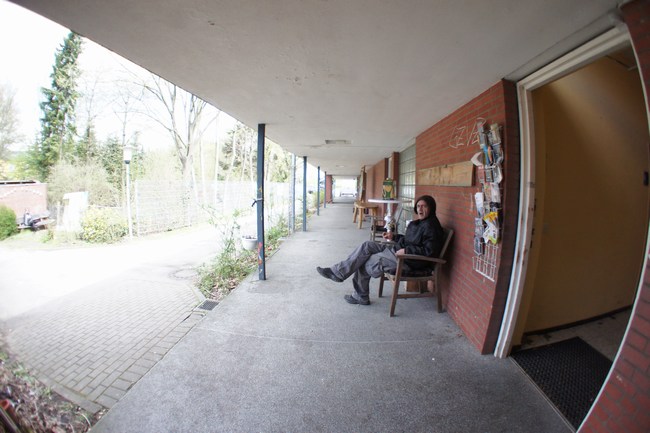 Sunday morning Sif, a bit worse for wear after sleeping in the car.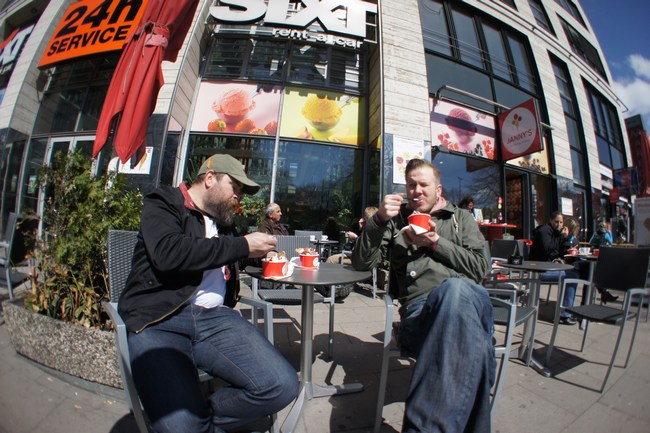 Bon vivants international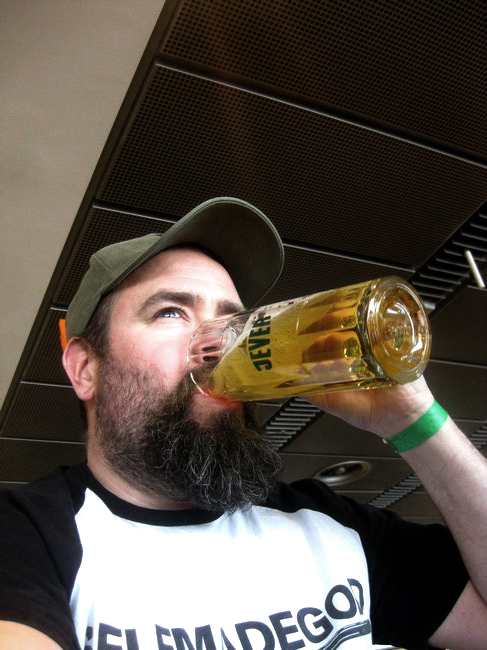 One final beer before we leave Germany. Until next time!