Massgrav at Play Fast or Don't 2012



Years and years ago, we played the second edition of Play Fast or Don't and since then we've run into Otto the organizer at several shows and festivals here and there and kept in contact via email so when he asked us if maybe we'd like to come back to Czech Republic for the ninth edition of the festival, we agreed to do it. Last time, the festival was held at that impossible place in Svojsice, where Curby tried moving Obscene Extreme one year but thankfully realized was the worst place ever for a festival. Ever since, though, it's been held in an abandoned airfield in Hradec Kralove (there should be a lot of small extra dots and apostrophes around the letters in that name, sorry about that) which seemed a lot more promising. Outdoor gigs are so sensitive to the weather, playing in an airport hangar seemed much safer.

Friday

Our main concern when we landed was whether we'd be able to make the 100 km drive in time to catch Pizza Hi-Five, who people like Doug from Brody's have been saying nice things about. Well… we didn't. We were met by our driver, Peter, an extremely nervous guy who never stopped talking. Using about 2 million words, most of them apologetic, he informed us he was also picking up Geriatric Unit who were flying in from the u.k. and were not arriving for another hour and a half. It's totally understandable festival arrangers have to do this, but being the band stuck outside an airport… it sucks. Still though, later on we found out that Pizza Hi-Five had done that classic "american grind band goes to Europe thing"; touring with just two members. How fucking boring IS that? Let us know when you bring the whole band and THEN we'll be sorry we missed your band, ok?

So, instead of getting drunk with people we know at the festival, we found a deserted shopping center with an even more deserted restaurant which we promptly attempted to drink dry. Around the time we estimated Peter and the brits should turn up, we went into the next door supermarket and bought a few bags of cold beers. A little thing like that can really cheer you up. Not only is there a billion nice looking Czech beer brands to choose from, a lot of them are ice cold in the store and they're dirt cheap compared to Sweden.

Either our timing was off or the other guys were late, but we ended up emptying half our bags of beer outside the van before they showed up – luckily we'd bought a lot so that we'd have enough for everyone. Unfortunately, Geriatric Unit drummer Steve was the only one who wanted any. Unlucky for them, that is – by now Massgrav was a bunch of pretty loud travel companions, laughing at our own jokes, singing along to Status Quo songs on the radio and demanding piss breaks every 200 meters. We stopped at a service station for more beer and failed to recognize the Livstid guys, thinking it was some random Czech people shouting "svenskjävlar" (fucking swedes) at us.

Having dropped off our stuff at the hostel, Peter took us out to the festival, which is too far out of town to walk (he claimed you could walk the 8 kilometers in 20 minutes but we would really like to see him try it). It was pretty dark when we arrived, but it was clear that the place was well suited for festivals. As mentioned, the stage was indoors (but with one wall open to the elements to let in air) and the area where the food and merch market was situated was paved and we judged the area fairly rainproof (not that there was supposed to be any rain until Sunday). Apart from that, you had your usual variety of dreadlocked punks, crusties and grindcore freaks milling about, getting wasted on beer and dope, looking for that new split seven inch with Agatocles.

We walked backstage and had a look at the stage, which was a nice size and height and all in all everything seemed really good about the festival, apart from the teeny tiny amount of beer tickets we'd received in our envelope at the entrance. Our deal was "all the beer we can drink", which was far, far from covered. This wasn't a problem that night though, as we met our good friend Andy of Everyday Hate (and his fellow Polish grind freak Karol of Selfmadegod Records (which would make him our record label boss if we didn't operate strictly on handshakes and gentleman agreements all the time)) who gave us plenty of beer and a bottle of vodka.

The rest of the night… well, ask someone else because we honestly don't remember much. We drank and talked to new and old friends, met Sandro from Regurgitated Semen and, finally, late at night, Otto. At some point, Ola tripped on an electric cable, turning his hands into minced meat and Andy took him to the medics hut for some much needed (but painful) disinfection and patching up. Finally, we realized thing had to stop and we forced Peter to drive us back home to the hostel before Norse had an accident of some kind. End of day one.

Saturday

Lots of discoveries were made this morning. The day was already hot as hell. The hostel towels were the size of napkins, and probably just as useful after a shower. There was no breakfast at the hostel. There was, however, a round-the-clock gas station across the road. Ola also discovered how much his hands hurt with no alcohol to take the edge off things. We decided – as always – to go for a stroll and try to find something to eat. A lot of bands seem to spend a lot of their time touring foreign countries just moping in their rooms, smelling each others farts. We like to get out and about a bit and see some new things. Yet another small thing that makes us superior to your average band.

Hradec Kralove is a typical Czech smalltown, with a pretty town square, lined with restaurants with big patios, a church and lots of parks. We walked around for quite a while, ran into the fellow swedes in Passiv Dödshjälp, who pointed us to a sandwich place around the corner. We ordered up some Panini and milkshakes and the bored waitress managed to make a fucked up mess of pretty much everything except for the beers that we finished breakfast with. When in Rome...

Had this not been a day when we were expected to be able to play a show at nine in the evening, it would have been so very very easy to just keep the beers coming for the rest of the day, blazing hot as it was. Instead, we walked some more, chilled in the park for a while, did some shopping (why do all little towns in eastern European towns have the coolest army/hunting/psychokiller stores? And why don't we travel by car sometime? A car with some well hidden secret compartments...) and tried to limit the beers to only once in a while. We climbed the scary as fuck clock tower next to the cathedral and got a great view of the city before it was town to eat a late lunch. Norse had found an upmarket restaurant online that served the somewhat unusual mix Italian/Mexican food and we fearlessly tried it out and found it was much much better than you'd expect. Travelling in style - you can't beat the feeling!

We walked back to the hostel and met up with Geriatric Unit, who'd spent the entire day in the café of the gas station across the road, watching people and eating snacks. Yeah... Very strange behavior… Anyway, Peter drove us back out to the festival where hung out for a while, talking to people while Gride played. I've never realized how big the singer of Gride is before. He's a freakin giant! We met up with Otto and before we had time to apologize for being such drunken assholes the night before, he apologized for being such a drunken asshole last night. You and us, Otto - a match made in heaven!

About this time, dark clouds started covering the sky and the festival was hit by a sharp gust of wind, the kind that says "it's gonna rain like crazy in about 5 minutes". The kind that also wreaks havoc on a merch market where every stall is a flimsy party tent. Fenok had to come to the rescue as an Antifa tent tried to take off with both its contents and its inhabitants. The rest of us took pictures of it, doing fuck all to help. Apparently Otto, Andy and Karol managed to save their stuff into their vans just in time...

We cautiously retreated into the backstage area where we'd stay dry if it rained, and rain it did. Holy crap, did it rain! Before long, the field next to the backstage entrance had turned into a foot deep lake. People were running around, trying to save their belongings and move their tents to higher ground. We watched them, sipping our beers. Our main worry was how to get more beers and where to take a piss, now that we were cut off from everything but the backstage area. Before long, we also started seeing lots and lots of lightning. Not a good day to be outside! We stayed inside and watched Turbokrieg instead and got an additional worry; the audience was pretty much zombified, standing still, looking bored. Sure, Turbokrieg is not the biggest sing-along act in the world and knowing your tent is being drenched by a thunderstorm is always a bummer, but still… was this the kind of crap crowd we'd be playing to in an hour or so? Damn…

Next up was Rattus. Gords from Geriatric Unit was very excited about this show, Rattus being the first band he ever bought a 7" by, 200 years ago or something. Us, we weren't quite as excited, as Rattus never really meant anything to us. Also, reunion bands consisting of old people have a tendency to… well, kinda suck. However, it's always easier to go on after a slow band, so all the better for us, probably.

By the end of the Rattus gig, the audience was starting to warm up a little bit, so maybe Finnish retro punk was their thing, or they were starting to be a bit more drunk, who knows. As soon as they left the stage, we set up our stuff as fast as we could – simultaneously fending off stage hands that wanted to dial in the amps for us - and were faced with the choice of getting off the stage again and wait for our appointed time slot, or start 10 minutes early, which we were told was ok if we absolutely wanted to. We went for it, starting the madness in the classic way of opening with the first track of the new album; Sell your hole for rock n' roll.

Luckily for us, all the audience had been waiting for was a band that a) acknowledged they were there, instead of just looking at their feet and b) kicked the living shit outta things. Despite some difficulties caused but a complete lack of sound in the monitors and the unusually (for us) big stage, we must have done something right because the crowd at Play Fast was now transformed into a great crowd! Suddenly, there was a mosh pit, which had been lacking all day. People were stage diving and shouting requests for songs. It was a lot of fun, and as always when you're having fun – time flies. We hadn't decided on any encores since you rarely do them at festivals, but since we finished with 20 minutes to spare and the crowd demanded more, we got back on stage and did Mona Sahlin and Kuken Står, before finally stepping down, handing over the stage to Lautstürmer.

After drying off a bit, we hung out with Andy backstage, who'd brought the lemon vodka. Fenok suddenly revealed he had an umbrella and volunteered to go for beers and everything was pretty cozy. After a while, Andy had to leave, since him and Karol had a monster drive back to Poland. After Lautstürmer finished, it was time for the band we'd been waiting to see for a number of reasons – Geriatric Unit. Not only because we'd been seeing a lot of them over the last days or because we had to wait for them before we could get back to the hostel, but mainly because we'd heard a bit about them and a bit of them and it seemed promising.

What a difference it makes, just having a dedicated singer that plays no instrument. And then, if you have, like Geriatric Unit does, a singer that's all over the state, always in contact with the crowd, always whipping them into a frenzy… damn! Before long, things got so sweaty Gords had to take off his shirt (keeping the vest on off course) but we still thought their material was slower than expected.Then Gords looked over to the side of the stage where we were standing and dedicated a song to us and they started playing their fast material. Great show by a great band! It's not often all three members of Massgrav buy merch from the same band after a show – in fact I can't think of a time it's ever happened before.

After some more beer drinking and Gords getting very upset over a misunderstanding regarding their money, we waded through the mud to the van, where Peter waited to take us back to the hostel. The original plan was to go to the gas station for beer and sit on the balcony like hillbillies and watch the thunderstorm, but by now it had ended and we were knackered. Ola and Fenok went for sandwhiches and weird, deep fried (and then microwaved) Czech food, while Norse stayed home, reading his new copy of Short, Fast and Loud.

Sunday

The highlight of the Sunday was probably sitting on the balcony, watching both Rattus and Geriatric Unit walk to the gas station in pouring rain. We also did a lot of sitting around, standing around, tax free shopping and ate some fried cheese in a very expensive airport restaurant. Going home-days suck. At least we got back pretty early this time. Thanks to Otto and Ondra for organizing a super festival, to Peter for driving our obnoxious asses around and to all the bands we hung out with - let's do it again some time!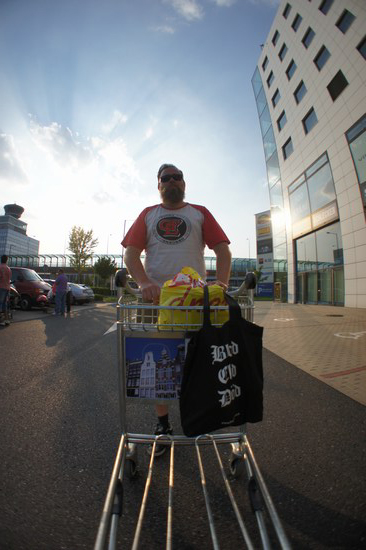 Blod, eld död and BEER! Getting ready for beer shopping at Prague airport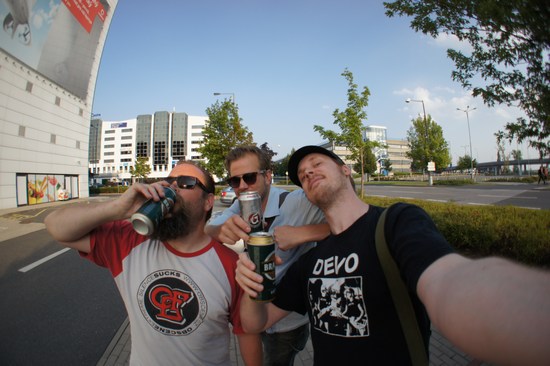 Killing time, waiting for Geriatric Unit. Vi hade i alla fall tur med vädret...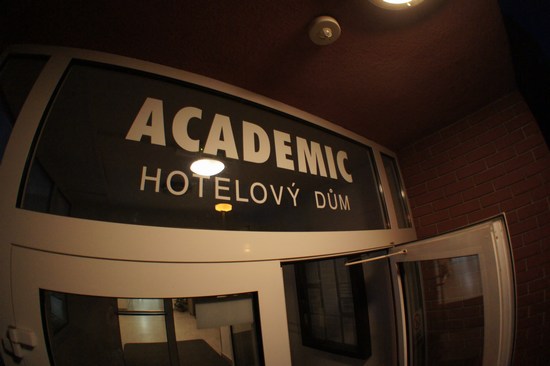 Sheraton, Hilton, Academic Hotelnovy Dum...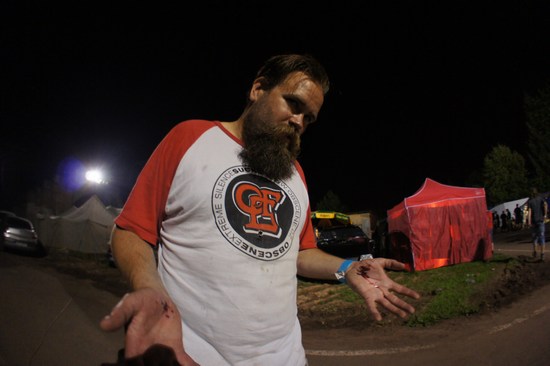 Like the christ symbol he is, Ola suddenly start bleeding from his palms. Spooky!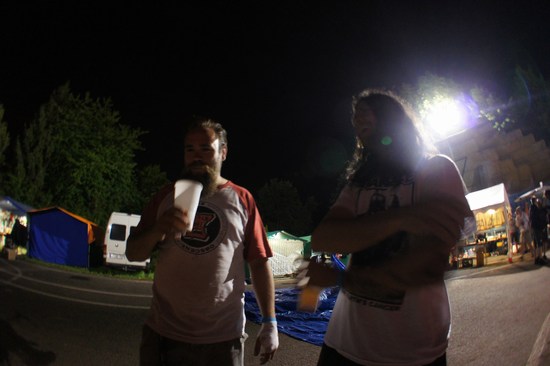 Ola and the Geriatric Unit live guitarist, who's name escapes me at the moment, making stupid and dangerous plans.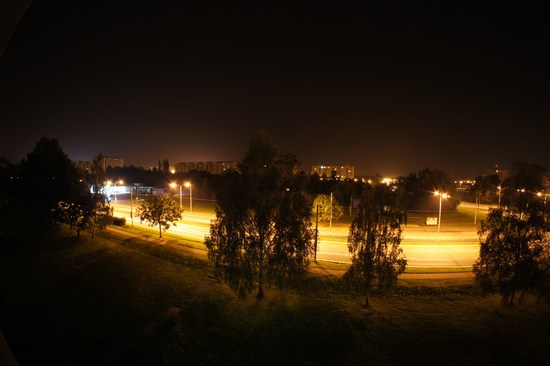 View from the hostel balcony (looked way, WAY better at night)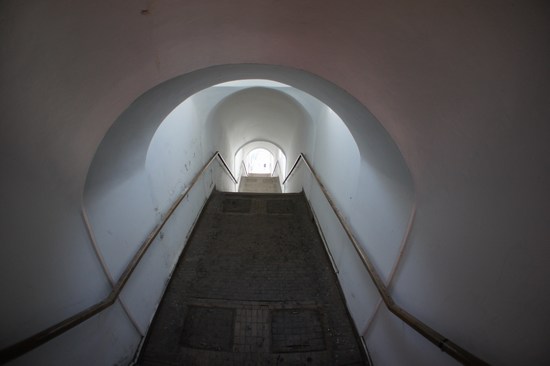 Going up? or down?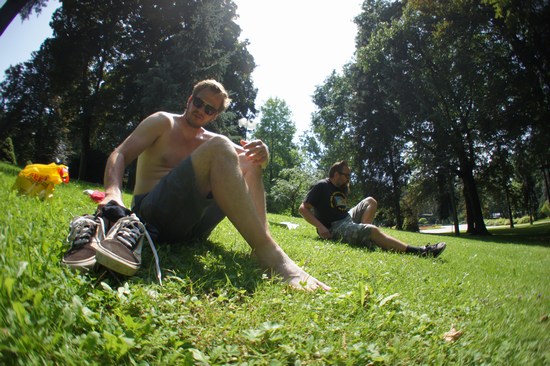 Sunbathing in the park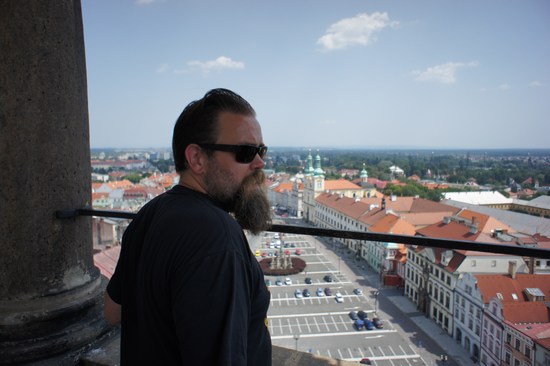 Scared straight. Ola - no great fan of heights, apparently.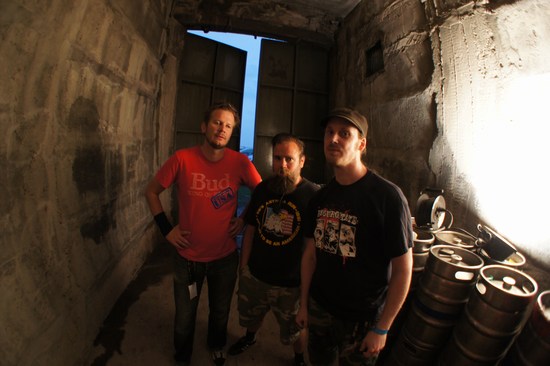 Minutes before the gig, backstage in the concrete hangar of Play Fast or Don't.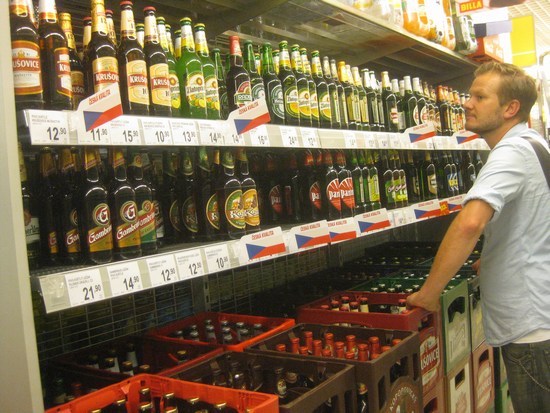 ENDLESS choices! Buying beer in Czech Republic - what a fucking joy!
The biggest, emptiest and less cozy restaurant in Czech Republic. We were the only ones there.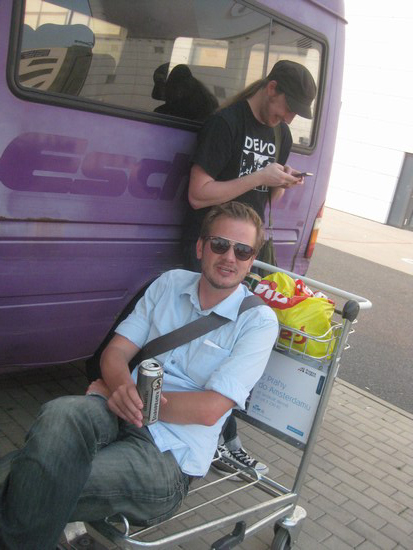 Waiting forever for Geratric Unit. Fenok writes a novel on his phone.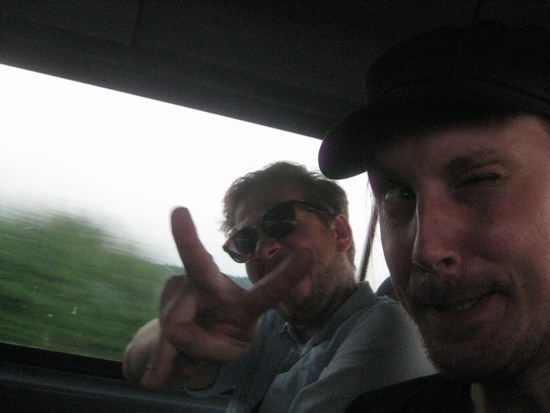 Just the kind of company you want for a 2 hour bus ride...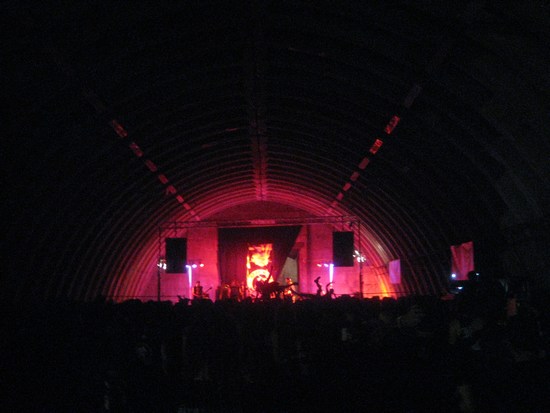 The Play Fast stage hangar.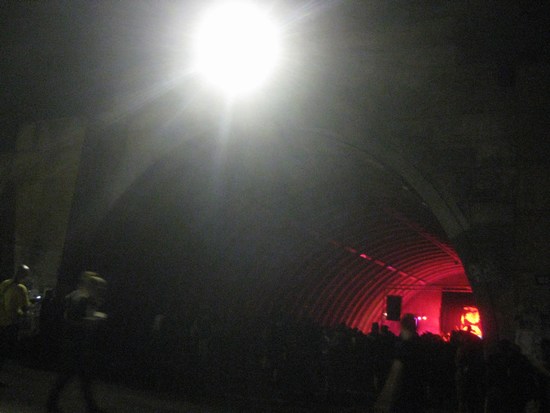 Play Fast or Don't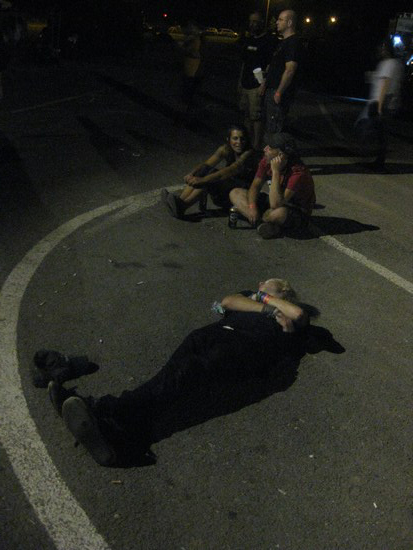 Passed out (not sure about whether he's fucked up too).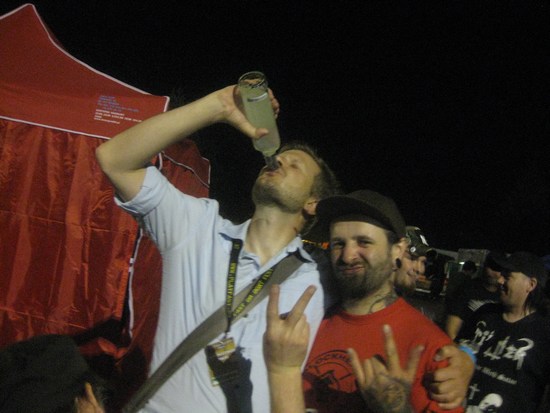 Hitting the lemon vodka with our good friend Everydayhate-Andy.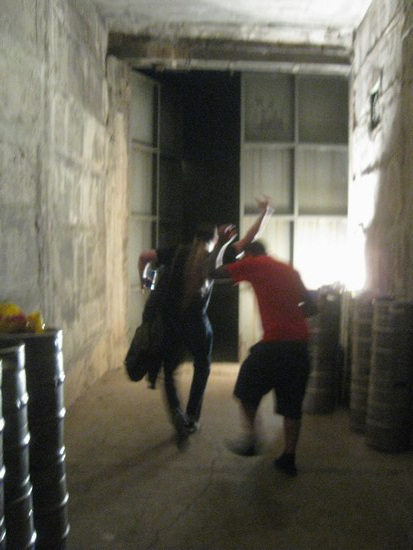 Some sort of... dance? Fenok and Andy, jazzing it up backstage.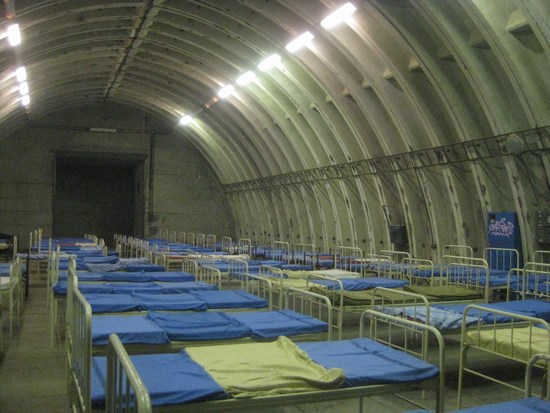 This is the hangar where the crappy bands got to sleep. Not that we ever saw a single human being in there, but still...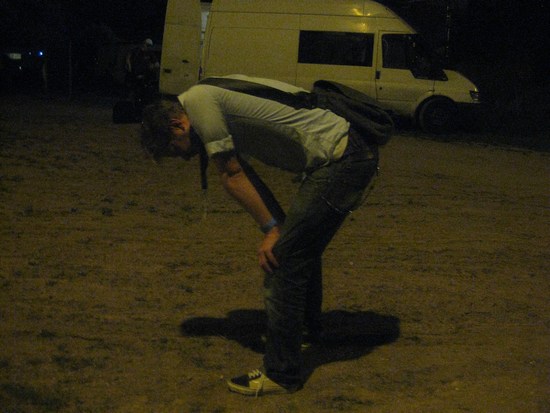 The end of Friday night for Norse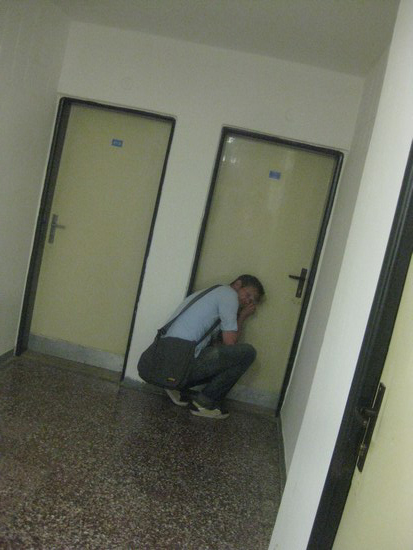 Drive fast, die hard, total insane...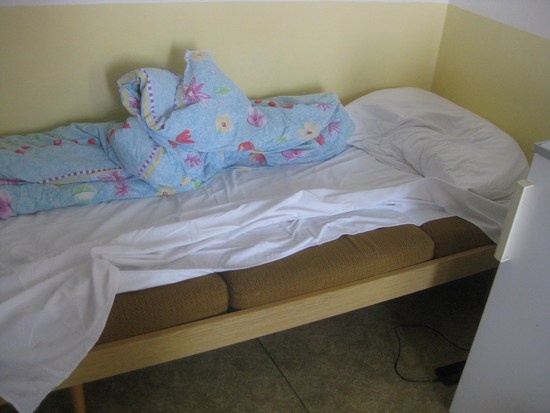 Ah... the oh so very czech alternative to a mattress, exactly the same as at the Obscene Extreme hotel in Trutnov!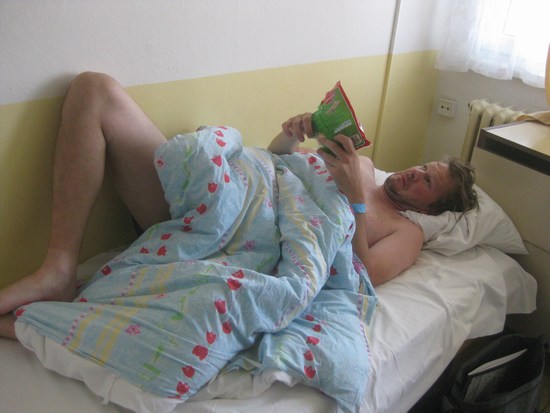 Norse, doing his best Eddie Meduza face.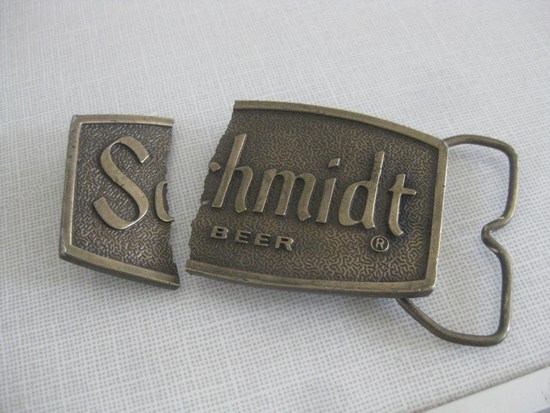 This is what happens when you're too fat - solid brass breaks in two.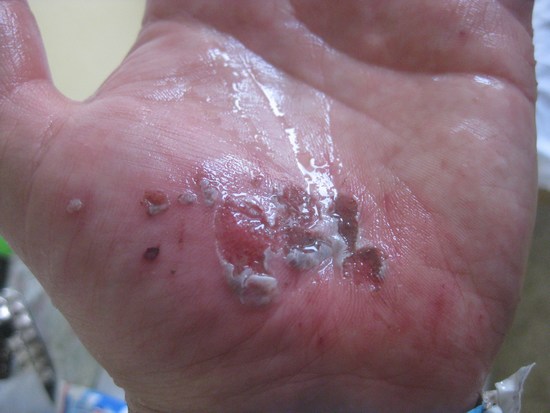 Go ahead, lick it!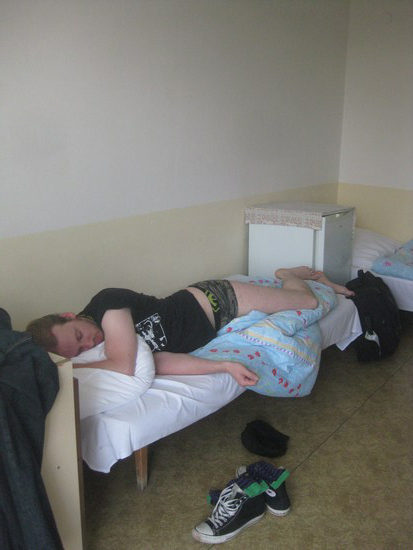 Mr Playboy, July 2012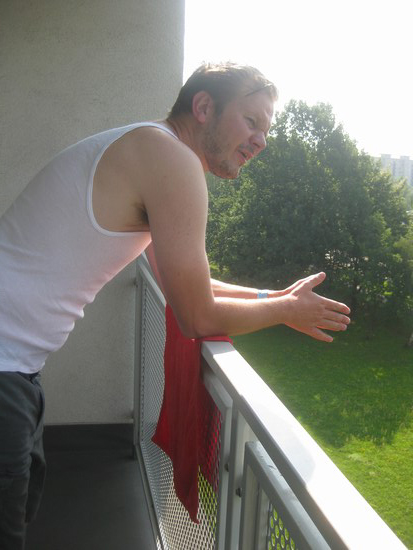 Måtte djävulen ta alla fruntimmer!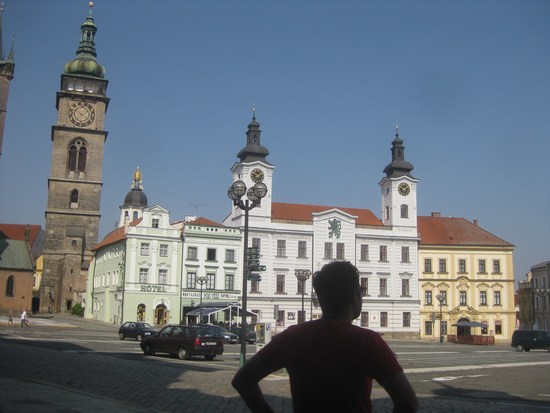 Checking (czeching) out the town square, with the clock tower to the left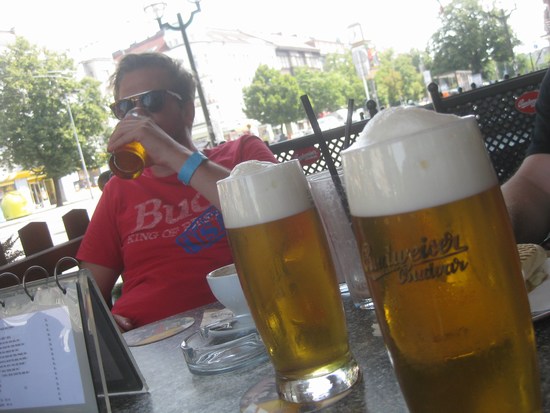 There's no beer like breakfast beer.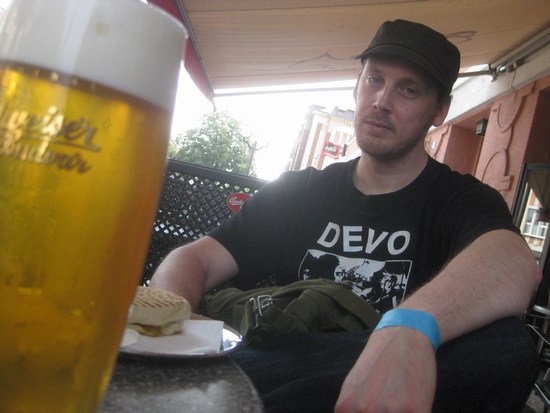 Right, Fenok?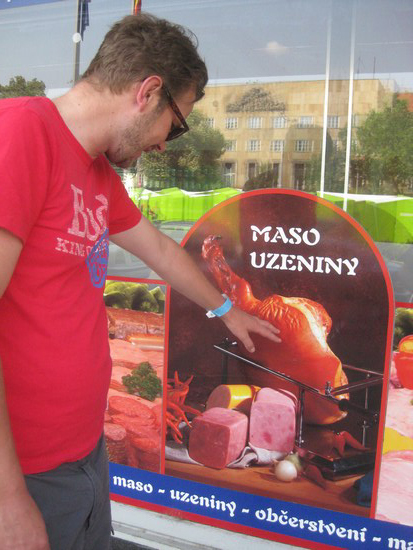 Son of a pig farmer Norse, checking out the varieties of pork products.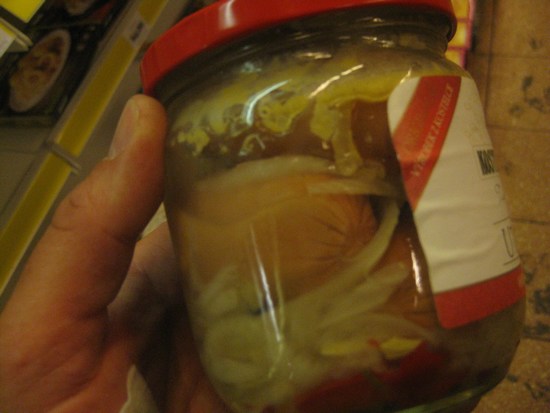 Mmmmm....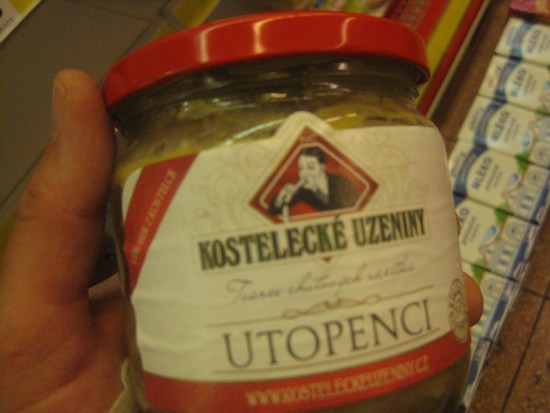 Our favorite brand, as seen in our Obscene Extreme giglog.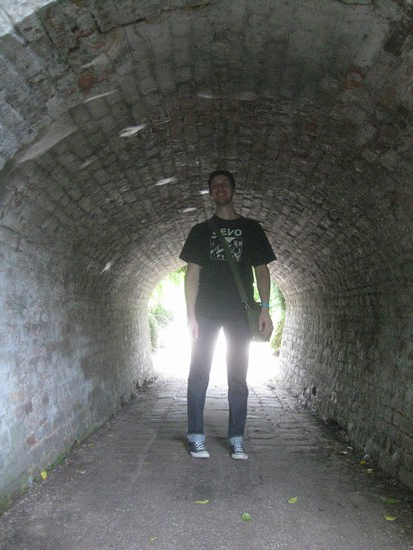 Tall drummer/small tunnel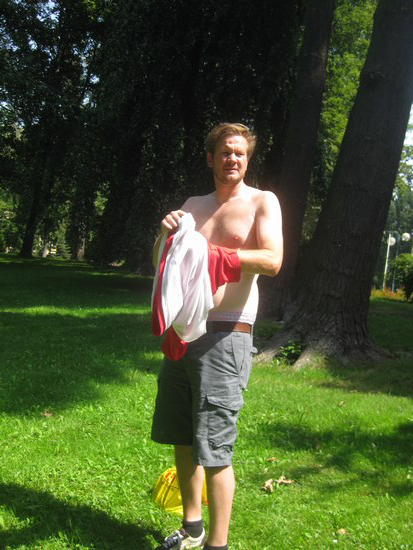 Getting jiggy with it in the park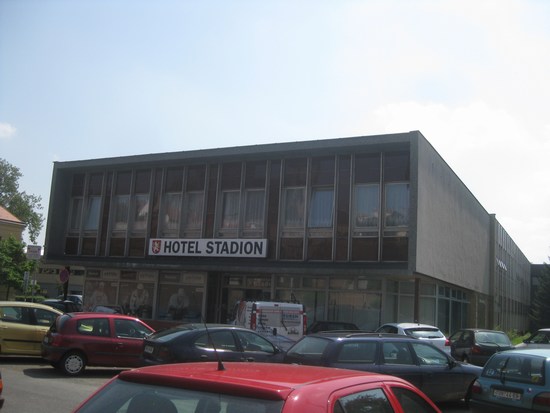 Why can't we stay in hotels like this?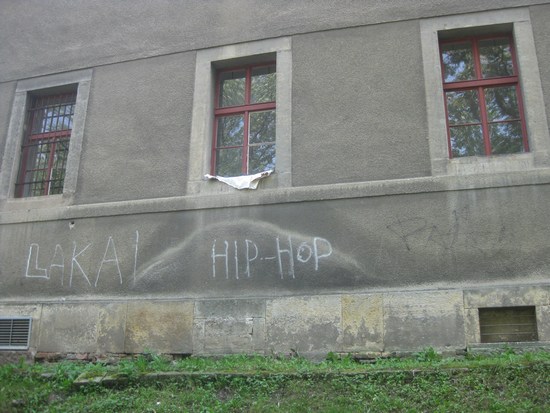 Hradec Kralove is also home to a major hip hop festival, which must be why the level of the local graffitti is sky high.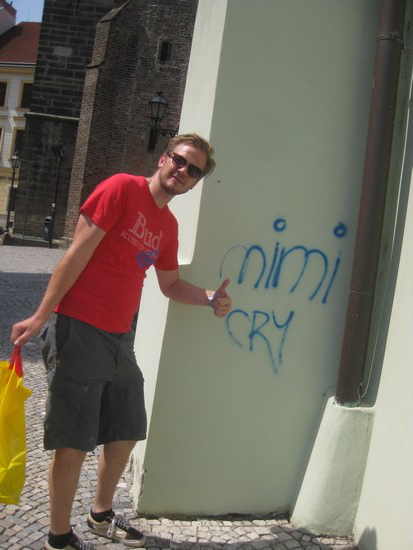 Hjalle and Heavy are apparently HUGE in Hradec Kralovec.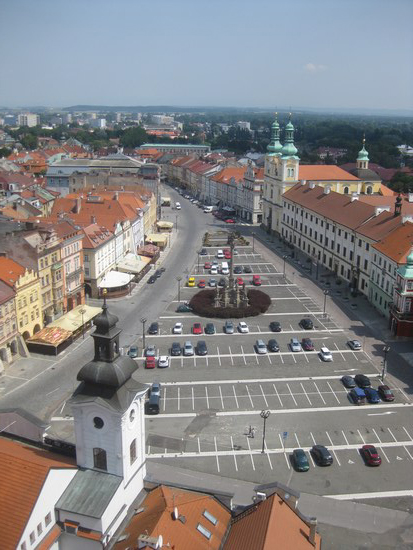 View from the clock tower, Mexita on the left side, army surplus store on the far right hand side. There, now you know where everything important is.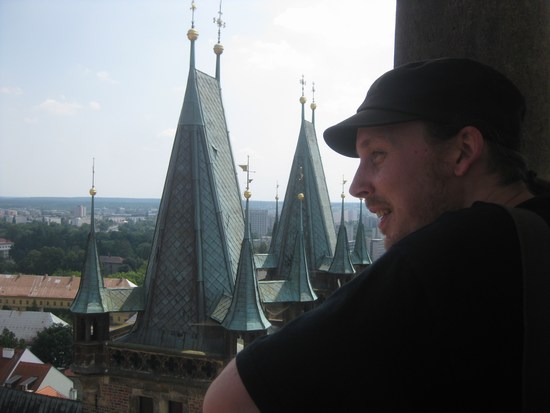 Fenok, checking out the views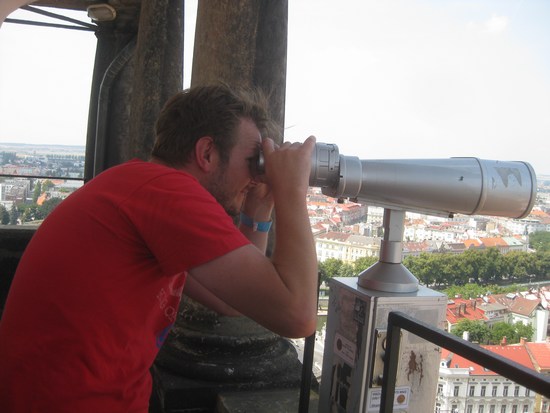 Norse, checking out bikini babes, "badliv" style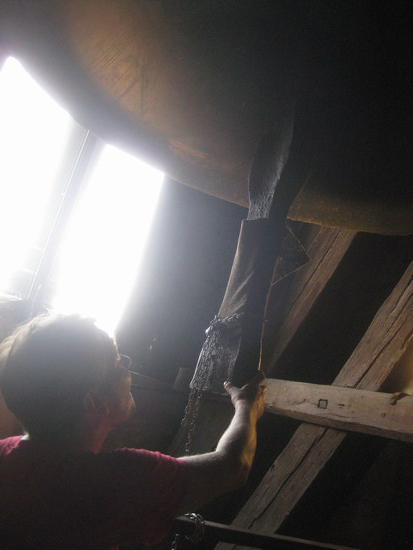 Hells bells! Giant fucking bell!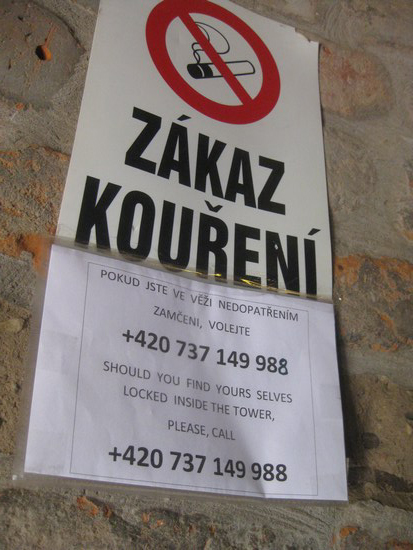 Eh... luckily we saw this coming out. Wonder how often they accidently lock people in?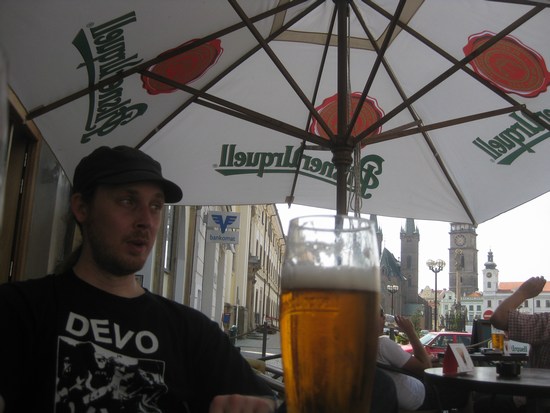 More dirt cheap beer...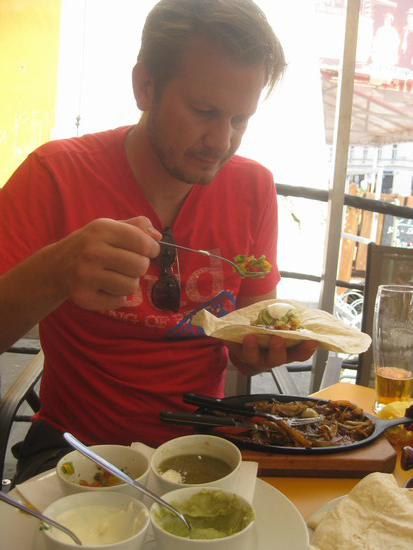 Mex food for lunch, veeery tasty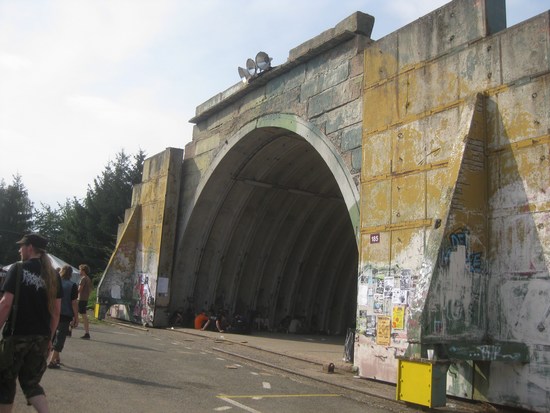 The stage hangar entrance at the festival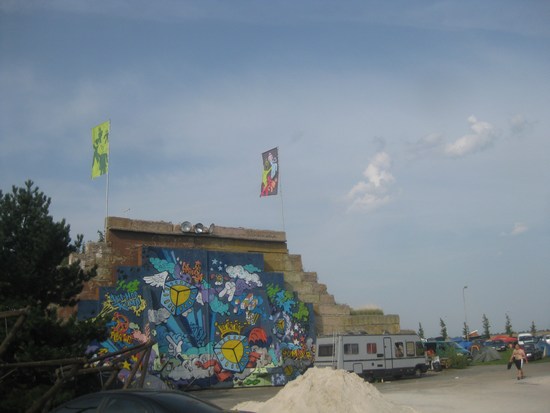 Hippie stuff... fuck off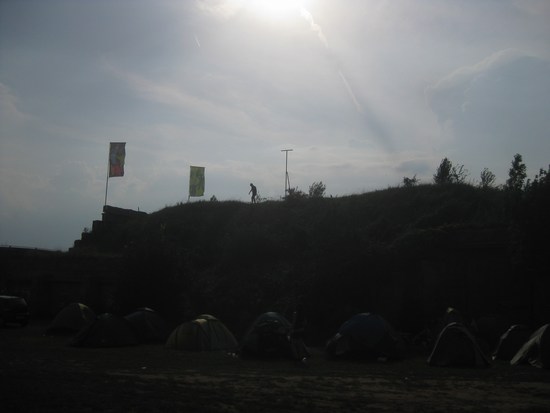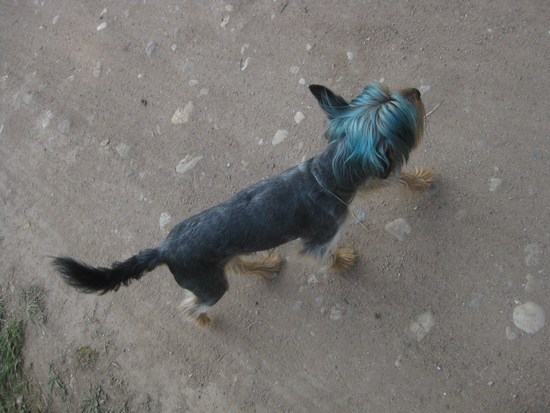 I only all crust dogs were this cute.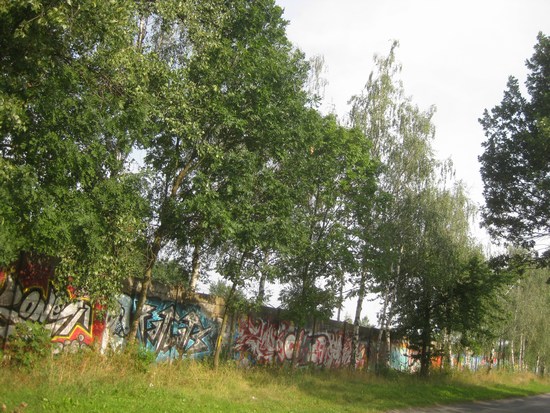 Weird venue. Old commie style concrete fence out in the sticks, covered in graffitti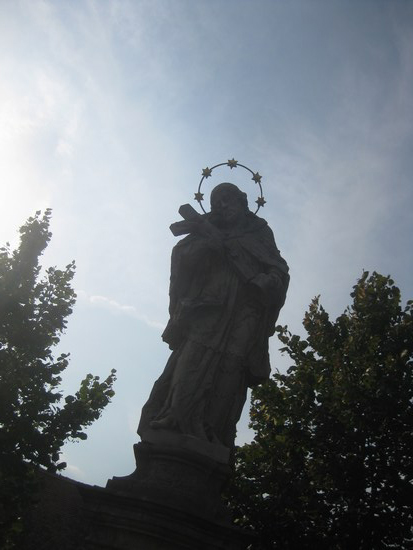 And this cheerful fellow covering the entrance from across the road.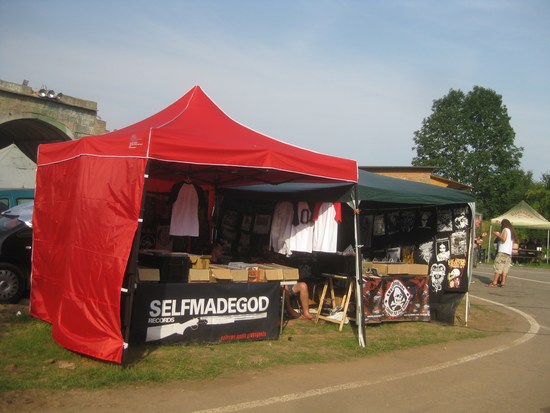 Andy and Karol, reprazenting!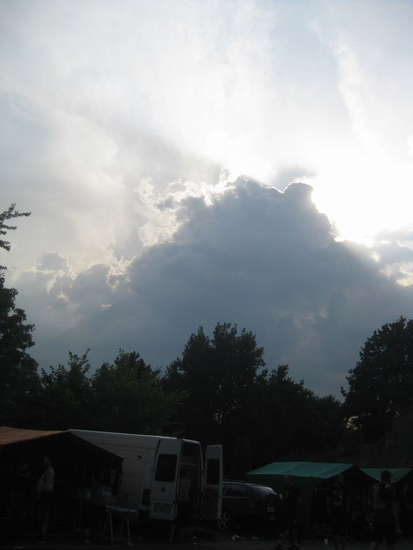 Dark clouds suddenly appear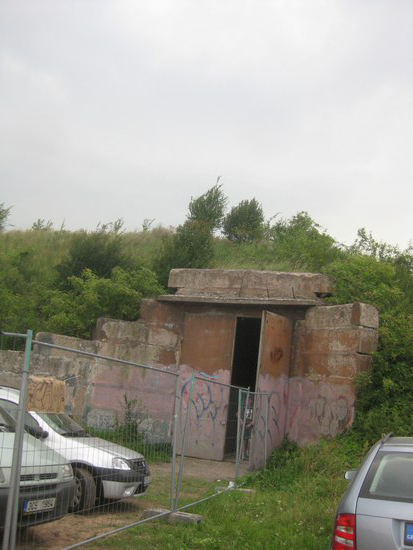 Backstage entrance. Looks like the back door to Mordor or something...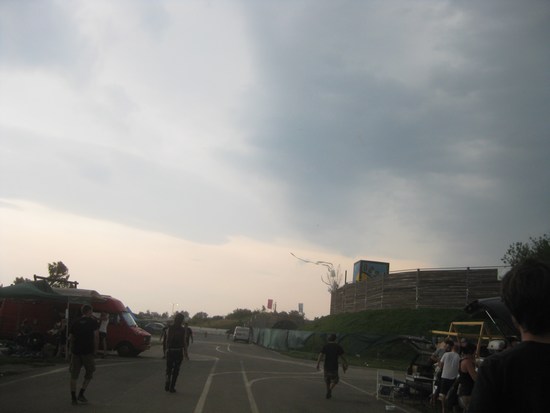 Hail the new storm!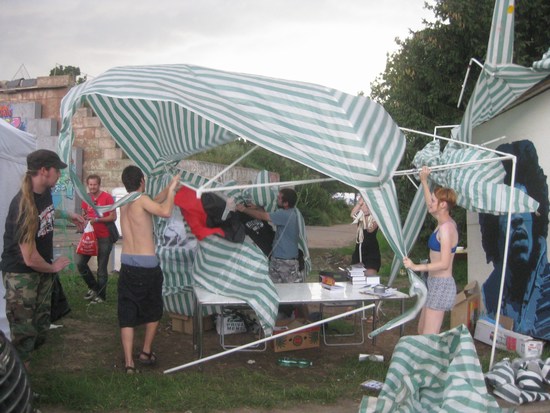 Fenok to the rescue! Norse couldn't care less about the antifa tent...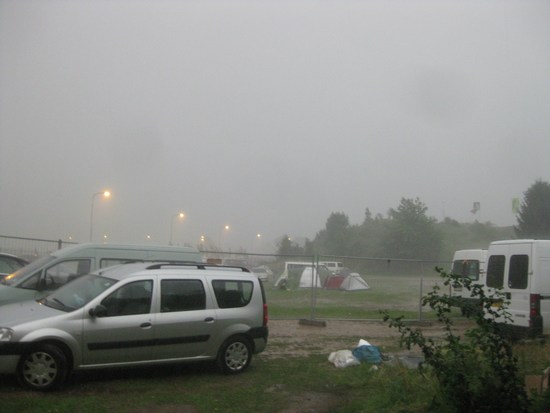 Great weather to be camping in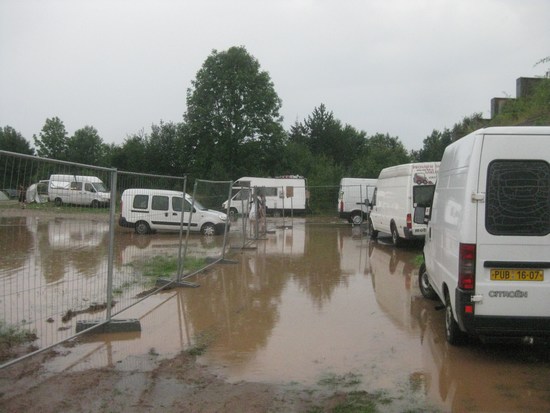 I hope people liked mud as much as they seemed to like white vans. Ours was pink.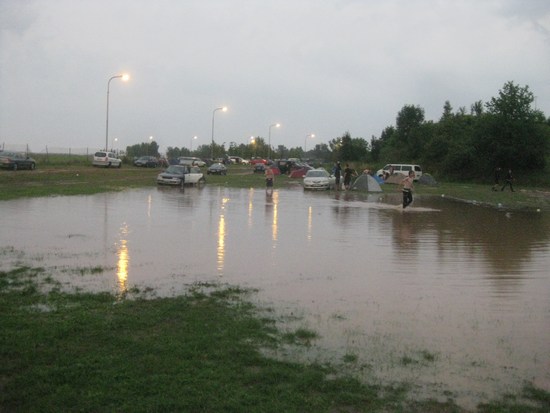 When the festival turns into a lake...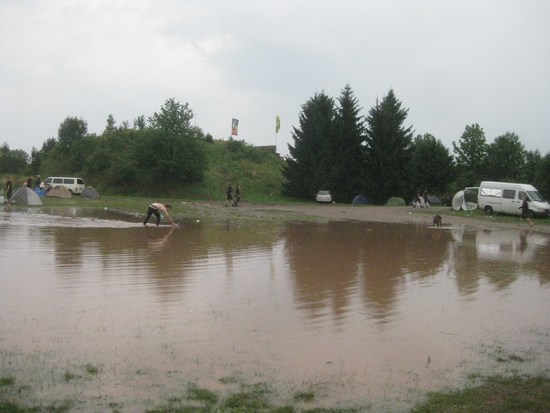 the idiot crusties go wading in.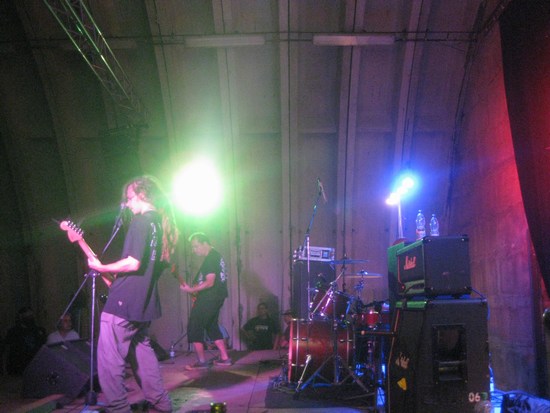 Rattus on stage. The bass player looked like he was about to drop dead at any moment.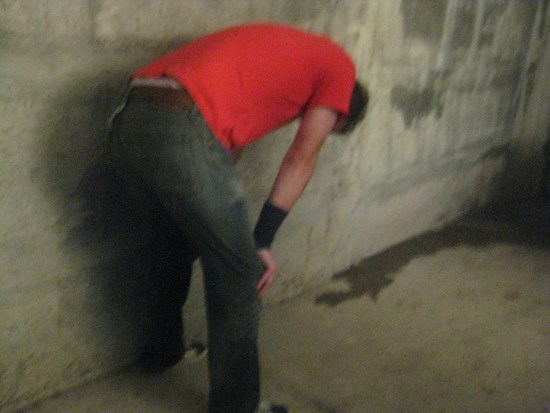 Norse, doing whatever the hell it is he does before shows. Warming up. Throwing up. Hyperventilating. Who the fuck knows?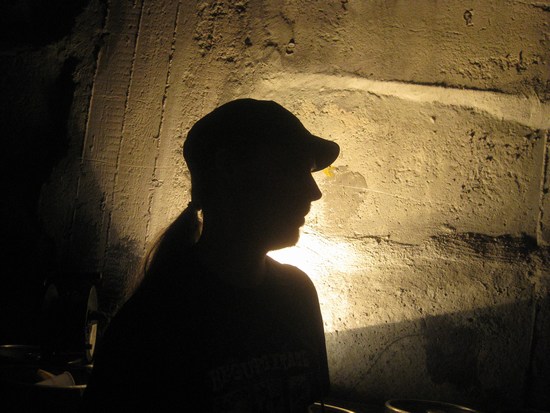 Arty farty Fenok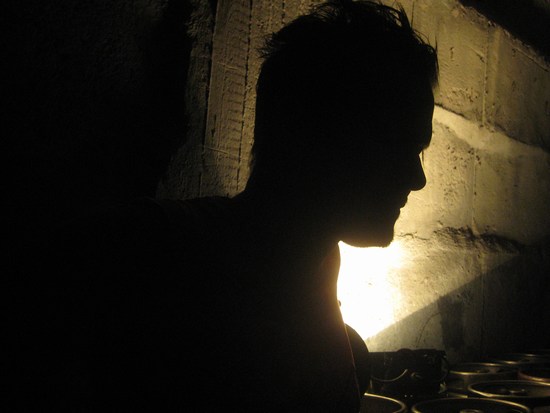 Norse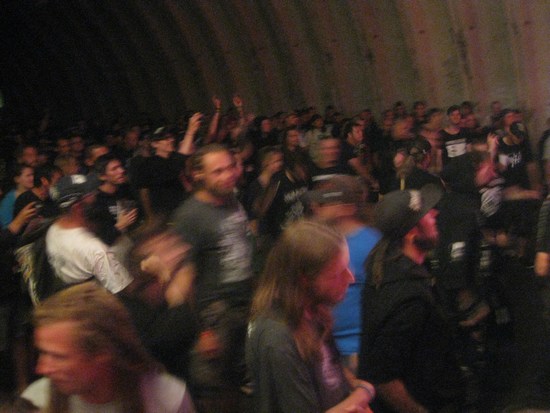 Play Fast crowd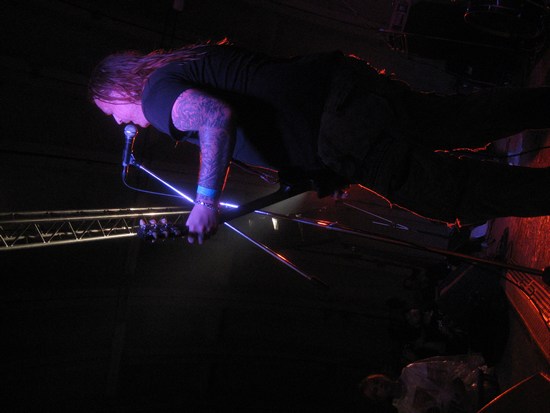 Lutstürmer on stage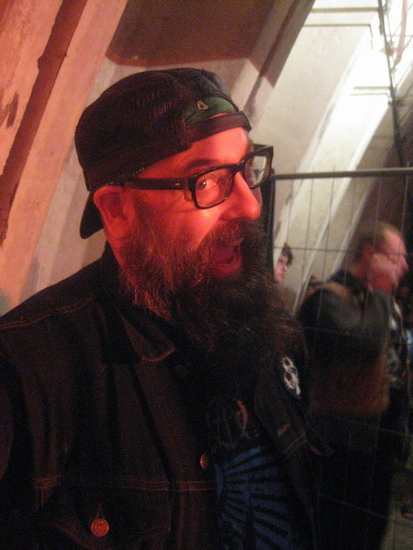 Gords, happy to finally get to play soon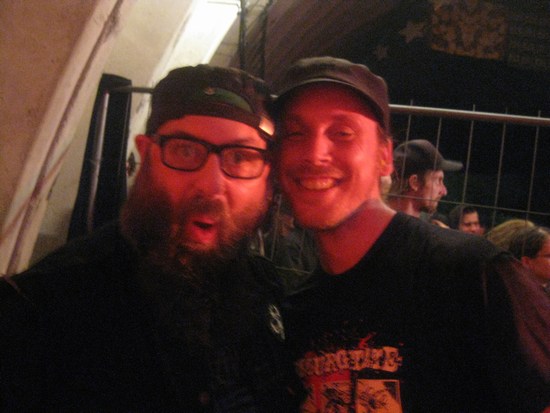 Men du Hedvig, vet du inte vad det ordet betyder eller? Fenok myser med ugglan Helge.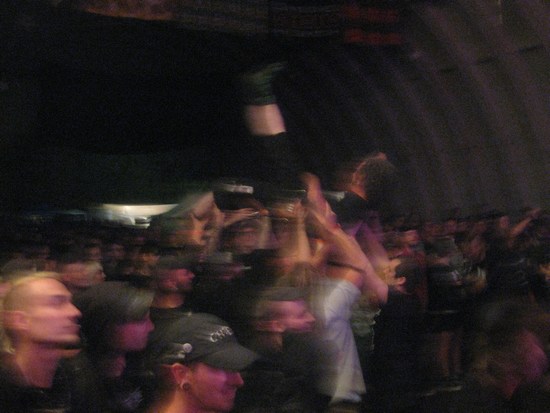 Mosh and stuff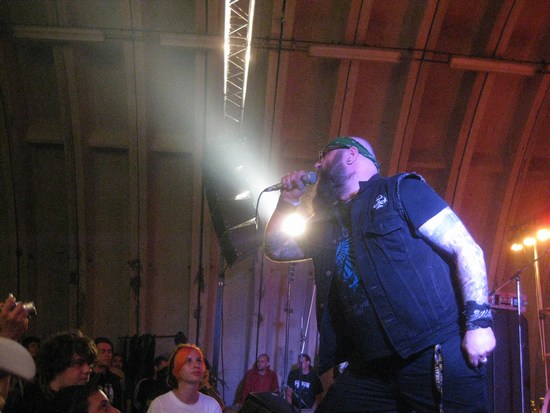 Geriatric Unit on stage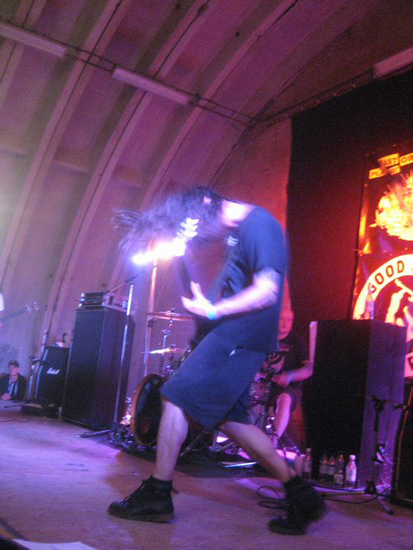 Geriatric Unit on stage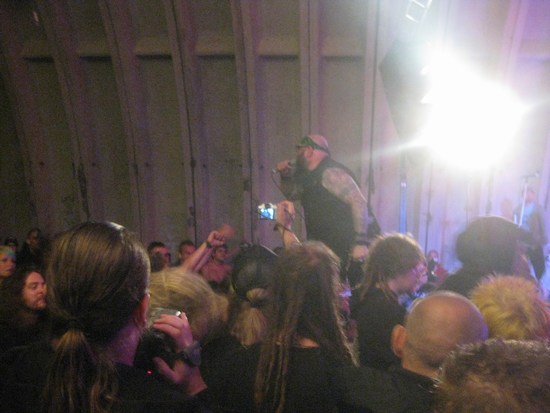 Geriatric Unit on stage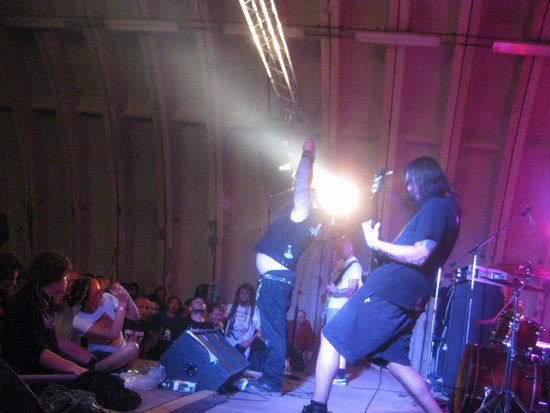 Geriatric Unit on stage. If you've got it - flaunt it!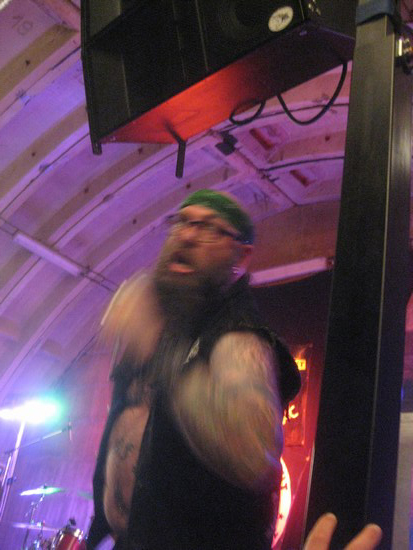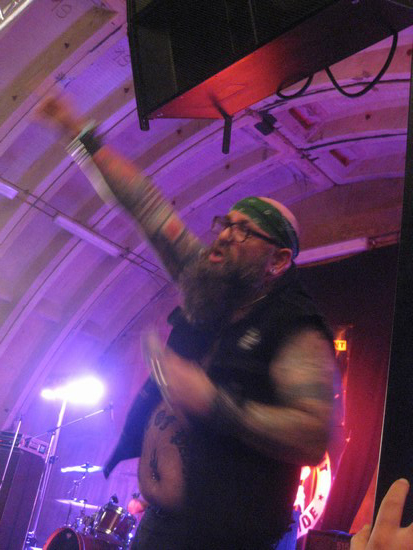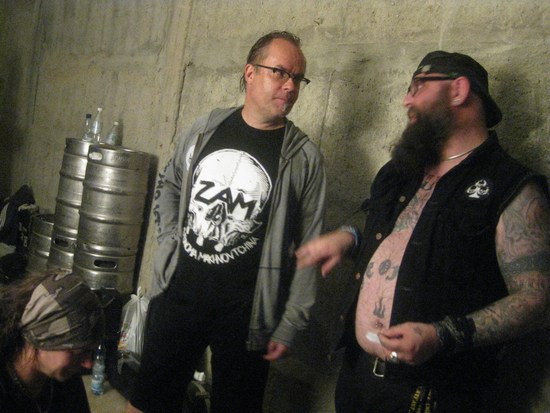 Gords and the Rattus guys, talking about the old days, when distortion pedals were steam powered and stuff.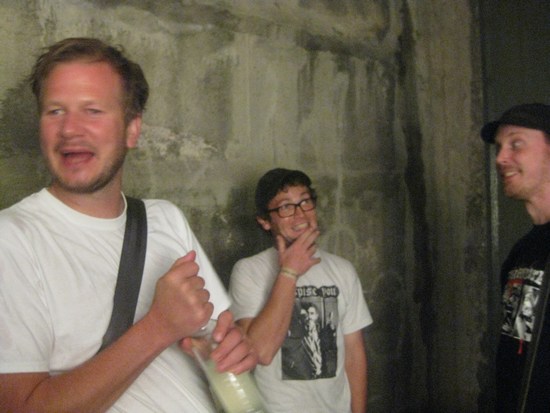 Norse, Fenok and one of the stage hands, working hard on the lemon vodka.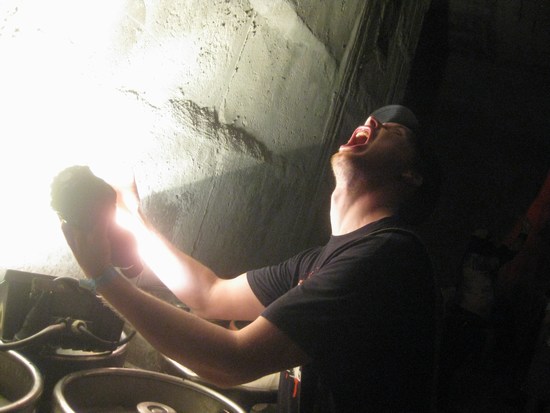 Lemon vodka, starting to kick in...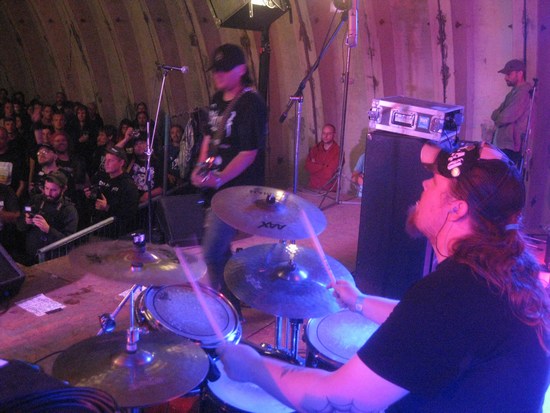 Passiv Dödshjälp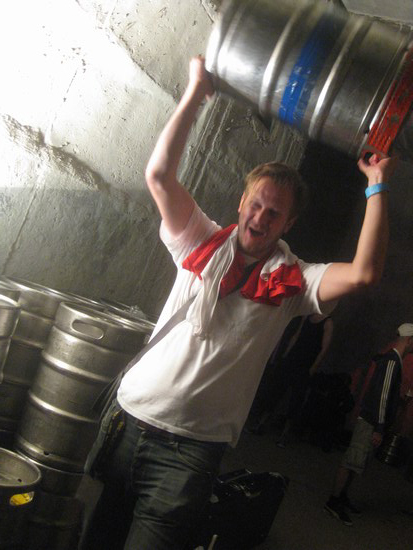 Donkey Kong Jr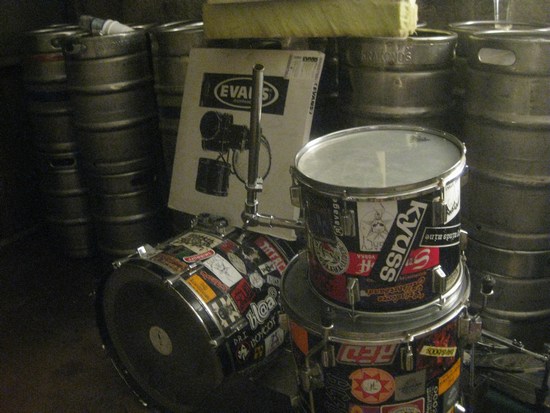 Some band that loaded in late. NATURALLY you bring an extra drum head for the fucking BASS drum! Don't leave home without it! Fenok sleeps with his under his pillow. Or not.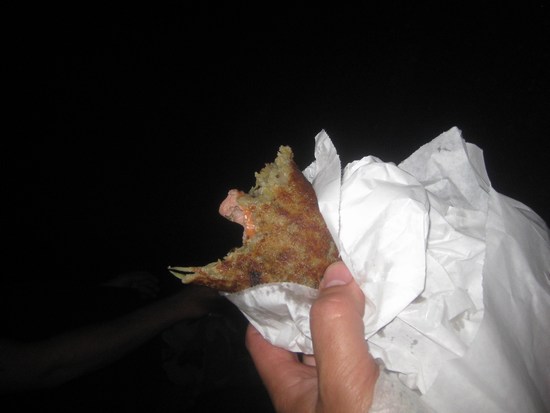 Weird, weird czech microwaved gas station food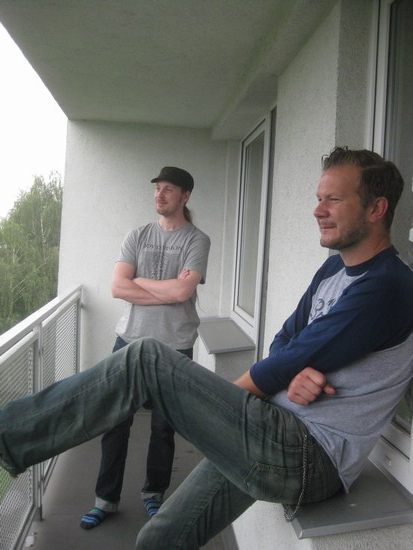 Watching Gereatric Unit getting rained on...
See the gig: part 1: