Massgrav in Uppsala and Gothenburg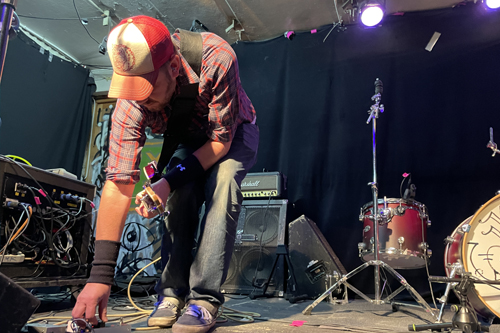 Uppsala
This gig has been in the works for three and a half years - a record even for us! Maybe more, depending on how you count things. When the venue/independent cultural house Femman first started existing, we offered to play there very early on, to support their initiative. Scheduling things always suck though, so we finally planned to do it in December 2018, as a christmas party, with Gadget, us and an Onlkel Kånkel cover act, lotteries, band shirt-trading and other fun stuff. Unfortunately, I went into hospital instead and only Fenok could attend that night, they got some other band to replace us. Then Covid hit. And then things got better and we rescheduled for December 2021. And then Covid reappeared and we cancelled again. And rescheduled for may 2022, and finally got to play. However, Gadget cancelled this time, so we played with "only" Rawheads and Nukies.
Femman is a pretty rare beast for Sweden, I'd say. Most venues are either commercial or somehow government funded in one way or another. This is more like a classic central european squat venue, except not squatted. But industrial setting, lots of graffiti, you know the type. Our friend Martin, one of the two people who set this up (the other - Maja - unfortunately unable to attend this night due to health issues - this gig is fucking cursed!) was there when we arrived, very much stressed out about setting up things himself, since the guy who was supposed to do sound that night ALSO had health stuff preventing him from coming. So soundcheck stretched into forever, but taking a turn for the better when another sound guy showed up to help.
We then went for a walk to get some food and to dump our stuff at a boat where some of us were staying. Came back and talked to a bunch of people, lots of Uppsala friends showed up - good to see everyone again. Uppsala has always been a second home town to us since back when we used to play shows with Diskonto there, and speaking of Diskonto - both Martin and Jonas showed up at the venue. To our surprise, we also met Henrik (of Toxic piss and other bands) who normally resides in Gothenburg, but he and his girlfriend Josefin were in town for a wedding.
Nukies did their thing and did it well. I think it was their first gig ever but it's not like the members haven't been in a million bands before, so… no surprise there. Rawheads on the other hand are a lot younger (certainly younger than us), good to see there are still new bands that aren't just a different mix of the same old people. Really great c-beat mangel with dual vocals. This band should go on one of those exhausting play-every-day four week van tours to get just a little bit more relaxed onstage and they'll be fantastic!
We played one of the longest sets we've ever played, for some reason - upwards of 25 songs or so but it didn't feel THAT long to us. Good on-stage sound with loud and clear vocals and a good crowd. We played some songs from the album that's due late this summer and also a few that will most likely appear on the album after that (which feels a bit dumb, but at the same time you're always most excited about the newest songs you've written).
And then we ended with a couple of covers to pay respect to Uppsala, to Diskonto and to their sadly deceased singer Steffe. First, we did Misery by Bastard - the song they always ended their sets with, and then Knega Suger - what some would call their greatest hit. Fun times.
After that? Just the normal old beer drinking and talking and drying off. Fenok and Jesper had to leave early to catch the last train to Stockholm and a lot of people had to work the next day so the after party was a pretty small and tight-knit thing, still fun though. Thanks Uppsala, we'll do it again some time!
Gothenburg
When we were first asked about this gig, we were a bit… hesitant. Playing in an abandoned train tunnel in May seemed to offer a huge capacity for chaos. It also seemed weird enough to be a lot of fun though. And the guy who contacted us - Nico - was very communicative and seemed very much determined to set up a good show. So what the hell, we said yes. The initial plan was to take the train but somehow that plan (and also the idea of flying) fell through so we ended up driving down south in Norses car, at insane speed of course - that's how we do things.
So yeah, train tunnel. You park in a no parking zone in an industrial estate and follow some litter-ridden tracks and as you see more and more studded punks, the tunnel opening comes into view. A band was playing when we arrived and the sound in the tunnel was super odd - mostly just vocals and a thundering bass drum that was bouncing between the walls like some sort of ping pong torture device. Anyway, we located Nico, who told us this was a jurisdictional white spot on the map, with the railway department in charge of the rails and the road department in charge of the road above arguing about whose responsibility the tunnel was. In the meantime, it's used for gigs and raves. He also located the woman who was nice enough to let us use her flat for the night. She gave us the keys and the address and we headed off to drop off our stuff. All my fears of having to spend the night in some dilapidated squat were laid to rest when we entered and were greeted by a super social cat named Beethoven - very nice apartment.
We grabbed a cab back to the tunnel and heard a rumor there was a new brew pub opening somewhere amidst all the industrial buildings, so we started by having a few pints at some hipster mecca, drinking among people who were the embodiment of gentrification. Beautiful people and expensive beer…
We managed to get back in time to see Kronofogden get on stage. Or in some cases try to get on stage. Parts of the band were so drunk, it seemed unlikely they'd be able to play at all. However, people from the north are of a different fabric and they pulled off a fantastic set - nothing but hits and the drunkenness was only very noticeable in the talking in between songs. Good to see them again!
After that, we were up, just as it started to get dark outside and the nice lighting in the tunnel became more apparent. In Uppsala, we had started off with our cover of Final Exit's "Ume hardcore" - renamed Uppsala Hardcore but we weren't planning on playing it again this night. Before we launched into the first song though, Norse leaned over and said "Let's do Hudiksvall Hardcore and get the Kronofogden guys going" (Hudiksvall being the place they're from) so we did and it worked a treat. So we continued by shouting "Hello Stockholm" followed by "Det här är Stockholm" (which is basically a diss track about Gothenburg) and we were off.
Some time in between the first band we saw and Kronofogden, someone had sorted out the sound quite a lot and on stage it was actually good, with very easy to hear vocals, which is a must for us. Also, the semi outdoors setting made it less insanely hot than most stages, so all in all, it was a great stage. Sure, all our stuff was constantly rearranged by the crowd getting onto the stage, pushing over mike stands and stepping on pedals without noticing, but all in all - very nice, good crowd, lots of fun. Felt like one of our better shows from where we were standing. Some time between songs we came to an agreement with Kronofogden (who were up front) that they are the best band in the northern part of Sweden. We are the best band south of that (where all the people live).
Afterwards we did what we usually do - tried to get dry ourselves, tried to drink the place dry and talked to new and old friends. Normally, we also try to sell some shirts at this point, but the merch tables in the tunnel were poorly lit and right in front of the stage, so we just sold a few backstage and left it at that. Sorry if you wanted to buy one. We do mail order.
The day after, we got up super early and drove home. Not a bad little trip. Next up for Nico and his crew is the gigantic Fragile Mountain festival this summer so support them if you can - even if we're unfortunately unable to play, hopefully it will be a great success!