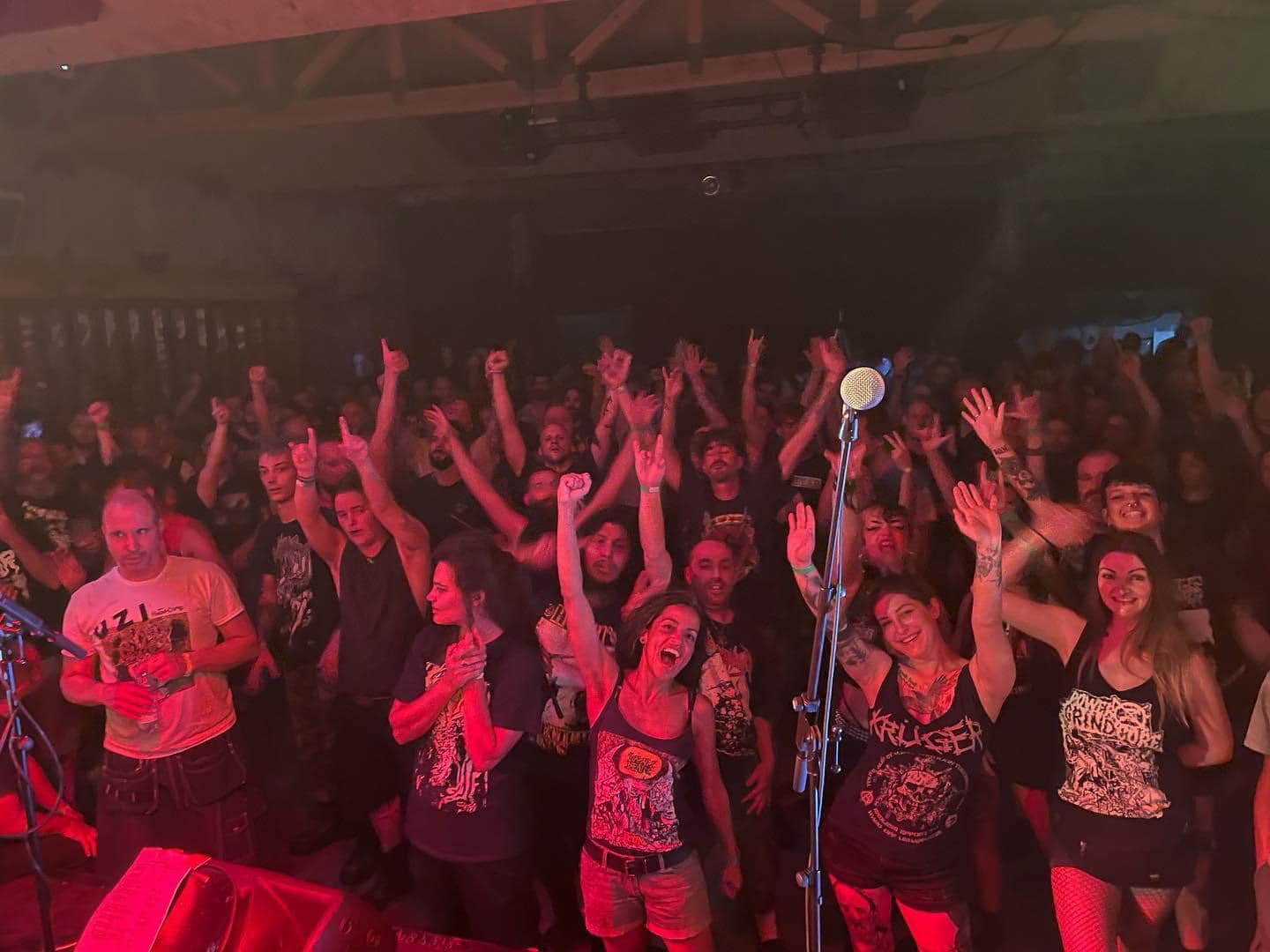 Massgrav at the Lixiviat Festival 2023
For some reason, we have never made it to France before. Apart from running into the guys in Blockheads a couple of times, we haven't even been in contact with any kind of french "scene" at all. Not until we went to Russia in 2018, and played three gigs with the dynamic duo of Warfuck: Nik and Mac (or as we like to call them; Jean-Claude and Fracois), who we got along swimmingly with. Fast forward a few years and we're looking for a label to release the vinyl version of Slowly we Rock. We see that Warfuck have put out stuff on Lixiviat Records so we dropped them an email to ask if they're happy with the label, and it turns out THEY (along with Ugo) are the ones running it and yes, they would love to release the LP. And they did. And we were very happy with it all. So, next thing, they tell us they're doing a Lixiviat festival and would we maybe want to come to France to be part of it? After working out some timing issues and travel detail, we happily accepted. Lyon in June - sounded like it could be really nice! Hell, it sounded so nice we decided to make an event of it and spend three nights in Lyon, all except Jesper who would fly down on the day of the gig.
So, as midsummers eve drew close, we boarded a crappy little airplane at the conveniently placed but still crappy little Bromma airport and flew south. Nik picked us up and drove us to our apartment and then took us out for a beer and a burger in a hot but pretty rainy Lyon. A quiet night that we ended with a couple of beers at the bar on the corner by the apartment. Easy start.
Next day, time to see Lyon. Nik had suggested we'd start by taking the funicular to some big church, look at the views and then walk down through the old town, so we did. It was hot as hell. People who walked UP the hill must be insane, just walking down it almost killed us and we were soon looking for a good place to drink the first beer of the day. This is when we ran into problems. Nice restaurants - yes. Cafés - yes. Seedy bars and pubs - not really a thing in Lyon, apparently. We finally found a restaurant with nice outdoor seating and ran into the next problem: France's approach to beer. Real lager is in short supply, instead they insist on serving "blonde" (and sometimes CALLING it lager) which is… not the same thing. Not until hitting the third establishment of the day did we manage to find a regular pint of Heineken. We like France, but this is really a point where there's room for improvement.
For lunch, we investigated some french cuisine. Norse was dead set on eating frogs, so he did. Ola and Fenok explored the north african influences and had falafel instead. Everyone was happy.
After a short pit stop at our apartment for naps and a few bottles of wine, we headed out to the festival, which meant a few stations on a the subway and then a bus. Grrrnd Zero started out a squat which gradually got more more accepted by the city but also moved further and further from the city center. The current iteration is about 4 years and is an old industrial complex, reinvented as some sort of creative space - a huge place that was now full of the usual suspects - grindcore fanatics from all across europe.
We got there around the time Eastwood were playing and the yard was almost empty. There's a few things you can say about the crowd at this festival - most of them good - but one of them was that people were really really good at going indoors to watch all bands. On a hot day, with the bands playing in a baking hot steel box, with the option of lounging in the nice seating outside, that says a lot about dedication. Us, we familiarized ourselves with the beer fridge backstage, talked to people and watched the bands. Chiens put on a great show and we knew from last time that Warfuck is a world class grind duo but still Yacopsae probably took the cake. With the snail from Attack of the mad axemen now playing drums, they did a great, fast and pretty long set and killed it. Good stuff, nice people. Anyway… we didn't want to get caught riding night buses through the industrial suburbs of Lyon so we called it a night and went home, looking forward to playing the next day.
Saturday
Another day with a nice French breakfast. Norse went down to the boulangerie and got us some fresh pain riche to enjoy with the mature french cheese and other delicacies we'd bought the day before. One hard thing about being in a band, on a trip like this, in super warm weather and lots of time to kill is refraining from drinking too much on the day you play. Having rather heavy heads from the night before helped, but we thought we'd also visit the large outdoor pool complex down by river Rhone. But after a long and warm trip there, we were turned back at the gates by a security guard who demanded we show him our swimming gear. Surfer style shorts were not allowed, only speedos and some sort of tight swimming boxer shorts. Gah! Speedos? Only freaks wear them!
So instead we headed over to the large Tete d'Or park and walked around, looking at exotic plants and animals, eating ice cream and killing time until it was time to go meet Jesper at the apartment and then head out to the festival again. This time we got there earlier, in time for Deletär, one of the more easily approached bands of the festival with their scandi worship catchy as hell stuff.
The venue was not exactly colder today - just standing dead still at the back (where it was supposedly cooler) watching Whoresnation, made you sweat like a pig. As we were getting our shit in gear, putting on the gig clothes and such, it felt like this might actually be harmful. We're no spring chickens and super strenuous activities in insane heat have claimed many a middle aged guy's life in the past. Don't say we don't risk it all for you.
Soundcheck was so-so. Some things sounded great, others you could not hear at all and there was this bassy feedback that came and went, but since communication with the person in charge of sound was a bit tricky, we just decided that Mak (who was also working on sound related issues) would probably have our back and we rolled the intro music and set off. To everyone's delight, we had opted for the french accordion version of Anarchy in the UK off the Great RnR Swindle soundtrack, to mark the occasion of Massgrav's first french gig ever, and then straight into the theme from Where eagles dare and then we hit them with Idag börjar helvetet om igen.
Yes it was hot as fuck. Yes, Ola forgot everything we had agreed upon about taking it a bit easy and have longer breaks between song sets. Yes, Norse threw up on stage at one point. But those are just minor details. The crowd was fucking great. Stagedives galore, a smallish but still ferocious circle pit. Some clowns got on stage and did that rowing thing metal people do at Amon Amarth shows. People seemed to have a blast and we sure as hell did too. And just like at our recent gig in Umeå, it was good to see such a mixed crowd - the front row was mostly made up of women for most of the show, a nice break from the sausage fest this scene can sometimes be. Apart from that, there's not much more to tell, except to say this was one of the best shows we've done in a long time and one of the greatest crowds we've come across. Thanks everyone!
Afterwards, we did a short interview with the guys who were filming the festival. We have no idea about how this will be used, if it's just for Nik's private VHS collection or if it'll end up on youtube, but I don't think it's our finest moment - we were just too exhausted to say much worthwhile. Sorry guys! And after that we tried to dry ourselves off in time to get to see the end of the Blockheads set, which was pretty massive. But yeah, just as the fridge was now out of everything but non alcoholic beer, we had pretty much run out of steam too. We stuck around for a little longer but soon started the journey back to town and ended the night yet again at our corner bar, where some of us had beer and some had gotten into the french feeling for real and had a nice glass of chill rosé.
Sunday
On Sunday, we went home. Since Jesper had alternative travel arrangements, he had booked his own flights and had opted for a route that had two long stopovers, so he got home about a billion years later than everyone else, but apart from that, there's not much to tell. Expensive sandwiches and beers in airport bars are not super exciting for anyone.
HUGE thanks to the Lixiviat guys Nik, Mak and Ugo for having us. It's hard to fathom how people who have never arranged a festival before could pull off something so well organized and nice. Great crowd as previously stated, wish we had found the time to hang out with more of you, maybe next time! Hopefully this will turn into an annual event and if so, you should definitely try to go next year if you like fast music. As for Warfuck (and also Whoresnation), we will see them in August, when they join us in Malmö for the Malmö Massacre festival, and you should too! Until then.