Part I Massgrav at the Obscene Extreme Festival 2006 in Trutnov, Czech Republic 2006. July 13-16th.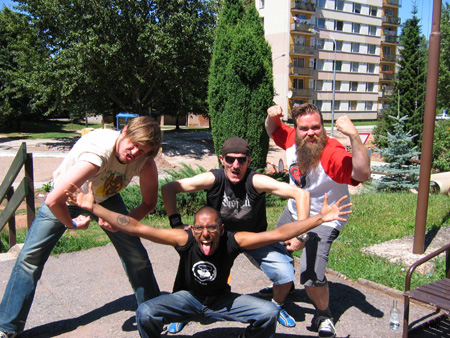 Norse, Indy, Curby and Ola outside the hotel.
Fuck off you body building geeks, this is true strenght of faith!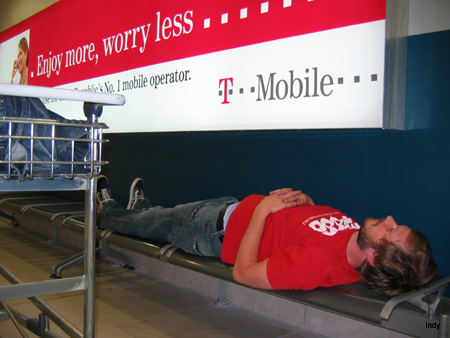 Arrival in Prague. Enjoy more, worry less... That's Massgrav in a nutshell.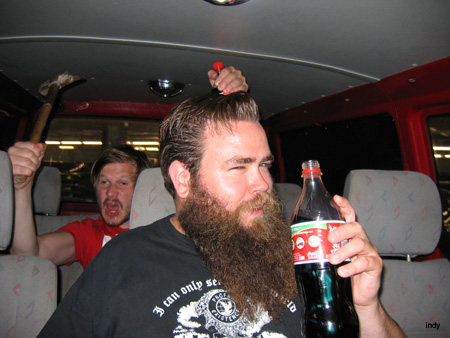 Raising hell on our way to Trutnov. Hammered on Coke, butchered at birth...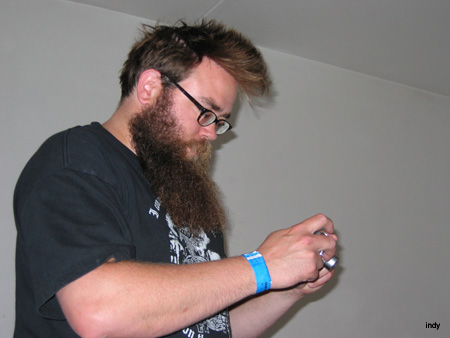 Punk! Mohawk! Cock! Yeah, Ola sure was an early bird...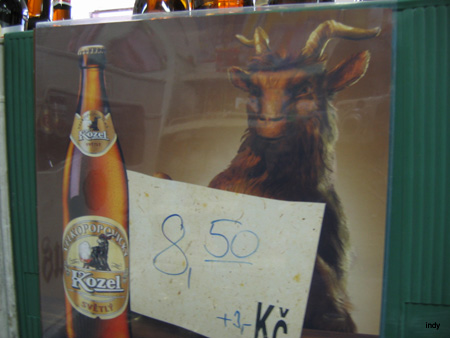 There were lots of satanic references in Trutnov. Kiss the goat!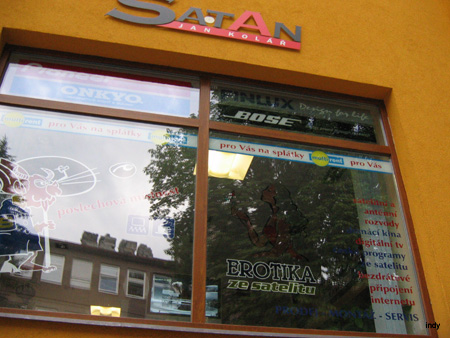 The satellite shop Satan...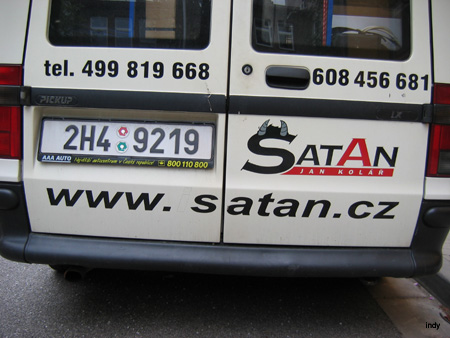 ...and the car...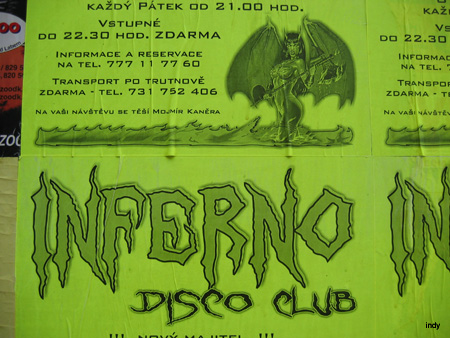 Inferno Disco Club?! Unfortunately, we didn't go there...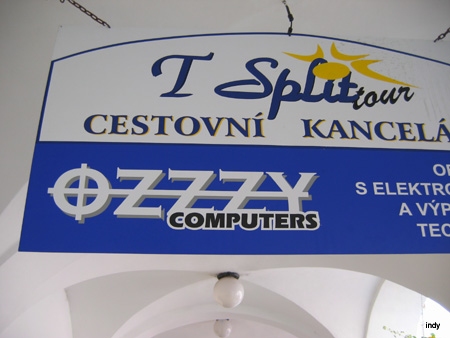 Haha! Trutnov is the place to be, no doubt!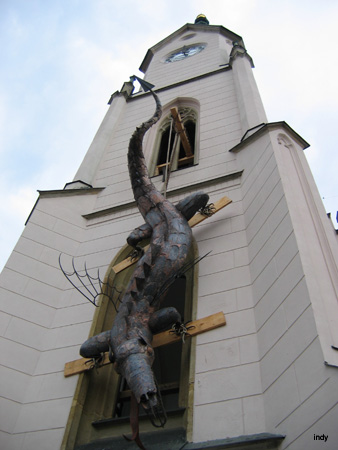 Cool dragon climbing the church located at the town square.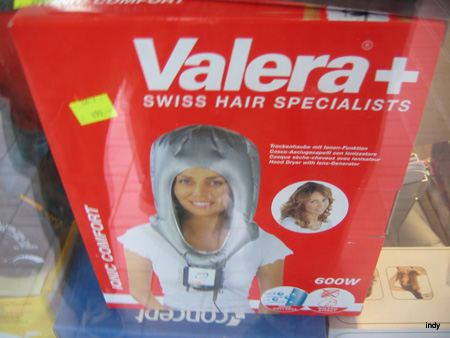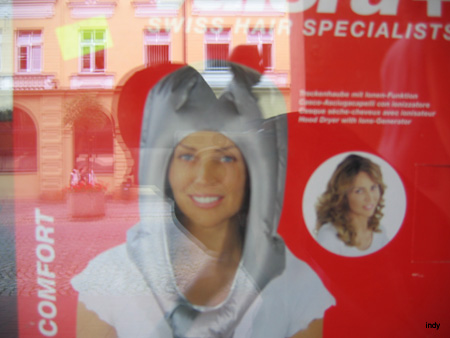 Would you let this silver balloon GPS warfare machine anyway near your hair? Be very afraid.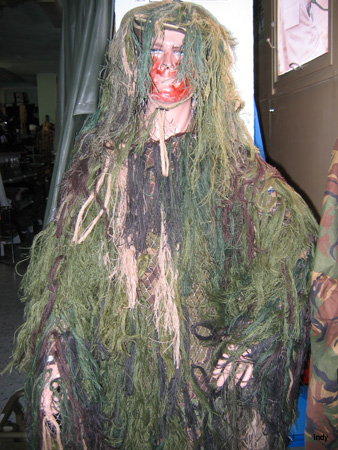 Why don't the obscene extreme goregrind community use this kind of clothing
instead of those lame ass doctor's suites?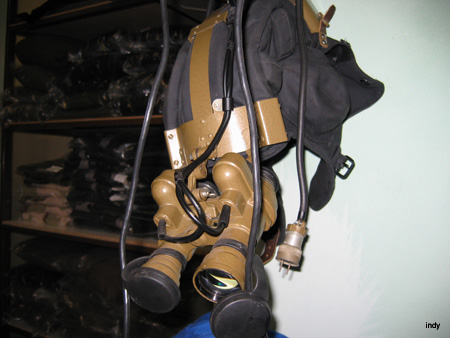 Indy bought some new glasses. Now you cannot ever escape from the
one and only Stockholm Night Stalker!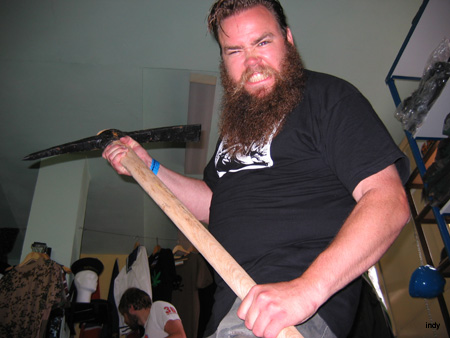 And Ola got this little gadget to help out when cleansing the streets of
all the idiots who roam them these days.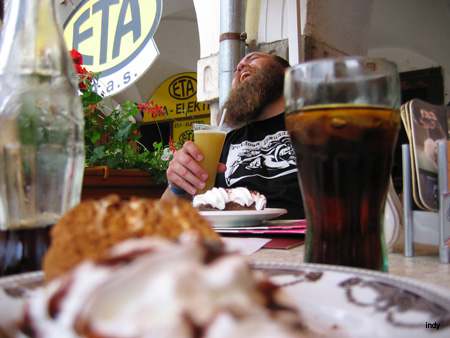 This is the reaction you get when you order Ola the czech version of a
Piña Colada - massive laughter. He's such an elitist...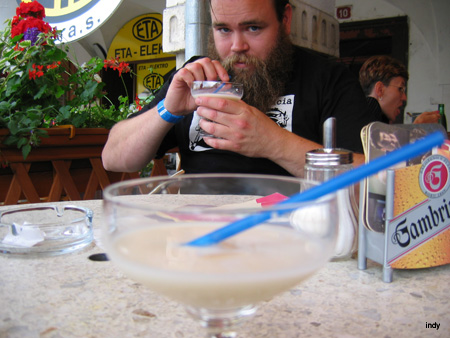 Massgrav - smooth drinkers, intellectual power.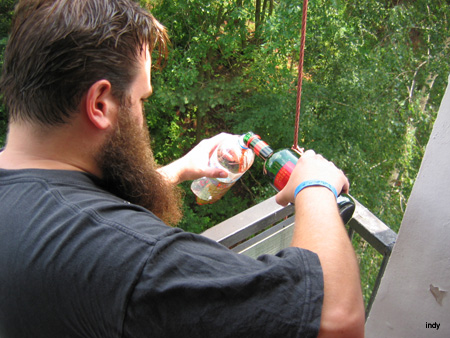 Mixmaster Ola getting ready for some live massacre.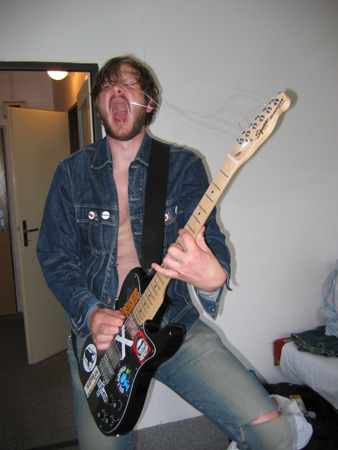 And here's Norse - the denim demon - doing his best
to achieve Danne Wall status.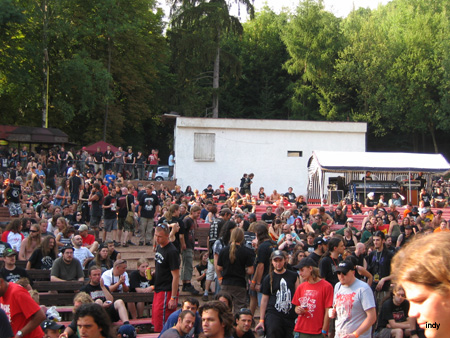 How many grindcore fanatics are there in the world anyway?
Here in Trutnov there were at least 3.500 of them.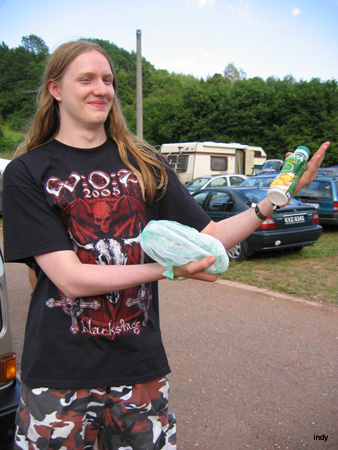 And here he is: the guy who headbanged himself to the
hospital when we played in Luleå.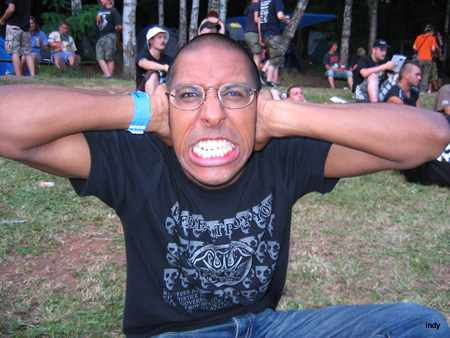 Hear no evil...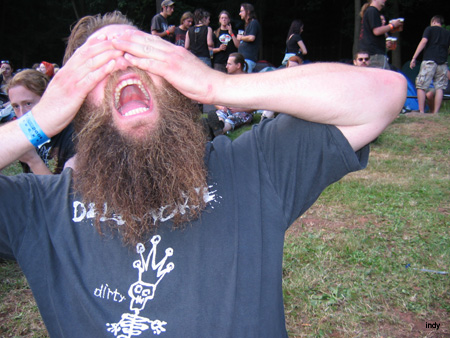 See no evil...

Speak no evil...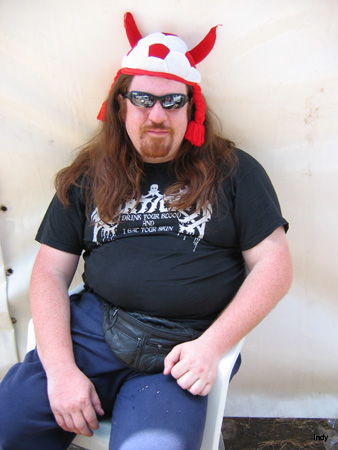 You're gonna burn in hell!
But hey, wait a minute - this is none other than the
ungodly Pjotr Pjiinks from Poland! For sure! For real!
We finally caught up with him after all these years...
We were in tears. We'll never forget.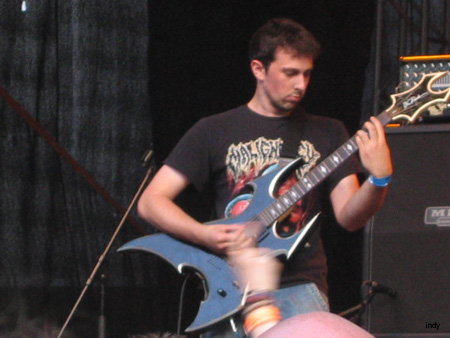 And the ugliest guitar ever to have made it into the Czech Republic is
this extremely fucked up thing owned by some american trend setter.
Life metal doesn't get any worse than this.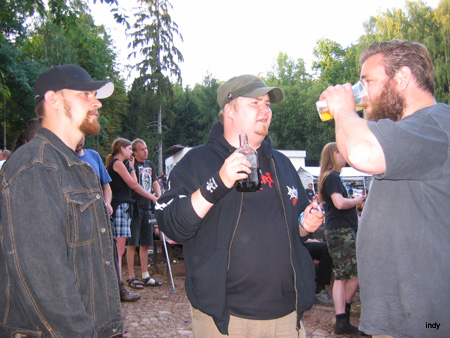 Julle and Grulle trying to convince Ola that Coca-Cola is better than beer.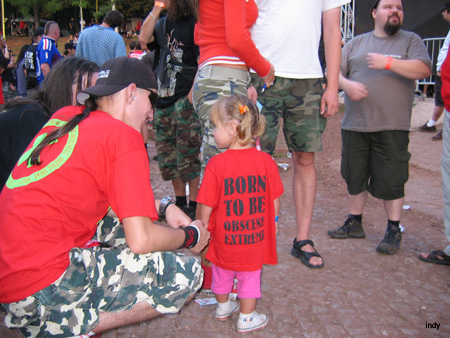 Curby and the next generation of goregrind craziness.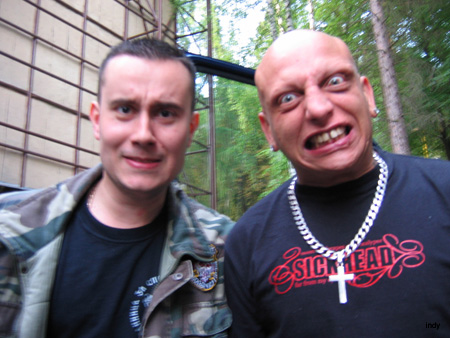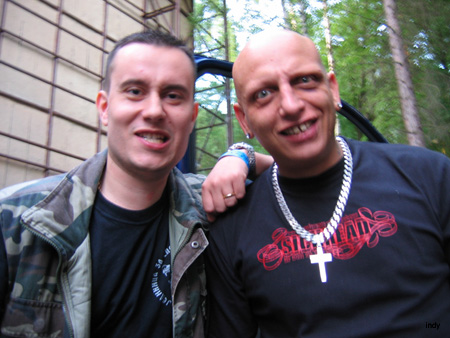 Guilio The Bastard and his bastardized body guard. Don't fuck with the hate mongers!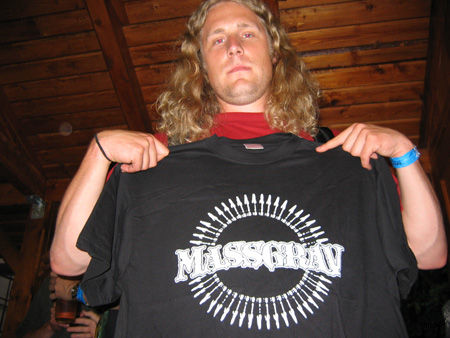 Manne of Degrade got himself a nice polish Massgrav t-shirt.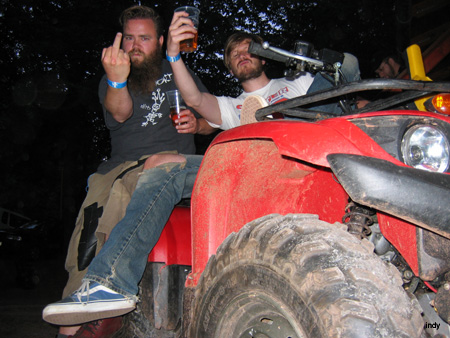 The straight edge was bent out of shape this cursed night of blasphemy...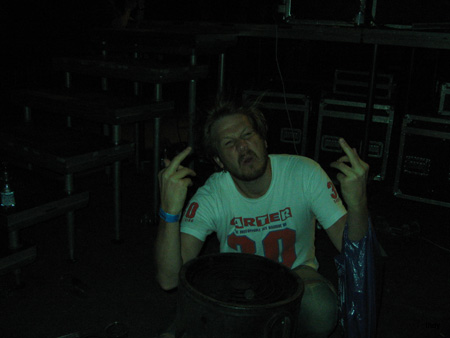 Norse inhaling smoke and air from the smoke machine...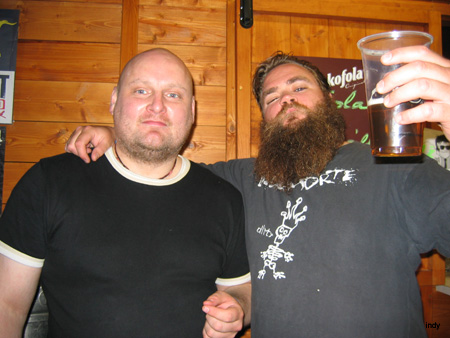 Icelandic Ingvar and Ola enjoying some czech beer from the sewers.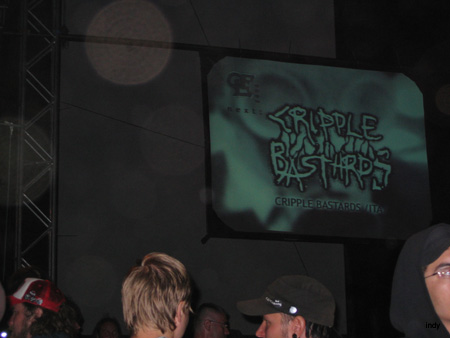 There were two screens on each side of the stage showing everything from
what was going on on stage to japanese rape movies...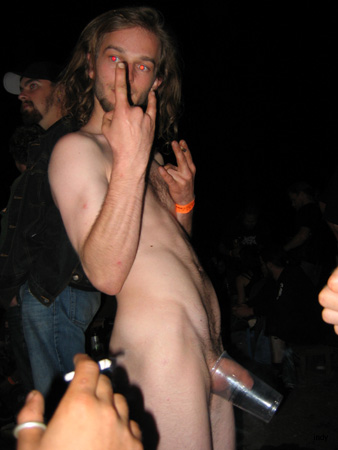 This dumb fuck missed Cripple Bastards' amazing show, running
around naked trying to get attention instead.
Julle (in the background) knows how to study hategrind at its best, though.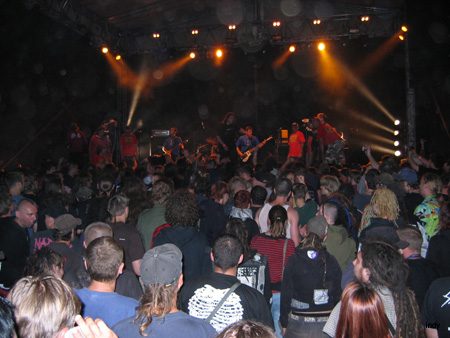 Chaos on stage when Cripple Bastards killed everything with their raging
show. Easily one of the best acts this year!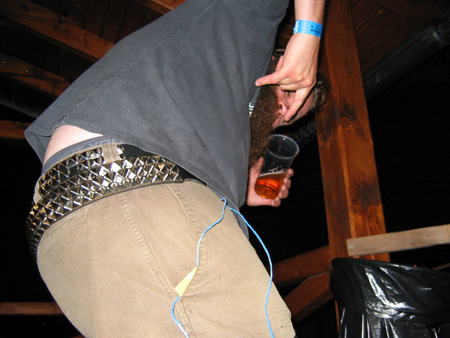 Ola hiphopping and showing his new belt.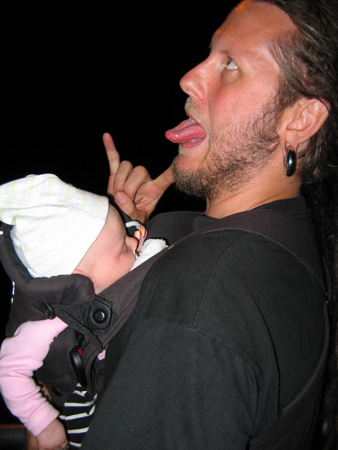 Skitsystem-Wallenberg and his superfresh kid, like
fourteen seconds old or something...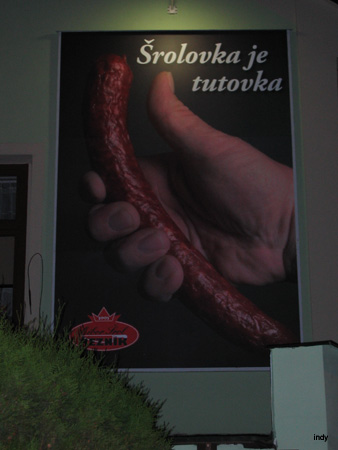 The czech people have very strange relationships to their sausages.
The sign says "Jerk me off before you go-go".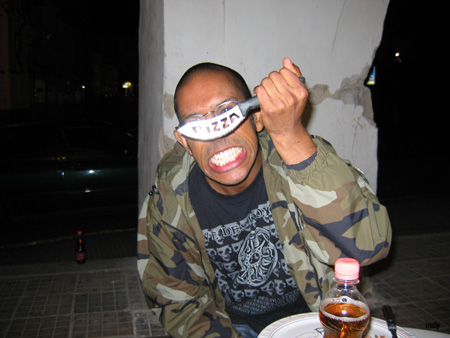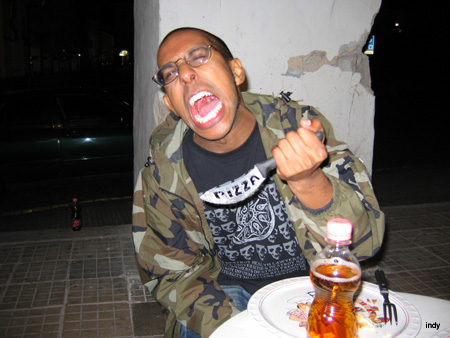 Indy's like Stephen King, he finds evil and hatred in just about anything... This time it's a pizza knife.
Looks like the one Varg used when posing for the old Burzum photos.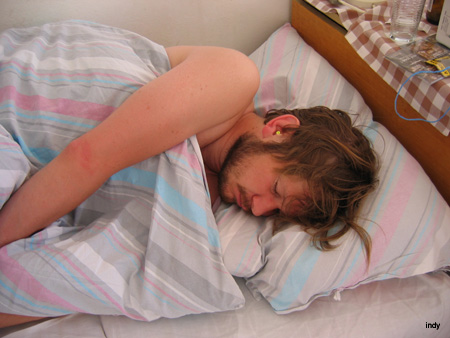 Oh, how sweet!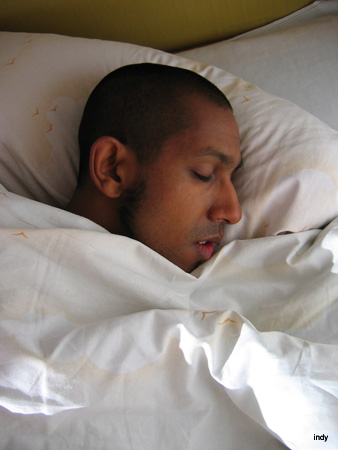 Oh, how sweet! Part II.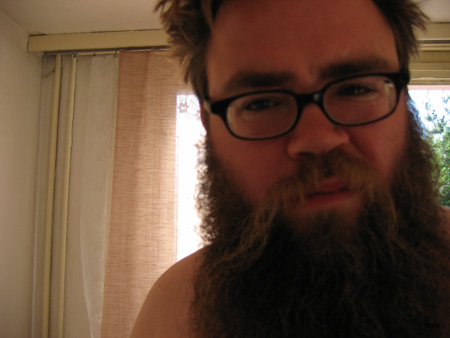 Ola on the other hand never sleeps. Always hateful. Always dark.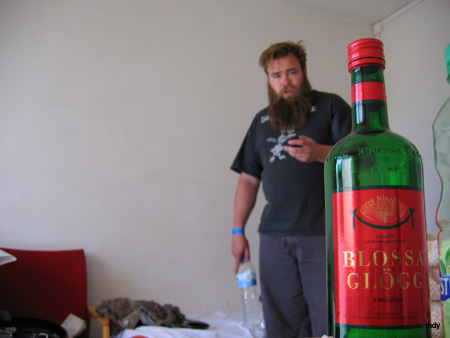 Ola brought his favourite as always: Blossa Glögg!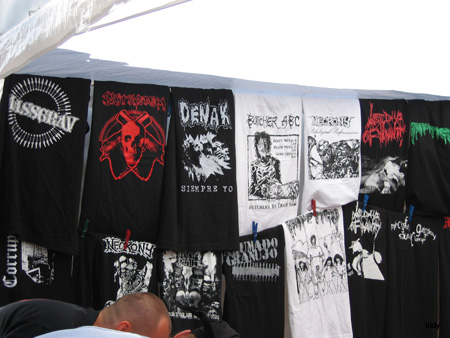 One of many merch stands...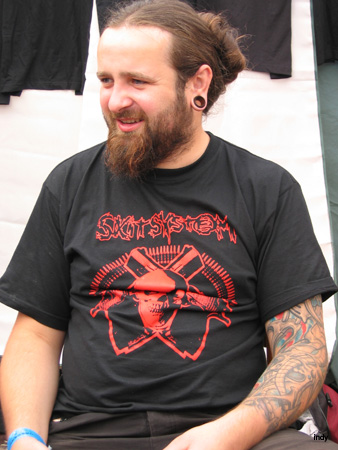 This is Andy from EveryDayHate, the guy who printed
the "Ärans och hjältarnas band"-shirt for us.

Ärans och hjältarnas band since 1996 - Massgrav that is.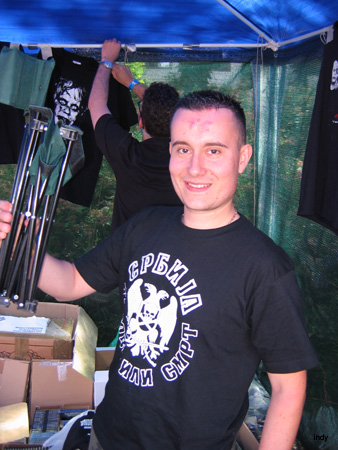 Guilio The Bastard and his fucked up forehead.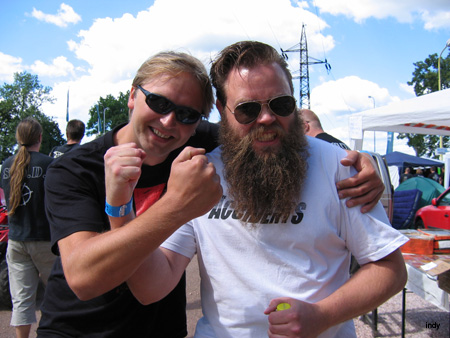 And here's Mr. Drive Fast Or Don't, Otto the organiser!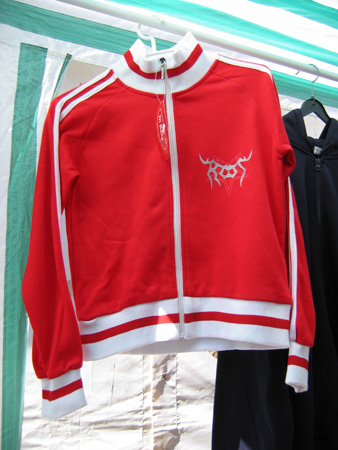 What a gay looking Root-shirt! Is black metal the new hiphop or what?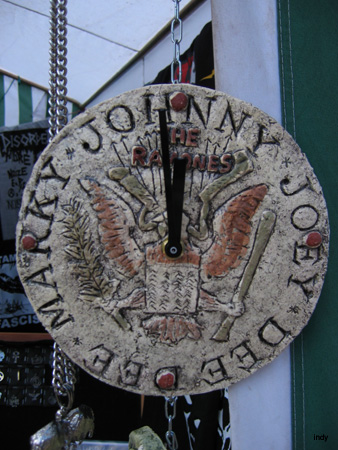 They actually sold this funny looking clock in one of the merch stands...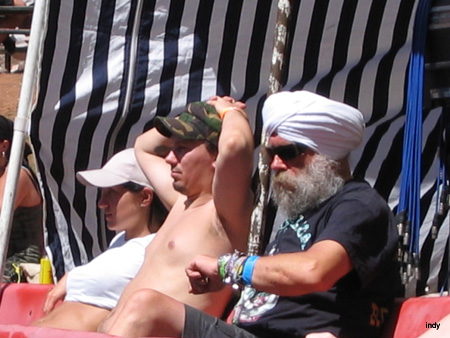 One fine looking lady, a topless guy and... Curby's grandfather?!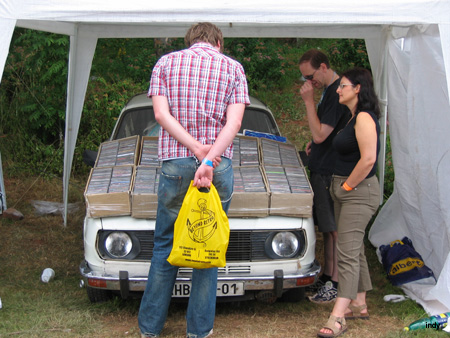 The ultimate merch stand! East coast flavor!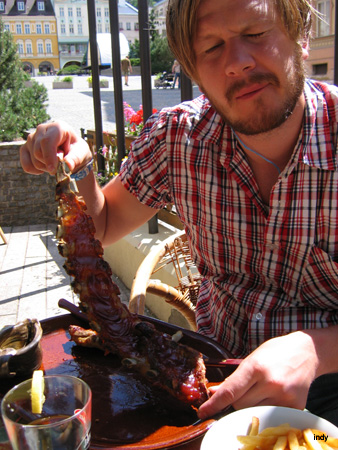 Norse surprised us all when ordering and eating
the spine of a lizard!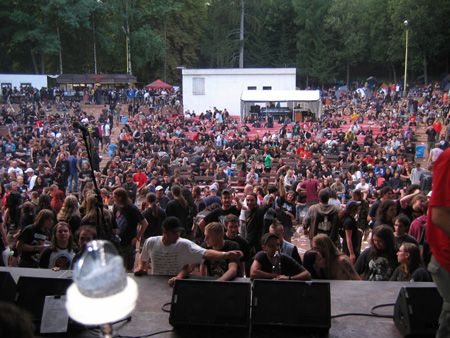 The Massgrav crowd.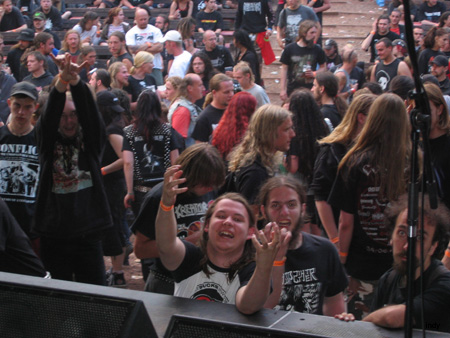 Two Stockholm freaks worshipping at the altar of Massgrav.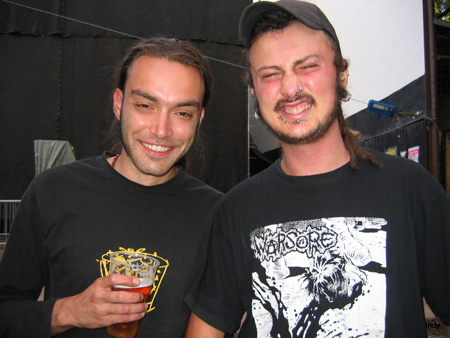 Apostonis (?) and Dimitris from Greece - really cool guys! Thanks for
your support!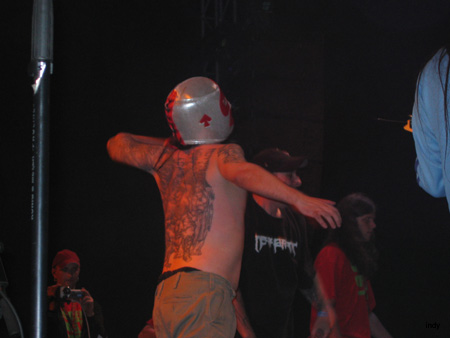 The biggest joke on the festival - GUT. Pure crap.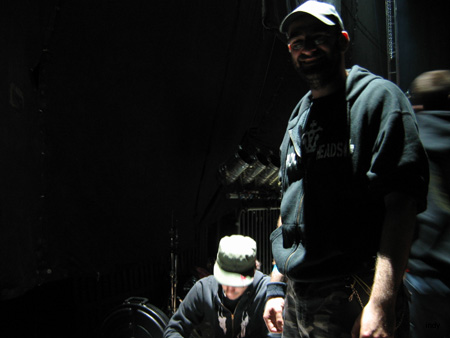 The guys in Blockheads warming up.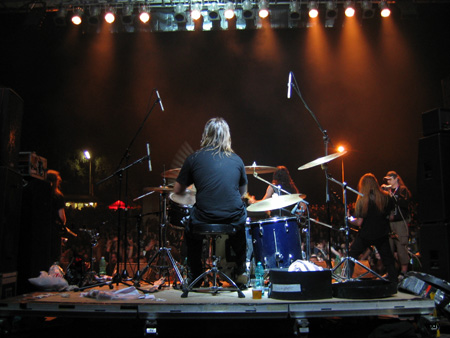 This is what Dismember's gig looked like from behind the stage... Great show!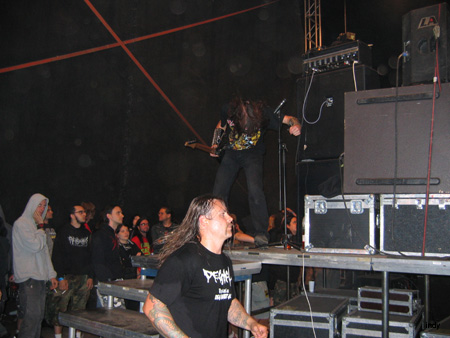 David headbanging even when going off stage...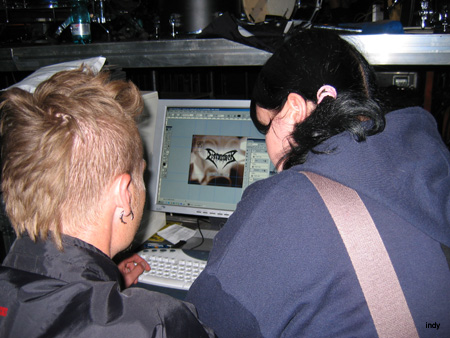 The people responsible for the sidescreen graphics.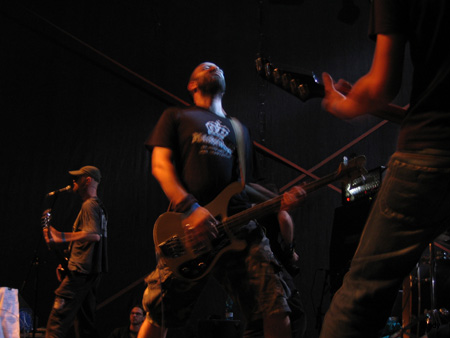 Blockheads from France.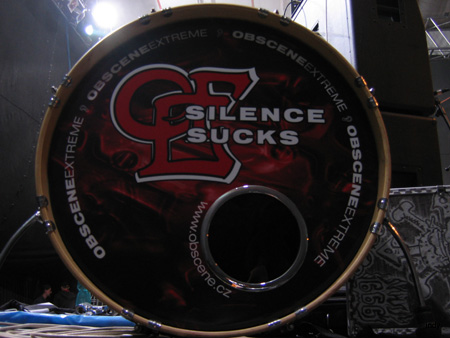 The official Obscene Extreme bassdrum.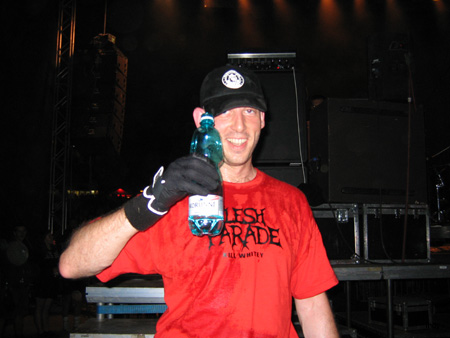 The Blockheads drummer, fast as fuck, wearing his ski gloves.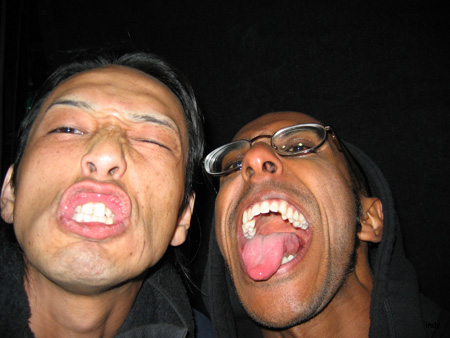 The Bathtub Shitter vocalist and Indy about to recieve a shitload of grind.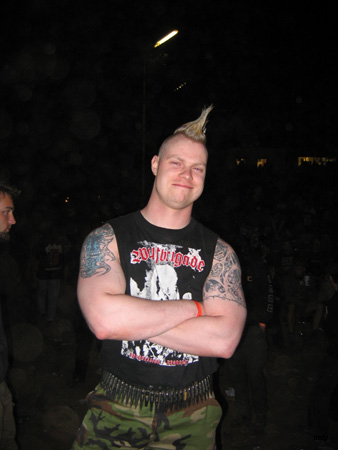 Of proud german origin, I guess.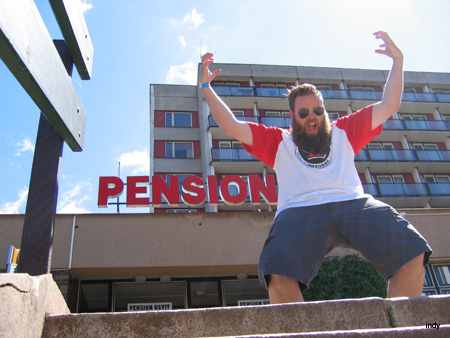 Ola raving about outside the hotel.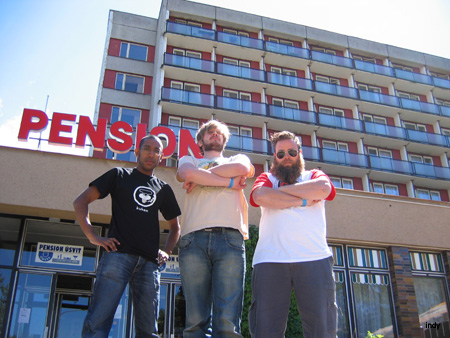 Three amigos.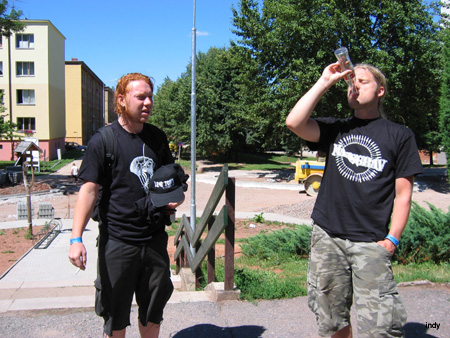 Oskar from Splitter and Manne from Degrade.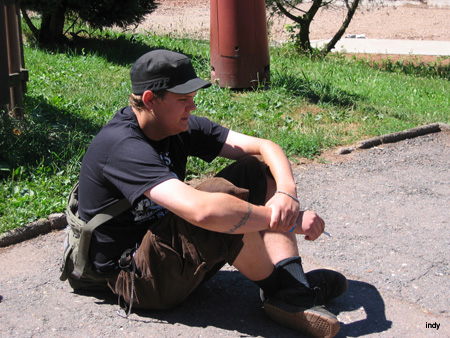 Stefan/From The Ashes taking it easy for a while.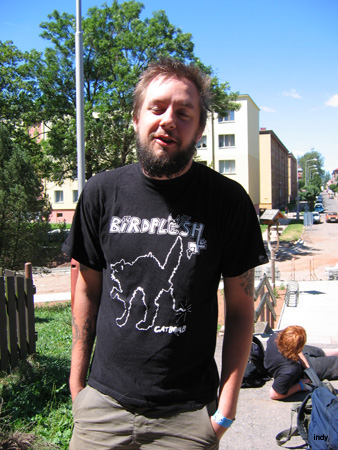 No, this is not pp7 gaftzeb. This is Johan/From The Ashes.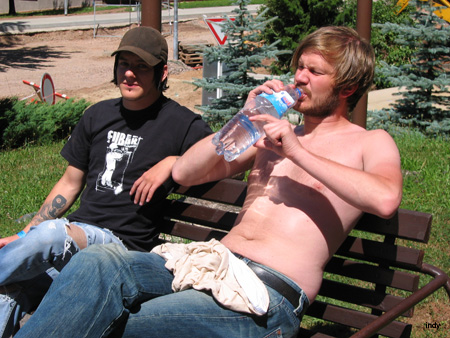 Fred/Splitter and Norse on the bench of death.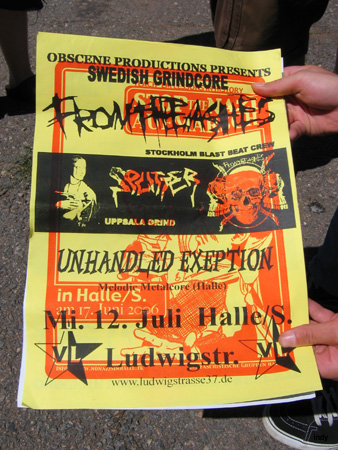 Really strange poster. From The Ashes = Stockholm and
Splitter = Uppsala? Well, not quite, but nice try...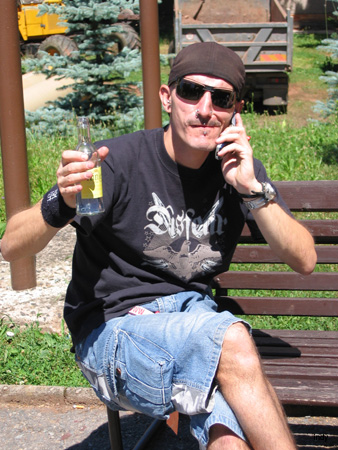 Curby - the one and only!
-----------------------
Photos added 2006-07-22. Shot by Andy EveryDayHate. Thanks!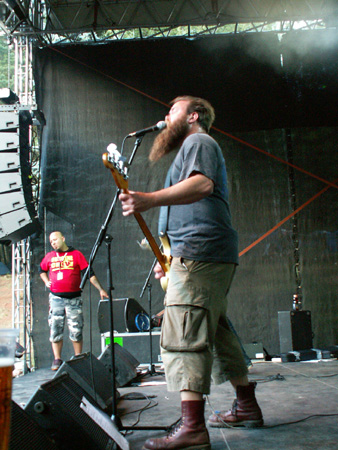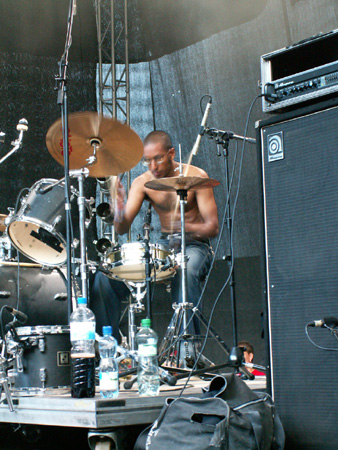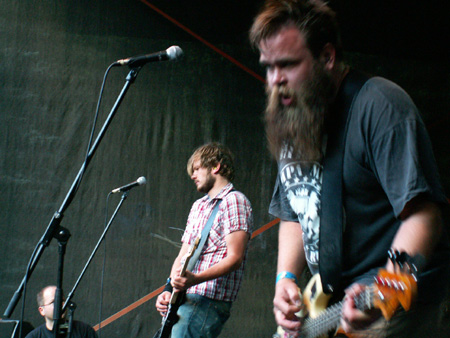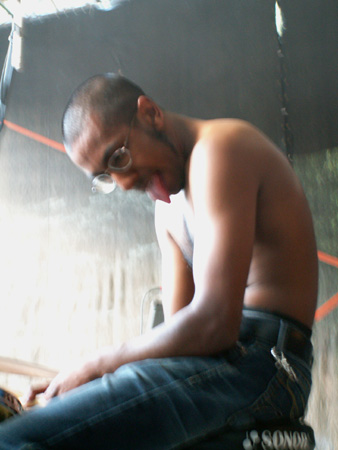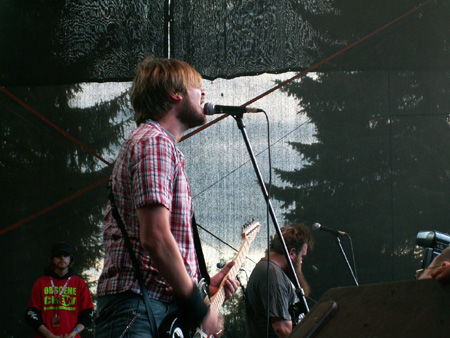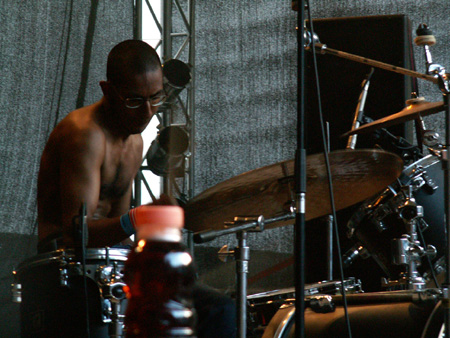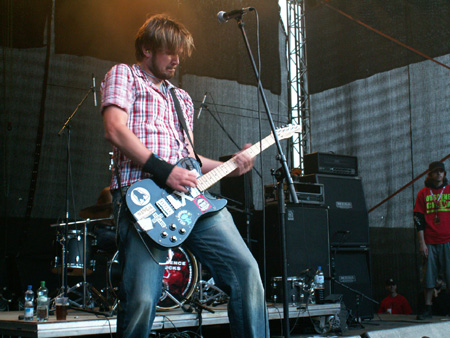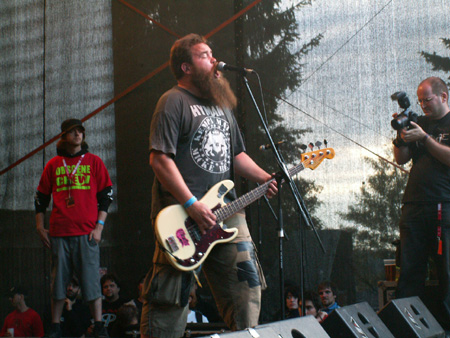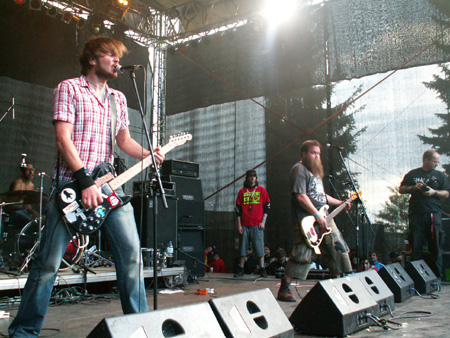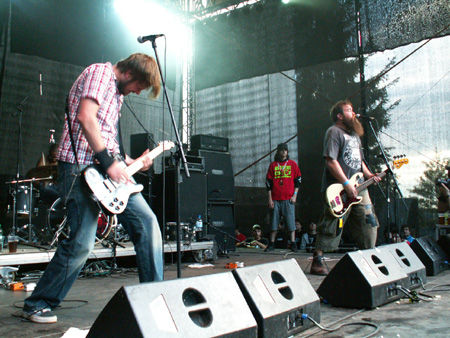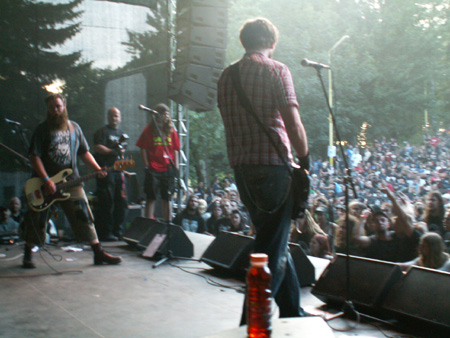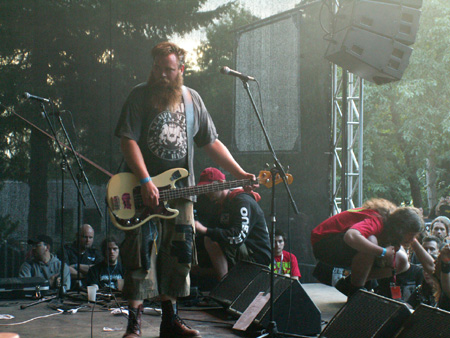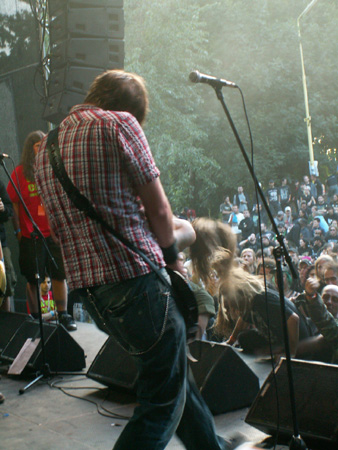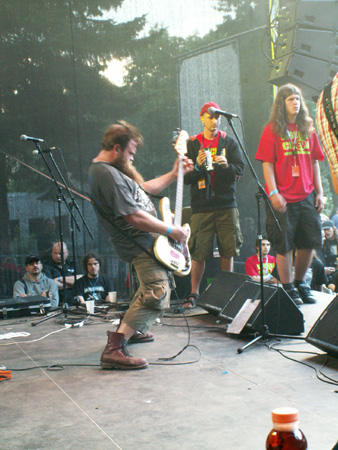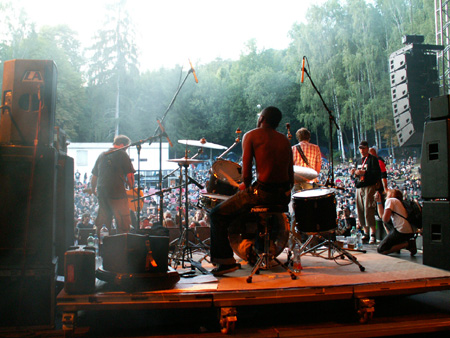 -----------------------------
Photos added 2006-07-22. Shot by Kaya. Thanks!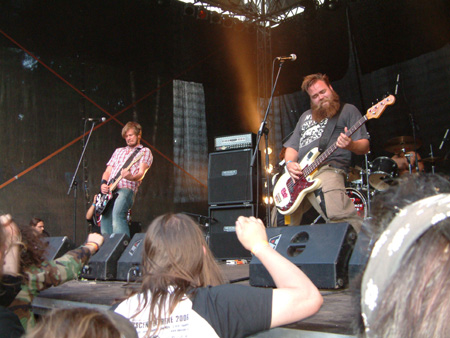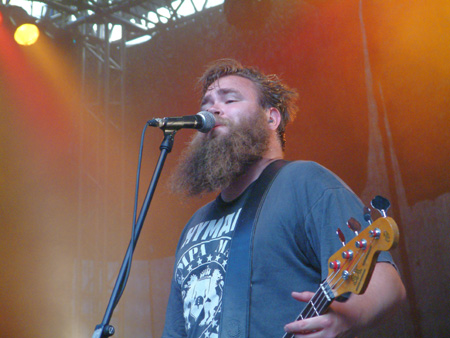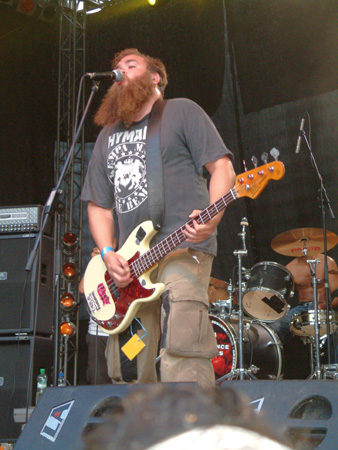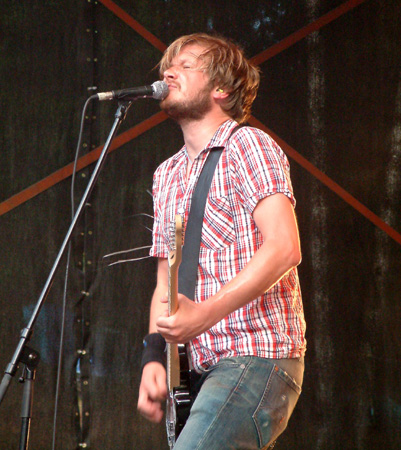 ...and now visit Part II...